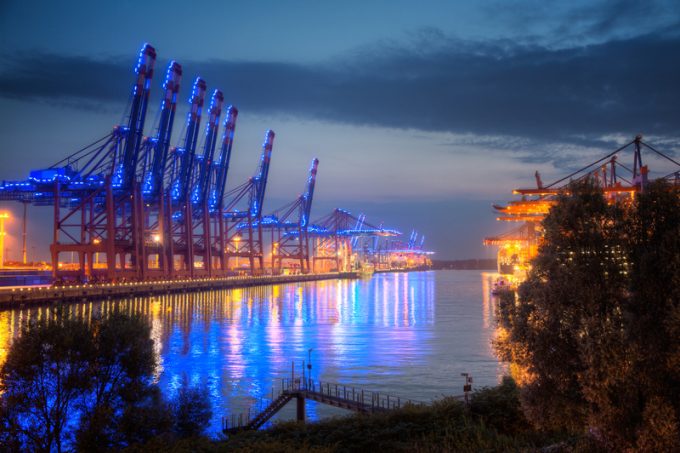 As the RMT union leads UK rail workers in their second day of walkouts, new industrial action is also under way at German ports.
Negotiations in Bremen between German trade union ver.di and the Central Association of German Seaport Companies (ZDS) broke down yesterday.
Beginning at 6am, the strikes are affecting the ports of Bremerhaven, Hamburg and Wilhelmshaven – road, rail and sea cargo, Maersk said – and run until 6am tomorrow.
According to Maya Schwiegershausen-Güth, ver.di head of maritime, ZDS appeared to rescind a more generous pay offer made in previous rounds of talks.
"At the end of a long day, the negotiation offer on the table was worse than the increase offered after the third round… looking at a comparable 12-month period," she told The Loadstar.
"Overall, the offered permanent wage increase is between 3.3% and 4.9% a year. For container companies, there is a one-time payment offered of €1,000, equalling 1.3%," she added.
By contrast, last month the EU reported inflation across the Eurozone was 8.1%, with Germany suffering 7.9%.
"This strike could have been avoided with an improved offer from the employers," Ms Schwiegershausen-Güth explained. "We want a better offer from the employers that reflects the outstanding performance of the dockers during the pandemic period and compensates for the burden of the current rate of price increases."
Maersk said it would 'absorb' the stoppage at its German terminals, telling  customers: "In the interest of minimising any further disruption to your supply chain, we will be keeping a close eye on developments up to and during the next round of meetings between trade union ver.di and ZDS, acknowledging that further strike action is possible."
On Tuesday, ZDS claimed ver.di had refused to compromise on its position and called for further mediation.
"We have offered up to 11%, effective immediately, including a permanent wage increase of up to 7.2%. On the basis of the components demanded by ver.di, this goes beyond genuine real wage security, which is then supplemented by the federal government's relief packages," said Ulrike Riedel, chief ZDS negotiator.
"This puts us well above comparable current wage agreements. In the interest of the functionality of the German seaports and our role in supply security, we have gone beyond the economic performance of our member companies. ver.di has not shown any willingness to compromise in four rounds of negotiations and has announced further strike action.
"There was considerable property damage to the office building of BLG Logistics Group on Monday. We condemn this blind vandalism," he added.
The strikes come at a critical time for the European ports sector, as shipment overhang from the lockdowns in China is predicted to lead to a surge of imports into Europe in the coming weeks.
At last week's TOC conference in Rotterdam, Lamia Kerdjoudj-Belkaid, secretary general of the Federation of Europe Private Port Operators (Feport), told delegates her members did not expect the congestion to ease until next year.
"Ports' worry is that the return to normal will coincide with the third-quarter peak season and before the current problems of port congestion and the lack of drivers are solved.
"An avalanche of vessels is coming to Europe, but the yards are already fully utilised. We do not see the congestion being cleared until 2023 because they are so worried about absorbing the bulk of vessels coming from Shanghai," she said
Nicolette van der Jagt, director general of Clecat, told The Loadstar today there were "no real signs of improvement in the coming weeks.
"This leads to port congestion and vessels being redirected to other ports to load and unload cargo and ultimately hinders the proper movement of goods.
"The lockdowns in China worsened this situation, but I also hear from freight forwarders that the problems are equally bad for export containers. They are delivered to the terminals subject to initial closing dates, but vessels are delayed or even blanked – but the containers are already in the terminal, waiting to be shipped by delayed or blanked vessels, adding to D&D costs.
"Despite structural congestion, free-time periods are not extended and the additional costs are being passed on through the parties in the chain who have no responsibility or can control this situation," she continued.
For more analysis of European port congestion, listen to this clip from the latest Loadstar Podcast with Drewry's Eleanor Hadland.