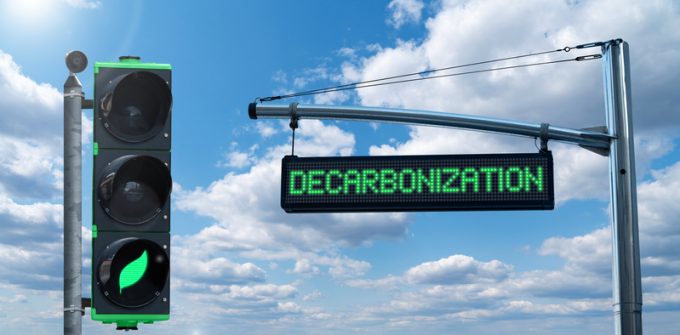 The climate change debate in the shipping industry is hotting up, reflecting the change of atmosphere which has seen many shipowners, previously opposed to rapid decarbonisation measures, suddenly turn as pressure increases.
Government pressure as well as major companies, consumers and concerned citizens has placed shipping and its operations into the consciousness of ordinary folk. The Ever Given was a major contributor to this fact, although there was no major environmental impact from the accident which blocked the Suez Canal for six days.
Rather, the focus was on the fragility of just-in-time logistics. But, Ever Given gave rise to discussions about an industry that was hitherto hidden from public view, particularly in consumer-oriented nations.
Major international and national news outlets began to ask pertinent questions of an industry that was drifting in climate change terms.
That transformation was helped by the hosting of COP26 in Glasgow last month, with the London-based International Maritime Organization (IMO) also debating critical issues in its Marine Environment Protection Committee (MEPC) meeting a couple of weeks later.
The 77th MEPC meeting, MEPC 77, was initially expected to see some major changes. Spurred on by the words of the IMO general secretary Kitack Lim, who told The Loadstar at the start of COP26 that the maritime decarbonisation process must happen more rapidly.
"We're looking for a very positive outcome, because COP26 is very much related to what we are doing for maritime decarbonisation."
COP26 saw a raft of promises and declarations, including the Danish delegation, supported by the US and Marshall Islands and later by more than 100 countries, agreeing to drive the IMO to increase its ambition from a 50% carbon reduction by 2050 to total decarbonisation by that date.
That declaration set the tone for a number of announcements at COP26, including limitations on the use of LNG as a fuel, which generated a great deal of optimism among those hoping to drive through rapid decarbonisation at MEPC 77.
In a year where maritime supply chains have been thrown into disarray and shipping lines have seen record financial returns, the economics of decarbonisation have become straightforward. Politically, however, there has been a seismic shift from some owners.
That change became possible mainly because the European Union launched its environmental policy, known as Fit For 55, which included shipping in its Emissions Trading System (ETS).
"Fit for 55 will align our laws with our ambition," said EU Green Deal chief Frans Timmermans in May.
According to Mr Timmermans, the package included measures that would encourage the development and use of "sustainable fuels in aviation and to cut down on maritime emissions — which will have an impact by making flights more expensive and increasing the prices of goods shipped by sea".
Shipowners, in particular, were opposed to shipping being included in the EU ETS, arguing that maritime is an international industry that requires international regulation. Fearing that the EU's Green Deal would inspire other jurisdictions to produce carbon-charging mechanisms, owners re-evaluated their criticisms of carbon charging.
The maritime owners' association, the International Chamber of Shipping (ICS), which claims to represent 80% of the world's merchant fleet, on reading the EU proposals in June, collaborated with the cargo owners association Intercargo to produce an alternative carbon levy system to be administered by the IMO.
Carefully describing the charge as contributing to an "IMO climate fund" and not a 'tax' which would go into governments coffers, a climate fund "could be brought into effect quickly to expedite the uptake and deployment of zero-carbon technologies and fuels". The proposal was delivered to the IMO on 3 September for discussion at MEPC 77.
Another carrier association, the World Shipping Council (WSC), which represents 90% of the world's major container shipping lines, argued, through CEO John Butler: "Inclusion of shipping in the EU ETS will encourage shipping's journey towards decarbonisation, but EU action threatens to undermine broader international progress if the ETS extends outside of the EU."
It appears that the threat of unilateral action from the EU has kickstarted a process that was expected to continue through COP26 and into the MEPC in November. However, the IMO failed to carry the momentum derived from the EU and COP26 announcements and, instead, policy stalled on the River Thames' Albert Embankment.
Not all observers of the MEPC debate were downcast by its apparent failure. Dr Tristan Smith, of University College London, told The Loadstar: "On zero [emissions] by 2050, the debate itself and the outcome, besides the adoption of the resolution, was positive. A powerful majority wanted some type of zero by 2050, a majority that normally would be expected to only strengthen over the period to 2023 [when the IMO will review its climate ambitions]."
Moreover, Dr Smith pointed out, perhaps with a hint of sarcasm: "Helpfully, the MEPC did not endorse the ICS proposal for shipping to aim for 'net zero'."
According to Dr Smith: "Net zero is a term that is useful for countries reporting their ambition to the UNFCCC, because they have both sources and sinks of GHG emissions (sinks being deforestation, sequestration of captured CO2 from biomass combustion). But shipping is a sector, and it only has sources of emissions, so net zero in shipping introduces the unhelpful concept of offsetting (eg, out of sector GHG reduction)."
With the initial greenhouse gas (GHG) targets referring to in-sector emissions, Dr Smith believes that introducing offsetting would weaken the business case for the production of zero-emission fuels.
"Why would you spend money on a technology if a policy maker is opening the market to offsets that could achieve compliance at expected much lower prices?" he asked.
This year, shipping has been shunted unceremoniously towards rapid decarbonisation, and a further split in the maritime community became apparent, with some carriers, notably CMA CGM, choosing to use LNG as a transitional fuel. It is using LNG to achieve the 2030 IMO target of 30% reduction in GHGs while waiting for a zero-emission fuel to emerge.
Other companies, notably Maersk, preferred to move directly to zero-emission technology. Maersk has announced that it will build a methanol feeder vessel fuelled by green methanol manufactured by 'power to x' company European Energy, using excess energy produced by Denmark's windfarms to produce the fuel.
For Maersk, this offers the opportunity to draw a thick blue line between itself and the competition, with the prospect of shipping goods using comparatively clean fuels. It is a message that was readily picked up by major cargo owners, such as Walmart, Ikea and Amazon, which, through their organisation Cargo Owners for Zero-emission Vessels will switch all their cargo to zero-emission ships by 2040.
With all this positive news for climate analysts viewing the maritime sector, it can perhaps be simple to conclude that we are moving inexorably towards zero-carbon transport.
However, as the International Transport Forum (ITF) report, published on 16 December, points out there is a great deal of work still to be done.
The ITF has compared the nationally determined contributions (NDCs) made by 190 signatory states to the 2015 Paris Agreement, agreed at that city's COP21 conference. The review of the 2015 NDCs by the ITF concluded that the "Paris climate agreement must still be translated into concrete actions for the transport sector".
The ITF compared these with this year's commitments, dividing its analysis by how many mentions transport receives in a state's written commitment to climate change, while also assessing mitigation measures and mitigation targets.
In its analysis, the ITF reveals that 97% of countries now see transport as critical to meeting their climate change obligations, compared with 78% in 2015.
In 2015, only 57% of countries had proposed GHG mitigation measures within their NDCs – that had increased to 80% by the time the second round of NDCs were announced in Glasgow this year.
Rather more sobering is the targets set by these countries. As the ITF pointed out: "A disappointing 8% of the NDCs submitted in 2015 contained a concrete target for reducing the transport sector's carbon emissions. This share has now doubled to 16%. While this increase is significant, only one in six countries sets itself a concrete, measurable, time-bound objective for transport decarbonisation."
The pathway for transport in 2022 is clear, the governments of the world have talked the talk, now they must drive the policies that will make zero emissions a reality.
A threat by the EU to introduce unilateral climate regulations appears to have sparked shipping into gear. Road transport is seen as comparatively easy to decarbonise, and the airline and air cargo industry will need to develop sustainable fuels.
Up to now transport has been taking pigeon steps, as far as climate policy is concerned. Over the next year, these industries will need to see this policy soar – and not just on hot air.