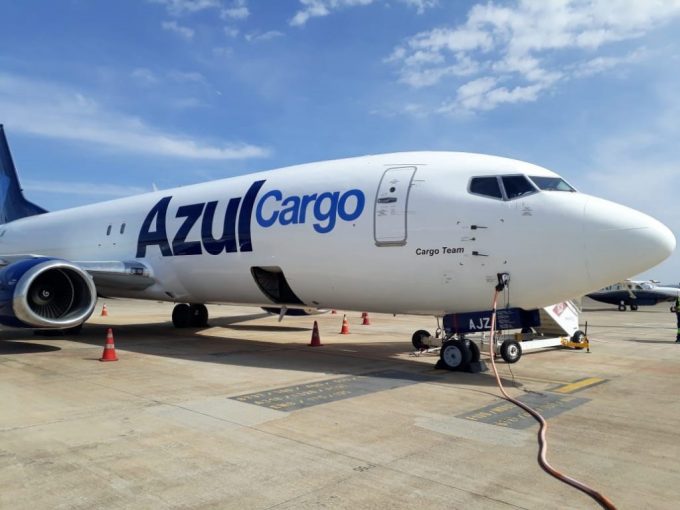 The air freight industry appears to be dividing into narrowbody e-commerce express operators and widebody freight players.
Some, like Atlas Air, known for its ability to diversify, currently have a foot in both camps; others are looking squarely at the opportunities to be had in e-commerce alone. 
Following the news that wannabe-express carrier Cargologic Germany is shortly to launch intra-European 737 operations, comes another 737 operator planning to help an e-tailer "increase the number and speed of deliveries". 
Azul Cargo, a Brazilian freighter operator, has signed a deal with Latin America's biggest e-commerce site, Mercado Libre, to become its exclusive air shipping partner for domestic deliveries in Brazil. 
The carrier's first-half revenues from e-commerce grew 314% year on year, it said, with Mercado Libre representing some 10% of its cargo unit revenue. Its overall cargo business grew 44%, a far cry from the shrinkage seen elsewhere. 
The advantage, notes the carrier, is being the only airline on 72% of its domestic routes, with more than 100 destinations. Azul's chief executive, John Rodgerson, says the airline can reach more than 3,500 municipalities within 24 hours: "Our breadth of reach and delivery speed is unique in the country." 
"This partnership means faster deliveries through Mercado Libre's and Azul's extensive network, covering the entire country with almost 900 daily flights," said Leandro Bassoi, vice-president of Mercado Envios, the etailer's Latin American shipping unit. 
"With Azul, we expect to significantly increase both the number and speed of deliveries."  
However, while Azul has a fleet of 133 aircraft, including just nine widebodies, its freighter fleet is limited to just two 737s, both of which were delivered last year. Azul is very much a passenger carrier, founded by JetBlue's David Neeleman.
But Brazil accounts for more than 60% of Mercado Libre's revenues, and its Brazil operations saw first-quarter growth of 64% year on year. Mercado Libre also expects further growth in the Brazil e-commerce scene, and last year launched a new strategy in the country to incentivise buyers to purchase higher-ticket items. 
The growth brings into question whether Azul's fleet would be sufficient. And if not, what the etailer's options would be, given that it signed an exclusive deal with the airline for domestic Brazil.  
As consultancy Hedge & Associates pointed out in its recent (and thorough) paper on Amazon's US air network, insufficient capacity gives etailers something of a headache.   
"Christmas 2013 was a major embarrassment for Amazon and its air freight vendor, UPS… Following the customer service disaster, Wired predicted that e-commerce giants like Amazon and Walmart would seek to exert greater control over their shipping by running their own delivery networks." 
And so it came to pass. Amazon began its own US network in 2015.
The report says: "By the end of 2021, Amazon plans to be operating a fleet of 70 freighter aircraft. This compares with DHL's current 42 767s, FedEx's 272 757/767/A300/DC-10-10 freighters, and UPS's 191 757/767/A300 fleet." (Although the report notes that some of the integrators' fleets are operating outside the US.) It adds that the integrators now see Amazon as a competitor. 
While Mercado Libre does have a relationship with all three big integrators throughout Latin America, the only other potential operator in Brazil is express start-up ConnectCargo, which also operates two 737Fs.  
Azul itself is currently vying for route growth, bidding some $145m for the routes of defunct Avianca Brazil, according to Reuters, and potentially the aircraft leases on six narrowbody Airbus aircraft.
That plan is currently under duress, however, with one of Avianca's creditors instead seeking to sell to Latam or Gol. The negotiations have become rather murky, with Swissport – which has HNA as a shareholder in common with Azul – now working with Azul.  
But that deal is all about routes, rather than capacity. Mercado Libre's other option could be to follow Amazon and launch its own network – but it does not have the financial firepower of its US neighbour. Amazon's first-quarter revenue this year was $63.4bn, up nearly 20%. Mercado Libre's was $473.8m, but it was up 93% on a currency exchange neutral basis.  
The Azul/Mercado Libre announcement did not specify the length of the contract. But if Mercado Libre's growth ambitions succeed, it may well need more that Azul's current fleet to satisfy its Brazilian air shipping requirements.