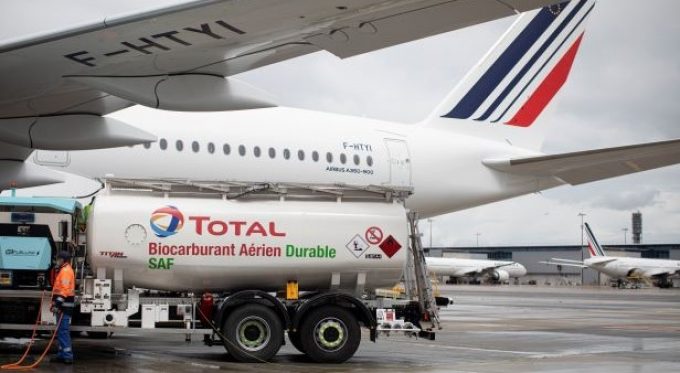 Air France-KLM has operated its first flight using French-made sustainable aviation fuel (SAF).
In partnership with Airbus and fuel company Total, Air France used a 16% blend of SAF on a A350 flight from Paris to Montreal, which avoided the emission of 20 tons of CO2.
The flight was a culmination of work by the partners to develop a SAF supply chain in France – an initiative similar to that of the group's Dutch operation with KLM.
The biofuel was made from waste and residue sourced from the circular economy. Total used old cooking oil from its refinery in southern France and its factory near Le Havre. Using no virgin plant-based oil, it received ISCC-EU certification.
Aircraft must use at least 1% SAF by next year for all flights originating in France, which is ahead of the EU, which has agreed 2% by 2025 and 5% by 2030.
The flight was served by all-electric trucks and ground support equipment.
SAF can be several times more expensive than traditional jet fuel, and needs investment to be able to offer scale to airlines. KLM is developing its own SAF centre in the Netherlands. The group does appear to be leading the way and investing faster than other airlines.
But there is help at hand for others.
One of the ways to spread the cost premium of SAF is via insetting, or the purchase of greenhouse gas (GHG) emission reductions. But the accounting and reporting can be difficult.
Smart Freight Centre, in partnership with Massachusetts Institute of Technology's Center for Transportation and Logistics, is developing guidelines to be released within the next two months which will offer an approach to insetting that will help companies bring SAF use to scale. They will also ensure that companies are confident that their emission reductions are legitimate and properly accounted for.
Smart Freight Centre said airlines, forwarders and shippers would receive directions for emissions accounting, as well as the principles to develop a book-and-claim chain of custody system for transparent tracking and disclosure.
Benjamin Smith, CEO of Air France-KLM, said: "For many years, the Air France-KLM group has been committed to reducing its environmental footprint. Together with the renewal of our fleet, sustainable aviation fuels constitute our main lever in the medium-term for reducing our CO2 emissions per passenger/km by half by 2030.
"These two actions are therefore central to our strategy, alongside eco-piloting and achieving carbon-neutral ground operations.
"Supporting the emergence of an economically viable French aviation biofuel sector for all the parties involved is a strategic priority for the country and the group."