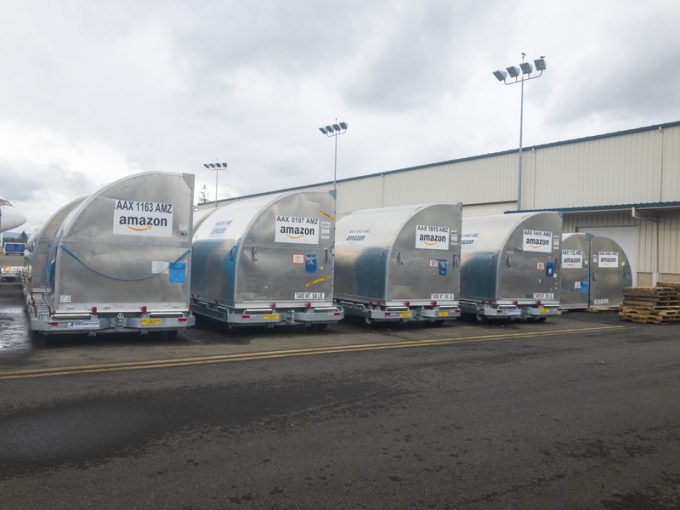 With more cargo planes about to join its dedicated fleet, Amazon's freighter operation is on course to climb to about 160 flights a day by late spring, almost double where it was last May.
The expansion is positioning Amazon Air to move ahead with its plans for next-day standard delivery in North America, and it is nearing critical mass to carry third-party parcel traffic.
These are conclusions from the latest study of Amazon Air by the Chaddick Institute for Metropolitan Development at DePaul University, led by Joseph Schwieterman, the institute's director.
The study points out that the number of Amazon's dedicated freighter flights grew 15% between last August and this month to an average of 140 a day – 80 operated with 767 freighters and the remainder with 737Fs.
The research team at Chaddick expects the operation to swell to about 160 flights by June, noting that Amazon has registered at least 10 planes that are not flying at the moment. Seven or eight of those should be in service by June, they estimate.
Currently, Amazon has 70 cargo aircraft in operation, which should climb to more than 80 next year, Chaddick predicts. Supplementing its leased-in capacity, it has acquired 11 767s from Delta and WestJet, which are due to be converted into all-cargo configuration and enter service this year and next.
Meanwhile, ASL, which runs a pair of 737-800Fs for Amazon in Europe, exercised an option for 10 more 737-800 conversions a few days ago. These are on top of the original order for ten, of which one was delivered in January and the second is due before the end of this month.
The deployment of the two 737-800s in November marked the launch of Amazon's intra-European air network. The aircraft are based at Leipzig, the European hub of DHL, which has been collaborating with Amazon. Besides Leipzig, the Chaddick team expects Cologne to emerge as a second European hub for the e-commerce giant.
According to Mr Schwieterman, a third 737 will join Amazon's European network shortly.
He sees ample room for expansion, pointing out that Amazon's current set-up does not cover the UK and Ireland, nor the Benelux countries. He described it as "in the test stage" and added that two aircraft does not offer much scope for operations.
"The network is skeletal at the moment. There is no overlap with the transatlantic flights between Chicago and Amsterdam," he said. Ultimately, Amazon will need to align the European and North American air networks, he added. "They don't need a massive transatlantic operation but maybe one or two flights a day."
Like its North American air network, the roster of dedicated flights in Europe shows a decentralised orientation, Mr Schwieterman pointed out. Unlike the hub-and-spoke model of the integrators, Amazon's network is more point-to-point, connecting warehouses.
For the most part, the company has built its North American network around cargo airports away from metropolitan centres, but lately has concentrated more on larger passenger airports, such as San Francisco, Portland, Seattle and Tampa, which have shown the strongest growth in e-commerce, the new Chaddick study shows.
Counter to this shift has been the build-up of traffic at Cincinnati/Northern Kentucky International Airport, the emerging $1.5bn national hub of Amazon Air that should be ready later this year. Currently, Amazon slots less than 30 flights a day through the airport, but this should climb to about 50 by the end of the year, Chaddick predicts.
Cincinnati is supplemented by Wilmington Air Park, 69 miles away. Together the two airports, both are close to major Amazon fulfilment centres, account for some 30% of Amazon Air flights.
The denser flight network and the ground investment in Cincinnati and Wilmington set the stage for Amazon to take on third-party parcel traffic, the study argues. According Chaddick, such a move is likely to occur within 18 months.
"When you build a network this large and this well integrated, it's only logical to bring in new revenues," said Mr Schwieterman, and the Chaddick Institute is not alone with this assessment. In November, Morgan Stanley predicted that Amazon would launch a third-party delivery service in the US, possibly this year.
John Haber, CEO of logistics consultant Spend Management, also expects Amazon to carry third-party traffic before long. The network the company is building is also for people who are not doing fulfilment with Amazon, he said.
The denser US network also brings Amazon closer to its declared aim of offering next-day delivery as the default service for its Prime customers, Mr Schwieterman noted.
For the struggling retail sector, this is one more headache on the horizon, said Mr Haber. Unlike Amazon, with its revenue from cloud computing, companies do not have other businesses to subsidise large investments in overnight delivery capabilities, he said.