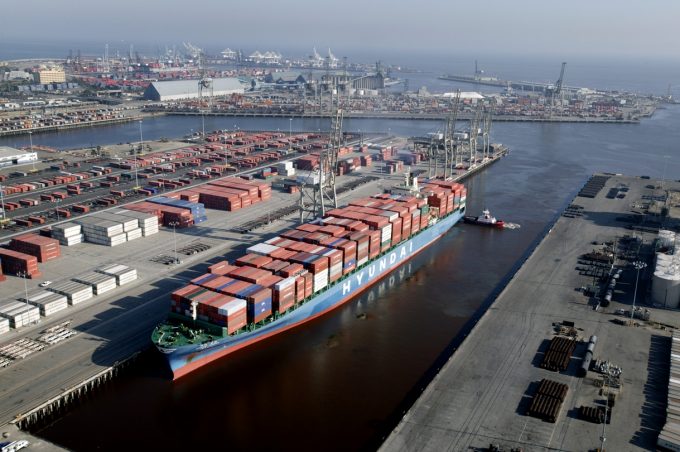 Hyundai Merchant Marine (HMM) has managed to secure a 20% cut in daily hire rates for its chartered vessels.
The line today said it had reached a new agreement with five containership owners, saying it represented a saving of around W530bn (US$455m) over the next three and a half years.
HMM's creditors had said to be seeking charter rate cuts of 30%, but main creditor Korea Development Bank (KDB) today said the deal "achieved the goal that it had originally intended".
HMM said it planned to sign new charter parties with the boxship owners later this month, but still had to complete negotiations with bulk vessel owners – although it claimed they were "expressing their willingness" to agree a 25% reduction in charter rates.
"HMM (has) won a powerful driving force for normalisation since all the plans, including charter negotiation, which was once thought impossible, were completed successfully," said a company spokesperson.
HMM added that once the revised charter parties were in place its debt ratio would be reduced to under 400%, which it claimed fulfilled the criteria for it to tap the South Korean government's shipping fund and thus enable it to order more cost-efficient ultra-large tonnage.
It also said that the charter deals meant it was now "one step closer to becoming a member of THE Alliance", from which it was excluded when the mega-alliance was announced last month.
The KDB said that it would provide "full support" so that HMM could "promptly" join THE Alliance, while it would progress with the debt-for-equity swaps, "to normalise the company's business as quickly as possible".
It is clear from KDB's statement that it will, as the major shareholder, adopt a 'hands-on' involvement in the future management of HMM, saying that it would be "reshuffling its organisation structure" and inviting outside experts "to consult on restructuring the fleet".
Meanwhile, US-based ocean carrier shipping schedule database BlueWater Reporting has confirmed the removal of several HMM vessels from the four remaining loops of the G6 Alliance's Asia-North Europe service.
It said that out of the 46 ships currently operating on Loops 1, 4, 5 and 7, only three vessels were now being provided by HMM. Fears of "potential operational problems" from the fallout of HMM's financial restructure apparently prompted the G6 to replace the carrier's ships with vessels from other alliance members.
It will be interesting to see if today's announcements from HMM and the KDB will persuade the G6 to phase HMM tonnage back into the services.
Elsewhere, those containership owners that have agreed to the new time charter rates with HMM will not exactly be jumping for joy. Even assuming that they obtained waivers from their lenders to cover the potential breaches of their ship mortgage covenants before agreeing to the amended charter rates, the charter cuts will have a significant impact on the revenues of the non-vessel operating owners.
For example, Danaos Corporation, which has 13 ships on time charter to HMM relied on the carrier for 28% of its revenue in 2015, with 17% of its revenue coming from HMM's compatriot Hanjin Shipping, which is also subject to a creditor financial restructuring.