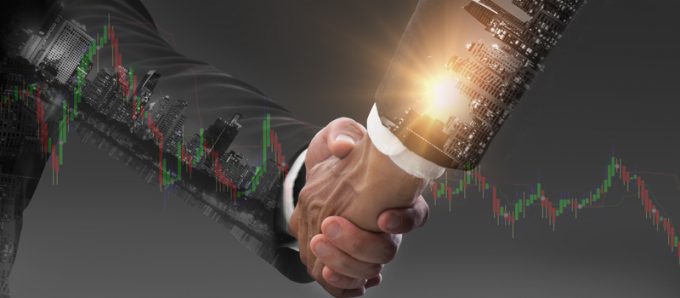 To stay focused on "Post Covid 19 – Towards the next normal", and on the practical matters and tools the industry needs, a blueprint, shared and agreed among all, is absolutely necessary.
The "closed-loop, integrator style" approach is a natural and profitable one that works. Just look at Fed Ex, UPS, DHL Express as proof of concept. When customer interface and expectations are met, and there is transparency of data systems, quality and the certainty of delivery guarantees, there is a lucrative business case. While passenger airlines ground aircraft, integrators grow and reap massive profits.
Do you think the business case for FedEx, UPS, DHL Express and Amazon Air would work if they were dependent on passenger aircraft belly lift? Why can these companies afford and justify freighters when passenger airlines say they cannot?
It's because they know how to market, know what consumers are willing to pay for, and have products that serve that need for speed, transparency and quality.
In scheduled airline models, 85% is spent on aircraft. In the integrator model, 85% is spent on the ground and in technology.
The entire scheduled airline industry has always been capable of providing similar products, like an integrator, and at a considerably lower cost. Passenger airlines' capabilities encompass all the needed elements, but they ignored the possibility of closing the loop as a "virtual integrator", due to an overwhelming mistrust between the third-party silos involved or contracted, and the relegation of those negotiations to purchasing departments seeking the lowest costs.
How is this relevant to today's Covid-19 situation?
It is widely accepted that international leisure travel will be the hardest hit and for years to come; it will take the longest time to recover as well. Airlines are either going bankrupt or seeking massive government subsidies to stay afloat. Large cargo-friendly widebody aircraft are being retired and those aircraft have the lowest unit costs only when full – and that's a long way off now if you depend on passengers alone.
And why was pre-Covid cargo yields and revenue not sufficient to make the decision to keep them flying?
Because the whole system is totally outdated, and mismanaged. It lacked investment, training and dedicated logistics professionals that did not look at cargo as a transition post to better things.
You may not like the thought, but especially on the North Atlantic or transcontinental, an A320 NEO or 737-Max outfitted with a Covid-19-compliant business and premium economy product for 80 to 100 passengers may be all that's needed for many years to come. ETOPS-certified, they can easily serve London – Toronto or London-New York as examples.
But there is an alternative to keep wide-bodies flying, and that's the massive contribution that belly cargo can contribute in larger aircraft if marketed and sold properly, and if airline product portfolios are developed that make this possible.
Consider the following and let's take London-Hong Kong as an example:
There is fundamentally nothing different between a BA 777-300 and a Cathay 777-300 on the route HKG-LHR, nothing at all. It takes 10:41 minutes to fly 5200 nautical miles. Both leave HKG and both arrive at LHR.
Nothing offered by FedEx, UPS, DHL or anyone else beats BA/Cathay time on this route for speed in the air. Point-to-point (PTP) services by scheduled airlines can make the same claim worldwide with few exceptions on almost all international routes. Yet airlines yields are so poor they claim cargo is a subset, not a core business, and so don't invest.
They have the fastest possible times, yet do not leverage that into substantial contribution.
Margin possibilities? Here is one hypothetical example we quantified for a SASI client:
Transatlantic LHR-North America. One (1) kilo shipment documents*
Integrator XX                                                  Airline XX (scheduled pax operation)
2-day service fastest possible                         Overnight, next day delivery possible
$85.35 price                                                       $85.35 (used same price for comparison)
$14.85  (contribution overhead)                    $15.96 (contribution overhead)
$37.00   (Handling costs, delivery etc)          $20.00 (Handling costs, last mile, offered)
$33.50 a kilo remains for linehaul                 $40.39 a kilo remains for linehaul
*all financial figures from public records and/or carriers' internal advice to SASI.
Scheduled airlines can deliver one day faster on many, many routes versus integrators. Hub airports can match integrators if cargo transit treated same as baggage.
On long-haul direct services, passenger aircraft can be two days faster than the best offering of integrators.
Integrators know this, as do forwarders, but do the beneficial owners of cargo, shippers and consignees? No, and whose fault is that?
Compare $40.39 a kilo that a scheduled airline can achieve, with rates as low as $1.60 a kilo, which are common-place on the same routes.
Even current Covid-19 North Atlantic prices of $7.50 a kilo pale in comparison.
The industrial engineering process involved and needed
In working from the top down, the re-engineering of your operational and marketing approach is not to blueprint in terms of silos i.e. airlines, forwarders, airports, GHAs etc., but in tasks, accountabilities and responsibilities to make a new system work.
Parties in your logistics offering that are monopolising tasks and hiding information and seeking "control" have to be relegated to the dustbin of history, or we are finished as an industry as we know it today.
For scheduled airlines and airports to regain profit and sustainable operations, to keep aircraft assets that are desperately needed for our economic recovery flying, cargo must be taken out of the "supplemental income" category and treated as the very lucrative and core logistics business it can be. For airports, facilities and compliant GHAs will become marketing tools of your airport.
If responsible and accountable CEOs and CFOs do not understand this, then I cannot see the value of state subsidies and new investors for failed airlines ever being justified.
Only in this way will existing large aircraft with massive cargo potential and capacity return to the skies in a profitable manner. By developing specific products, geared to the highest yield cargo verticals that still remain during and after this Covid 19 crisis is over, those airlines that embrace cargo as core will be those that also can afford upper deck seating with social distancing, lower passenger loads and lower load-factors, yet still be profitable.
Easier said than done? The work needed is on the ground, not with aircraft!
We need to cooperate on the converging points as a team; airlines, airports and GHAs, for items that are in everyone's interest, such as customs speed of clearance equal to the integrators globally, and rapidly expanding the Cargo Community Systems (CCS) concept by airports where the total scheduled cargo chain is served.
E-freight should be mandated, not requested. This is where all required processes could come together and make us relevant again.
For example, a network of global airport CCSs that talk to each other seamlessly (Data and Logistics Corridors) are required. If e-freight is embraced fully as a basic requirement, this would already provide a mini-platform of integration. It would enable everyone such as airports, GSSAs, GHAs, road feeder service providers, and e-commerce first- and last-mile service providers, to differentiate offerings with dedicated  "plug-ins".
Examples of such plug-in virtual partners could be e-commerce facilitation providers, customs, security, last and first mile services providers, trace and track, payment services, truck marshalling, common IT facilities or whatever. And all data can be secured with blockchain technologies.
The "plug-in" is an excellent way of learning what the world of user capabilities and needs are, thus ensuring exporters and importers have transparency, choices, competitive cost information and service guarantees in all gateways of consequence. This is vital in drafting a product portfolio of services that clients want from airlines, with clearly defined options for volume as well as for value. Data and logistics corridors which offer complete transparency, and a certainty of quality that today's consumer demands, will attract business to your airline, airport or service provider. Avoid this investment – and you will be relegated to commodity carriers of overflow cargo, if any exists.
We must organise as a scheduled cargo logistics industry into a "virtual integrator" model. The margins possible  – if embraced by c-suite airport and airline executives –  will ensure you will be among the survivors.
So to recap
Can anyone argue the point that a direct point-to-point flight by a scheduled airline is the fastest way between two cities for next day? No hubs, just direct flights, but it cannot be used efficiently due to this lack of "virtual integrator" capabilities at our major airports on the ground.
In addition, passenger hubs can flourish for integrator-type yields and a two-day service versus direct point-to-point capacity superiority, by treating cargo as they do passenger baggage in transit; one- or two-hour transits should be possible.
Certainly by now with the rise of airlines like Amazon Air and more to come, the writing is on the wall. If we don't do something radical, then scheduled airlines, major airports and forwarders, GHAs and so on will be bypassed out of necessity, as service demands of e-commerce clients, and the remaining air cargo verticals after Covid-19, cannot be met.
In the digital world of today's retail environment, it is about the logic of "anything, anywhere in three days or less" – not about our out-of-date and destructive behaviour of who wields power.
We need customer-focused IT dashboards for transparency, that allow every shipper or consignee to see the airlines' product portfolios in a clear and transparent way, training of all staff in this new business model, cargo communities that address the need for transparency, accuracy in trace and track, and the task of developing a "virtual integrator solution". All parties in this chain must prove their value, and no longer rely on the difference between buy and sell for their existence.
This requires engagement of all parties and advocacy by governments and industry associations through revised committees focused on the world's new reality of customer expectations, not the internal navel-gazing and self-interest that currently predominate.
E-freight must be mandated as soon as possible by airlines and airports as a start. Paper and Covid-19 do not match, and if you are not engaged and willing to make this happen then step aside.
Tools? 
Engage cargo community system providers, airports through ACI or directly, but also through airline alliances, and create express e-commerce corridors and centres of excellence for other verticals like express, pharma etc. ICAO encourages digitisation of cargo, and also understands that the economic sustainability provided by aviation is vastly underrated.
Airlines should take a product portfolio strategy; value must overtake volume in your approach, and be open and completely transparent to the beneficial cargo owners (BCOs) through IT "dashboards" via apps or desktop-user interfaces at every stage of the process.
Embrace "Data and Logistics Corridors" as a concept, especially between the airports on major critical trade lanes, and work to make them happen. Travel bubbles are fine and much talked about in the press, yet there's not one mention of cargo bubbles in the press – yet.
Final word
The battleground for scheduled airlines and airports, and all associated logistics service providers who depend on them, is in the boardrooms of creative companies. They need to step up and scrap the baggage of our history of confrontation between all parties and eliminate silo behaviour. Those airlines that survive, those airports that are equally suffering, the hard-working GHA and logistics company employees, and mostly those employees that are losing their jobs in this beautiful industry, deserve better than that from you.
The key to future survival is to realise that all that now seems lost is still there, has always been there and has not lost any of its promise. It just needs to handled in a more professional, responsible and eventually profitable way.
This is the third in a series of white papers from SASI about air cargo's future post-Covid. You can read the first here, and the second here.
Stan Wraight is president and CEO of consultancy SASI. You can contact him at [email protected]