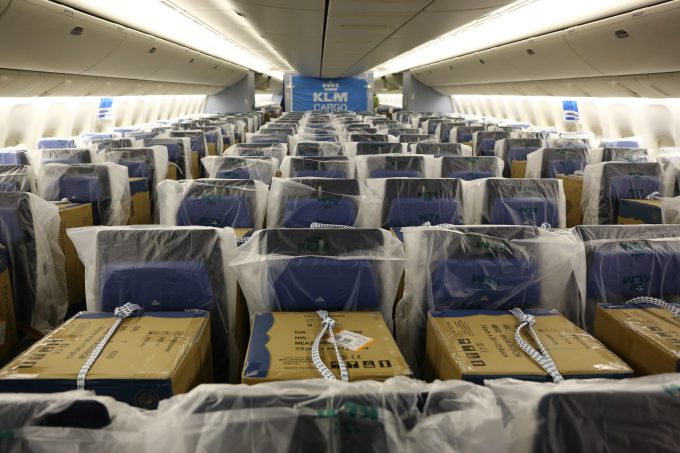 What Covid-19 has done to our industry is in certain ways unprecedented, but it seems that the lessons of prior crises have been forgotten completely as airlines and airports struggle to understand what to do.  Opportunism, and in some cases desperation, are driving a lot of the C-suite decisions at airlines and airports as they struggle to understand what is next.
Some facts from our own recent observations and client interviews:
It will take a minimum of three years for the industry to come back, especially intercontinental leisure passenger traffic.
International airline routes will take much longer to come back vs. domestic. Passenger load factors will climb again once the crisis is well over, but will be lower than the 80%-plus level which was the norm before the crisis. One European airline is already looking at post Covid-19 seating arrangements, with social distancing and personal protection in mind.
Some countries will close their borders to tourists due to social distancing and fear of a second wave of infections from foreign visitors, the question is for how long, most say until a vaccine is found and in common use which could take years.
The economic impact on average citizens is huge, and discretionary expenses like travel will be the first thing to be eliminated. Vacations will be domestic, not international, if they occur at all. Credit card luxuries will stop.  "VFR" traffic (visiting friends and relatives) will come back but much less than in the past, especially on international routes.
Passenger yields could remain low for a while, even after the crisis, as airlines seek to buy back their passengers but this is not sustainable for long; economy-class prices were already at rock bottom on most long-haul international routes prior to the crisis. If passengers do not resume travel as before, smaller aircraft types, not particularly cargo friendly, on longer-haul routes will become the norm.
Higher yield business travel will likely lag leisure travel in returning to pre-Covid-19 levels, many companies have learned a lot re virtual meetings and like what they see. There is also a liability issue with employees if they are forced to travel to destinations not deemed safe.
High-density economy seating will be out of favour, due to passenger demands for distancing, which brings into question the viability of LCC long-haul operations; in particular those that were also dependant on tour operators.
Those who need to fly, or must fly for either business or personal reasons, must prepare to pay higher fares if the traffic does not return until a vaccine is found and is widely available.
Retirements will be permanent for certain aircraft as airlines use this crisis to "right-size" their fleets. Aircraft that will be permanently grounded will include less-efficient, older widebodies such as the 747-400, A380, A340, 777-200 and older 767s (that may not be suitable for conversion to freighters). Older narrowbodies, including 737s, 717s, MD-80s and A320s will go as well.  While some of these aircraft, such as 767s or 737-800s, may find a new life as converted freighters, most will remain retired permanently. The older widebodies being retired are cargo-friendly passenger aircraft, with substantial belly capacity. Their retirement in particular may result in a permanent reduction in global air cargo capacity, which freighter capacity not controlled by the major e-commerce companies can accommodate.
Geopolitics will change the way manufacturing grows, especially in foreign direct investment (FDI) and the vulnerabilities exposed in component supplies for life sciences, pharma and major manufacturing such as aerospace and automotive industries. This shift in business practices such as JIT (just-in-time) and sourcing from the lowest-cost manufacturing countries, which will result in a transition to re-shoring or near-shoring, which companies may choose, or governments may dictate.
Airlines that shut down will have tremendous difficulties obtaining financing from any sources other than government funding and subsidies to restart, and therefore many will not return. Those that do will have new owners who will not make the mistakes of the past.
Company "right-sizing" efforts of past years will return, with majors capitalising on the crisis to downsize staff where unions had refused in the past, especially in Europe.  In such a bleak revenue environment, passenger airlines will be desperate to generate revenue from any source, particularly on international widebody operations.
Air cargo and logistics
Cargo revenue contribution can and will make a huge difference to airlines when it comes to reinstating passenger routes, and it will have a significant impact on their choice of aircraft gauge (size) and service frequency. Cargo's financial contribution has always been critical to passenger airline profitability, but now will take on a critical role in decision making for boards in the coming years on which routes can resume profitably, and which aircraft is right to serve the demand anticipated.
There will be a belly capacity shortage as the weakest airlines disappear completely and older, cargo-friendly passenger widebodies are retired. Airlines will strive to find profitable solutions to optimise their assets, in an environment where passenger yields and load factors alone cannot come close to providing the solution.
As airline fleets shrink and activity levels decline, airports will be seeking to retain and, hopefully, gain a greater share of the airline traffic and activity that will remain, and air cargo can and must play a central role in decision making.
There is much uncertainty as to what the future air cargo market will look like, but certain trends are evident. E-commerce demand will certainly continue to grow faster than anticipated; there will be a new tendency toward reshoring or near-shoring supply chains to reduce risk; and geopolitics will have an increasingly important impact on both demand and capacity.
Some recent press is illustrative:
"Last week, Japan unveiled a $2.2bn fund to tempt Japanese manufacturers back to the country or even to South-east Asia – as long as they leave China – in response to supply chain disruptions".
"Stemming from the pandemic, the director of the US National Economic Council, Larry Kudlow, said Washington should pay the moving costs of American firms bringing manufacturing back from China".
South China Morning Post
25/04/2020
Questions for governments
In the current crisis, we've seen protectionism, combined with hoarding of needed medical supplies, expose the vulnerability of having an ineffective air cargo policy as we scrambled to source supplies.
While in normal times air logistics contributes to economic development, governments have learned a hard lesson that in a crisis, air cargo becomes a strategic national imperative for the health, security and the well-being of its citizens and their countries.
Are governments going to continue to allow themselves to be at the mercy of foreign freighter operators which decide to fly in emergencies where the ROI is the greatest, causing bidding wars between states and countries – even so-called "friends" – become nationalistic in every aspect under duress? Tales of four times the normal rate to charter a 747 freighter are everywhere, with profits for the operators in the $30m to $40m per month range being recorded.
This is today's situation: diminished belly capacity, dominance by a few all-cargo freighter operators and a new reality in consumer online buying behaviour, with the remaining capacity shifting more than ever to serving e-commerce companies. How will this affect us and what should governments do to secure guaranteed lift?
Free market logic in passenger airline management decision-making prior to the crisis has led to an inability to serve the population and strategic needs in times of crisis. Most major European airlines operated freighters and had vibrant and influential cargo divisions that had a voice in the boardrooms, but this has, for the most part, disappeared, and along with it experienced and professional air cargo management.
Governments must understand that all cargo widebody freighters that are available and controlled for crisis management are a national priority, and if they are not a part of military fleets then some form of programme, such as the US Civil Reserve Aircraft Fleet (CRAF), should subsidise commercial airlines to operate them so they are available in times of need, thus avoiding the deficiencies so well highlighted in the past months.
It is no secret that before the crisis, with declining passenger yields due to overcapacity, most international widebody routes would not be profitable without the contribution of air cargo.  Going forward, the economics of air cargo must be addressed and recognised fully so that airlines can sustain vibrant and critical services, and not just during a crisis.
Airline and airport boardrooms must again have a strong air cargo representation
 How airlines and airports manage the next three years will determine how well-positioned they will be once the crisis is over, and may be  "make or break" for many. Some argue that even after the crisis, sustainable operations will not be possible without government support.
My contention is that relying on governments to support airlines or airports indefinitely is unwise and unrealistic. However, it is quite realistic for passenger airlines to restore air cargo professionalism – making sure that cargo professionals are hired, trained and heard in the boardroom.
Airlines and airports should rectify the incomprehensible organisation structures where air cargo is not recognised as a crucially important service element. Logistics is a highly esteemed profession, profitable and strategically important for the sustainability of the business case of both airlines and airports, and as such should be led by career professionals, not transient management to be rotated every few years.
Airlines should move to offer product portfolio capabilities that ensure speed, transparency and quality in their product offerings.
Airlines and airports should prioritise complete e-freight capability and service offerings. Intermediaries will become increasingly unnecessary and superfluous.
Airports should look at the critical routes needed for both commercial and strategic viability and form "data and logistic corridors" for cargo, and passenger "safe practice" agreements, so that a passenger embarking in one city knows that the destination airport will be safe and secure, and the procedures in place similar to on departure, to rebuild confidence in air travel.
All players in the logistics supply chain should stand on their own value-adding merits and charge clients accordingly, and not rely on the difference between buy and sell from airlines for margins. Airlines and airports must make large investments to ensure a revitalised service level and profitable operations; yields of the past in no way reflected costs and this cannot continue.
Airlines must realise that cargo is a core business now and invest in their cargo management, staff and training. Provide them the resources they need to deal directly with all stakeholders and principals in the air cargo supply chain at all levels. Engage with airports, GHA and authorities and put products in place to maximise yields so that more and more services can resume. This is no time to cost-cut in the one bright spot going forward that is so obvious for those that understand air logistics.
Airports need to recognise that cargo handling facilities are important strategic assets, not simply real estate transactions. Developers, ground handling companies and other logistics service providers which occupy these facilities must understand that the quality of the services offered is a crucially important marketing tool for the airports and their airline customers, and invest accordingly. For cargo, we see less contact with packages with social distancing required, which means automated systems in materials handling equipment and full IT platforms, such as cargo community systems and automated kiosks etc, being required. For airlines to afford this, yields must be in line with costs and their ability to pay suppliers.
Airports, airlines and GHA have to communicate with greater emphasis on the new reality of today, but more importantly, understand what is coming and what is possible.
Conclusion
The next three or more years will be an extreme challenge for the global air transport industry, and there will be many casualties along the way. There is very little management "wiggle" room anymore, and no time for trial and error. It is clear that, in an environment with greatly diminished passenger revenues and market and fleet uncertainties, air cargo can and should take on a much greater importance in planning and decision-making, for both passenger airline and airport managements, but how this is done cannot be left to chance.
Decisions need to be made carefully and wisely, with appropriate advice and counsel.
Stan Wraight, President and CEO of SASI