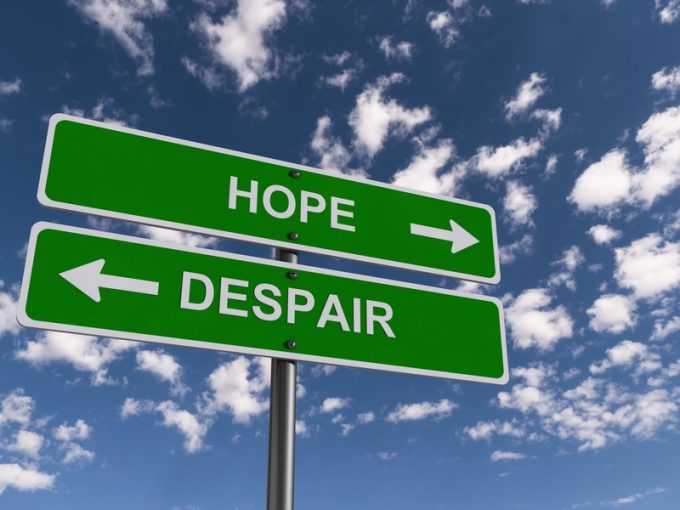 We may have reached the bottom, if analyses by Clive Data Services, Freightos and major banks are correct.
Air cargo volumes, which fell rapidly in March, improved in the second half of last month.
But although April volumes were down 39%, year on year, and capacity was 45% lower, the past fortnight shows cargo volumes have become "less bad".
March's year-on-year volume drop was 23%, and month-on-month to April was down 29%. But, as the chart below shows, both volumes and capacity are creeping up on a weekly basis.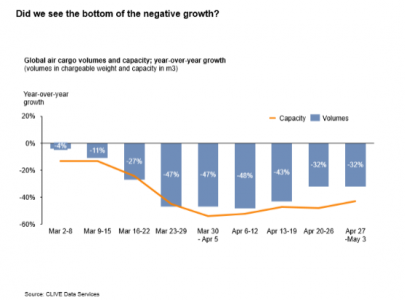 And air freight rates, while still "highly elevated", remained stable in the past week as more capacity came on stream, according to Freightos' WebCargo data.
Clive's data chimes with research from both Morgan Stanley and Goldman Sachs, whose chief economist Jan Hatzius noted this week that "economic activity has probably bottomed now".
The bank predicts advanced economies will contract about 32% on average this quarter, but will grow 16% over the next three months and 13% in the fourth quarter.
Morgan Stanley agrees. its chief economist, Chetan Ahya, wrote that "a number of the high-frequency indicators we track suggest the global economy is in the process of bottoming out".
He pointed to rising consumer expectations and mobility trends, as well as household spending declining at a slower rate.
"Our read is that China's economy bottomed in February, and we think the euro zone likely troughed in April, with the US following suit from late April," he said.
Load factors have increased, revealed Clive, with its dynamic measurement up four percentage points, year on year, to 67%, the same as in March.
"With a decline of 39% in volumes versus April 2019, it must be one of the worst months in air cargo's history," said managing director Niall van de Wouw.
"But a greater fall in capacity, mixed with the urgent need for personal protective equipment (PPE) by governments around the world, explains also why current air cargo yields have reportedly gone through the roof."
He said the data could be the first signs of recovery.
"Although it is too early to tell, the most recent trend, coupled with the views of leading global economists, might give us hope. Could it be that the worst is behind us?
"For all the cargo staff around the world on furlough, that know their temporary contract will not be extended, or have been fired as companies cut costs, the word 'recovery' will be hard to swallow. Perhaps, more appropriately, April's data is showing us that the situation is becoming 'less worse'."
Capacity is seeing a slight recovery, with carriers such as Atlas Air redeploying parked freighters, Cargologicair back in the air and airlines globally using passenger aircraft as freighters, or 'preighters', as Lufthansa Cargo is calling them.
"Until very recently, many airlines would have bumped cargo without blinking an eye to accommodate the luggage of their passengers," added Mr van de Wouw. "These same airlines are now removing seats from the same planes to create more space for cargo."
Freightos noted: "For air cargo coming out of China, some estimates indicate this peak PPE demand has kept rates extremely high, despite passenger jet conversions".
It also pointed out the "striking" difference in the impact on rates for air and ocean.
"Air rates out of China have increased more than 400% since January, while ocean rates are nearly unchanged."