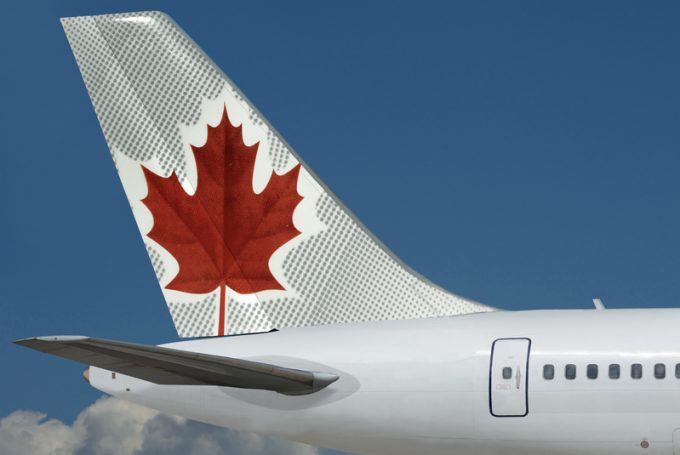 Retreating yields are not putting a dent in Air Canada's (AC) cargo flight operation.
The Canadian carrier is set to maintain about 100 cargo flights a week, although it is unlikely to repeat its historical feat of the second quarter, which saw cargo revenue outpace turnover in its passenger business.
Despite the drastic reduction in belly capacity AC's cargo revenues increased 52% to C$269m (US$202m) – C$62m more than the airline's passenger revenues in the period, which slumped  89%  to C$207m.
It was the first time AC's cargo revenues exceeded its passenger income – without a single freighter aircraft in the fleet.
"Over the course of the pandemic and through the second quarter we've continued our focus on airfreight to meet immediate and exceptional demand for medical equipment, critical goods and the regular movement of time-sensitive air cargo," said AC president & CEO Calin Rovinescu.
Since March, the airline has operated more than 2,000 cargo flights across a global network. Cargo flights represented 38% of all widebody flights in the second quarter and accounted for more than 40% of total cargo revenue.
AC was one of the first carriers to deploy passenger planes on cargo missions, and also one of the first to remove seats from passenger cabins to boost payload. It has reconfigured four 777-300ERs, as well as three A330 aircraft, to that end. All seven modified aircraft currently operate on international routes, with PPE, mail and perishables in the cabin.
Demand for PPE lift has been on the wane since the latter half of May, which has also brought yields down from their peak. Observers have predicted that cargo flights with passenger aircraft would diminish as yields and operating costs converge.
But AC has no intention of cutting back its cargo programme.
"Yields are down, but we are still running 26% ahead of last year's revenues," said cargo vice-president Tim Strauss.
Vito Cerone, director of cargo marketing & sales, Americas, added that he expected AC's cargo flights to continue at least until the end of the year.
While the initial cargo flights focused primarily on PPE traffic, AC soon shifted its focus to build a global network operation targeting a broader array of cargo.
"When everyone was focusing on China with PPE, we were already revving up in Europe and South America. That made us successful," he said. "We've been able to adapt to the market quickly."
He expects traffic to slow down in August, as much of Europe traditionally shuts down for summer holidays, but business should pick up again towards the end of September, he said, adding: "We see a slight increase in volumes out of Asia."
AC aims to be nimble with its capacity deployment, responding to market conditions.
"We're looking at new routes, but not a full-blown expansion. We're going to be more tactical, putting capacity on lanes that are strong," Mr Cerone said.
AC's cargo business is ahead for the year so far. July has been strong, according to Mr Cerone. In the first half AC Cargo generated C$418m in revenue, up from C$354m in the first six months of 2019.
Its 52% surge in cargo revenue in the second quarter put it at the top of the list of airlines that have reported increases in their cargo business in terms of growth rate. United Airlines and IAG have reported revenue increases of 36% and 33%, respectively.
For the airlines, however, the picture remains bleak. AC reported an operating loss of C$1.555bn and a net loss of C$1.752bn for the second quarter.
In the earnings call on the results, Mr Rovinescu lamented the lack of support from the Canadian government. Restrictions on international travel, especially a mandatory 14-day quarantine for all travellers entering Canada, are preventing a recovery, he claimed.
He added a warning that these restrictions could force AC to make further cuts, including orders for aircraft made in Canada (notably the A220, which Airbus took over from Quebec-based Bombardier). So far, the airline has cut C$1.3bn in costs by laying off 20,000 people, suspending 30 routes and retiring 79 aircraft.
"Without government industry support and as travel restrictions are extended, we'll look at other opportunities to further reduce costs and capital, including route suspensions and cancellations of Boeing and Airbus aircraft on order," Mr Rovinescu said.