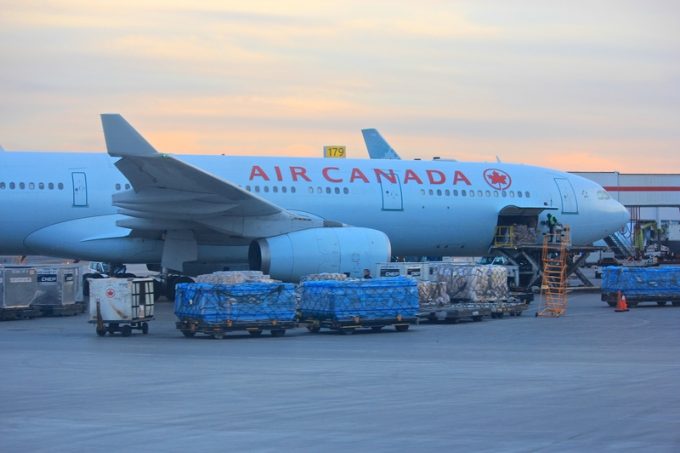 Cargo is growing larger wings at Air Canada (AC) – by the end of next year the airline intends to have seven freighters in operation, and it is about to officially launch an e-commerce service.
"Cargo will be an increasingly important part of Air Canada's future," said outgoing president & CEO Calin Rovinescu this week, following the release of the company's fourth-quarter and the full-year results for 2020.
When it announced the decision to convert two B767-300ERs into all-cargo configuration, management hinted at plans to add more converted 767s to the mix, but did not release any details.
At an earnings call, the carrier confirmed it aimed to field seven freighters, and according to CFO and deputy CEO Michael Rousseau, who is taking over from Mr Rovinescu, the plan is to have all seven operating in the fourth quarter of next year.
The first two freighters should be ready for this year's peak season, arriving in August/September and October, said Jason Berry, vice-president cargo.
AC has used 767 freighters operated by Cargojet before, to serve Mexico and the northern part of South America. But at this point there are no details on the new network. Mr Berry said the freighters would not target specific niche markets, but would complement AC's bellyhold network.
For the time being, AC Cargo relies heavily on passenger aircraft deployed on cargo missions, especially four 777s and three A330s that have had their seats removed to use the cabin as well as the bellyhold for cargo.
The airline has now run some 5,000 cargo flights with its passenger-freighters and other PAX aircraft, which played a massive role in boosting cargo results.
Cargo revenue was up 53% year on year in Q4, to reach C$286m (US$225.24m). For the full year, cargo revenues were north of C$920m, up 28%.
This went some way towards alleviating the devastating impact of the pandemic-induced cuts to flying, which resulted in a net loss of C$4.647bn for 2020. In the fourth quarter, AC suffered a C$728m ebitda deficit and an operating loss of just over C$1bn.
Tighter travel restrictions announced by the Canadian government at the beginning of February have forced AC into another round of cuts, laying off 1,500 employees and suspending 17 more routes. These include services from Toronto to Dubai, Tel Aviv and Sao Paulo, from Vancouver to Tokyo and from Montreal to Bogota.
The airline is stepping up cargo flights to make up for some of those cuts – AC will be running on average 200 such flights a week, Mr Berry said. This is up from just over 150 weekly cargo missions on average in December.
Besides its freighter plans, AC Cargo has also pursued its ambitions in the e-commerce arena. During the earnings call, Lucie Guillemette, executive vice-president and chief commercial officer, reported that the company had started e-commerce deliveries to residences in the fourth quarter.
"We expect to officially launch a branded platform soon," she said.
Operating with partners to handle the first and last mile of parcel shipments, AC's e-commerce service is in the pilot stage, working with several retailers. At this point, AC Cargo is not revealing any details, but Ms Guillemette confirmed it would be a domestic service leveraging the airline's Canadian network.
"The model is built to take advantage of the best domestic air network in Canada. We can move domestic shipments faster than anybody," Mr Berry said.