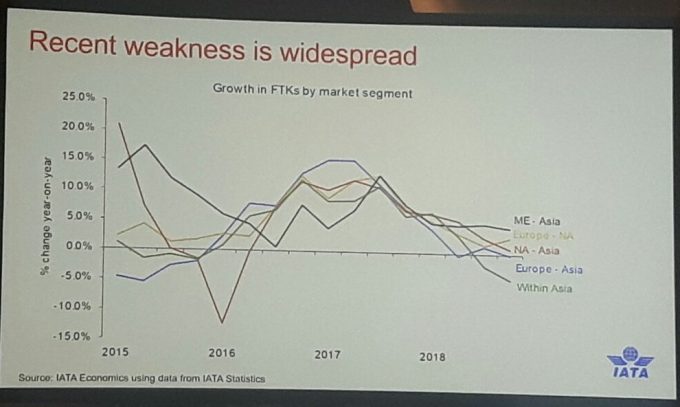 IATA has downgraded its projected growth figures for air cargo by nearly half, following a poor start to the year. 
The association now predicts growth of just 2% for 2019, down from 3.7%, while others are even more pessimistic.
One senior analyst told The Loadstar he thought gtowth would more likely be flat or 1%, while a chief executive believed the industry would "be lucky to reach 2%". 
Brian Pearce, chief economist for IATA, said: "Two percent is quite a significant downgrade from what we were thinking in December.  
"We didn't know we would see a contraction in the past three months, and it's more severe than we thought. And if we see a deterioration of the trade situation, we could see an even weaker environment." 
Speaking at the World Cargo Symposium in Singapore this morning, he said there had been a consistent picture of a slowdown. 
"Asia is a bellwether, and it has shown a pattern of weakness.  
"The fact is we are facing a problem with world trade rather than general economic weakness. The [trade war between] the US and Asia has added to European trade weakness, and the EU is going through an increasingly difficult time, with weakening exports and trade." 
Despite generally good economies, Mr Pearce said trade was restricted by increasing protectionism, and he pointed to some 9,000 policies put in place which have restricted trade.
"It's no wonder trade is not matching GDP growth," he added. "We might be on the cusp of a trade deal between the US and China, which is good news. But we are in a different world today, one of aggressive unilateralism. And even if we do get a deal, I am not sure it'll be finished." 
He added: "Globalisation has paused. We had two extraordinary decades of China being integrated into  the world economy, which was probably a one-off benefit, so it's not surprising that it's levelling off. 
He said there were reasons to be optimistic, however, with the IMF forecast suggesting world trade to grow at 3.5%, while the global economy would rise 3% in the next five years. 
And the growth of air cargo, he said, was in partly in the hands of the industry itself, with e-commerce one opportunity, while Brexit could also lead to a short-term pick up. 
"It's going to be a difficult year … but there's every chance air cargo could outperform sluggish word trade growth. It may not be too far out of reach." 
For airlines, the real challenge will be yields, said Chin Yau Seng, senior vice president cargo for Singapore Airlines.
"That's what makes or breaks profitability. When demand and supply are mismatched it affects yields …and there is no end in sight to capacity rises. The billion dollar question is whether demand will keep up."