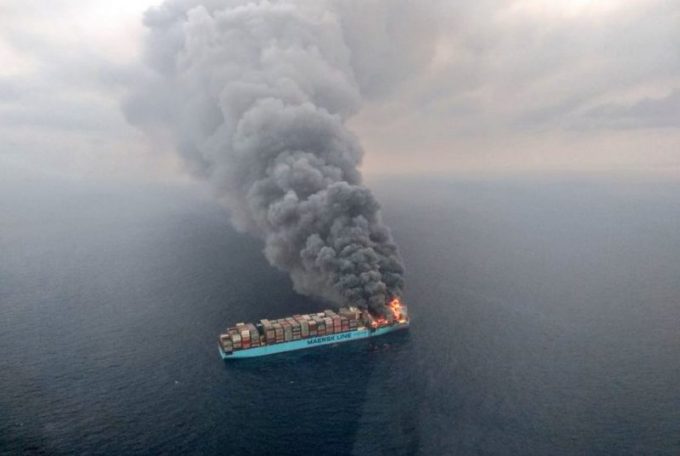 Although the fire-ravaged Maersk Honam is due to berth at Jebel Ali today, the discharge of its undamaged containers is likely to be further delayed.
Surveyors representing P&I clubs and local authorities will want to carry out detailed inspections.
The 15,262 teu vessel caught fire on 6 March in the Arabian Sea, which cost the lives of five crew members.
The ship was carrying 7,860 containers (12,416 teu) on a 2M Asia-west Mediterranean loop and has been anchored off the Gulf port since 24 April while remaining hot-spots were extinguished.
Containers stowed in forward holds 1-3 have been declared a total loss after fire and water damage, but boxes in the aft of the ship, in holds and on deck, are assumed to be in a sound condition.
General average (GA) has been declared by Maersk, which means cargo owners will need to lodge the necessary security bonds before they can have their cargo.
GA is a principle of maritime law where damages or salvage costs etc are shared among the cargo in proportion to its value and adjuster Richards Hogg Lindley has set the salvage security to the amount of 42.5% of the CIF (cost, insurance and freight) value of the cargo, with an additional 11.5% required as GA security.
The 42.5% element will be held until the salvage remuneration has been awarded, whereas 11.5% of the CIF value is held until the final GA adjusted has been completed, which could be several years from now.
Lloyds has assigned the casualty a major loss code and the International Union of Marine Insurers (IUMI) has said it may generate the largest GA loss on record, thought to be up to $100m.
Notwithstanding the GA requirements, MSC has told its customers they must pay $750 per 20ft box and $1,250 per 40ft for their undamaged containers to be relayed to their original destination and has given shippers a deadline of 6pm on Thursday to confirm acceptance of the extra cost.
Otherwise, it warned, it would consider the voyage terminated under Clause 19 of its bill of lading and cargo owners would thus become liable for storage and demurrage charges as per its tariff.
At the time The Loadstar went to press today, Maersk Line and slot charterer HMM have not advised whether they were imposing similar charges for the relay of containers covered by their bills of lading.
After a delay of three months, the cargo may no longer be required at destination and, in certain instances, it is believed the significant supply chain break and associated costs of relay and GA could put some companies out of business.
Meanwhile, given the vast growth in the size of containerships, IUMI has called for relevant industry stakeholders to "engage in discussions on how to further improve fire detection, protection and firefighting capabilities onboard container vessels".