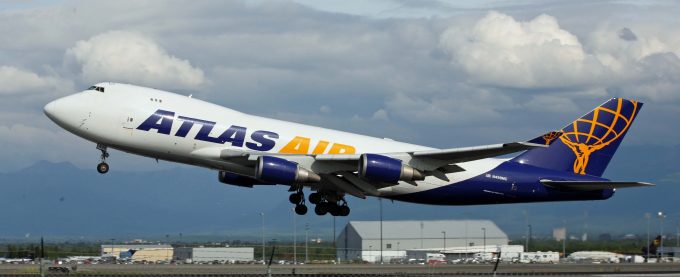 The acquisition of Atlas Air by an Apollo-led consortium appears to be progressing fast, with Bloomberg reporting that a deal could be announced this week.
The buyout is expected to be priced at $102.50 a share, only marginally higher than the $100-a-share base-case forecast by Loadstar Premium yesterday. This stamps on Atlas equity a price tag of some $3.2bn, on a fully diluted basis.
It could be delisted before the end of the year – with private equity ownership typically focused on a three- to-five-year exit.
But the news raises more questions than answers: Apollo is buying at the peak of the market, with AAWW shares never having traded at that price before. So it must have plans to ensure it sees a return on that investment – but what?
One aviation financier turned consultant told The Loadstar: "Clearly Apollo believes it can get more out of it, as it will have based it on its own forecast. It is also not subject to the scrutiny of the market.
"Usually, if it's one company acquiring another one, there is a 'strategic value' encapsulated, often by the synergy argument, but that's clearly not the case if it's a financial buyer. But it may well be the stepping stone to more – who else do you think might be 'in play'?"
The consultant said the key questions were: "Is there a risk that others would come in? What were Amazon's intentions with its stake – would it have ultimately bid? How dependent is Atlas on Amazon?"
He also noted: "If you are going to acquire something, you should always offer a price that offers you 'upside', but gets the attention of others."
There are few clues in Apollo's most recent earnings call, in May, (although it is announcing second-quarter results tomorrow). But Noah Gunn, MD & global head-investor relations for Apollo, told investors: "For us, purchase price matters as an investment philosophy permeates everything we do. Pricing and valuation are important for return generation really for the first time in about 14 years.
"The era of being able to achieve results on the back of declining rates and increasing liquidity, I believe to be at an end, separating alpha from beta. 'Purchase price matters' is not only a tool we think about in the equity business. As I suggested, it permeates everything we do.
"In our hybrid business, by giving away a portion of the upside and protecting the downside, we express 'purchase price matters'."
There is no doubt that the capital markets are currently facing a lot of uncertainty, with the threat of recession looming. Apollo director Scott Martin Kleinman told investors in May that, in 2020 it created scenarios that it asked its businesses to model, so that Apollo "could start taking a collective look at the risk and opportunities".
Mr Kleinman said: "We have again recently done so with some of the recent economic changes we've all been talking about … So the firm is looking at those scenarios and modelling on a very conservative footing when it comes to the course of 2022 and into 2023."
Perhaps in less conservative mode, Apollo famously bought the logistics arm of TNT for €1.5bn ($1.9bn) after an eight-month auction in 2006, which it turned into Ceva. It followed this with a $2bn deal to merge Ceva with EGL, after a bidding war with EGL shareholder James Crane. Ceva finally turned public in 2018, in a bid to raise $1.3bn to help pay off its $2.1bn debt.
Does Apollo have a similar strategy in mind?
There is little in its recent transactions to provide clues, although in June it acquired grocery retailer Cardenas Markets, which it will merge with Apollo Funds-owned Tony's Fresh Market.
Whatever the future may hold for Atlas – which reports financial results on Friday – there is little doubt as to who the immediate winners will be: Atlas executives and shareholders.
The best-paid executive is CMO Michael Steen, who owns shares that would be worth just shy of $12m at the price Apollo will reportedly pay. CEO John Dietrich has shares valued at $9.6m under that scenario, while former CEO Bill Flynn has $5.8m-worth and CFO Spencer Schwartz has $2.8m worth.