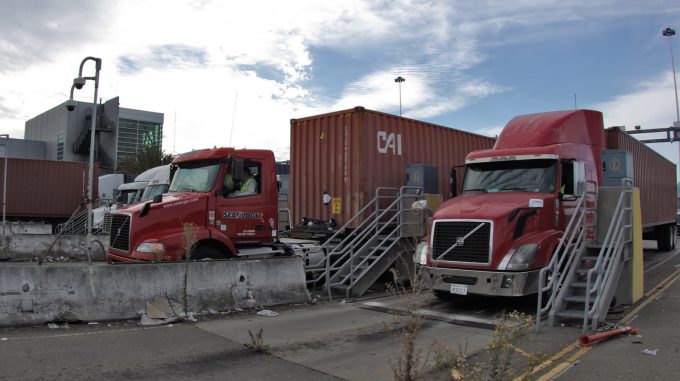 The US government is to provide funds for a 'pop-up port' project, aimed at improving the flow of agricultural exports from the country.
US Department of Agriculture (USDA) secretary Tom Vilsack made the announcement the day before the American Farm Bureau Federation (AFBF) and more than 100 agricultural organisations urged the Senate to expedite the Ocean Shipping Reform Bill, passed by the House of Representatives in December, which aims to address "unreasonable ocean carrier practices that are undermining US export competitiveness."
In a letter to Senate majority leader Chuck Schumer and minority leader Mitch McConnell, the groups say the transport crisis for US agricultural products is deepening and, with intense foreign competition, US producers will find alternative sources.
According to the AFBF: "A survey by the Agriculture Transportation Coalition found that, on average, 22% of US agriculture foreign sales could not be completed because of ocean carrier practices, like exorbitant freight rates, declined booking requests, failure to communicate schedules in a timely manner and several others."
Complaints such as these have prompted the government to find a solution to a lack of containers and a route for US agricultural exports via the port of Oakland.
On Monday, Mr Vilsack said: "Today, I am announcing a new pop-up site at the port of Oakland to ease congestion and get US agricultural goods to markets. The Biden-Harris administration will continue our aggressive approach to addressing challenges within the supply chain."
Some 60% of the finance for the 10 ha site outside the main port but which will have its own gate access, will come from the $500m Commodity Credit Corporation fund and USDA said it would cover the $125 additional movement costs for each container.
US transport secretary Pete Buttigieg added: "After we helped set up inland pop-up ports at the port of Savannah, we witnessed significant improvements in the flow of goods, and we expect to see similarly positive results once this Oakland facility is open. We look forward to engaging with other ports on similar solutions to congestion."
The Oakland facility is expected to open next month and will allow easier access for exporters to empty containers. However, many shipping lines have been skipping Oakland. With delays in southern California playing havoc with vessel schedules and rates on the Pacific at record highs, the lines prefer to return to Asia for new US imports.
USDA said: "Ocean carriers have made fewer containers available for US agricultural commodities, repeatedly changed return dates and charged unjust fees as they short-circuited the usual pathways and rushed containers back to be exported empty.
"The poor service and refusal to serve customers is exemplified by many ocean carriers suspending service to the port of Oakland. The DOT [Department of Transport] and USDA called on the carriers to more fully utilise available terminal capacity on the west coast. At least one carrier has since announced plans to resume previously suspended service to Oakland."
To find out which trades are suffering most as carriers switch capacity to the Transpacific – listen to this clip from Stefan Verberckmoes, shipping analyst & editor North Europe at Alphaliner, in The Loadstar Podcast.