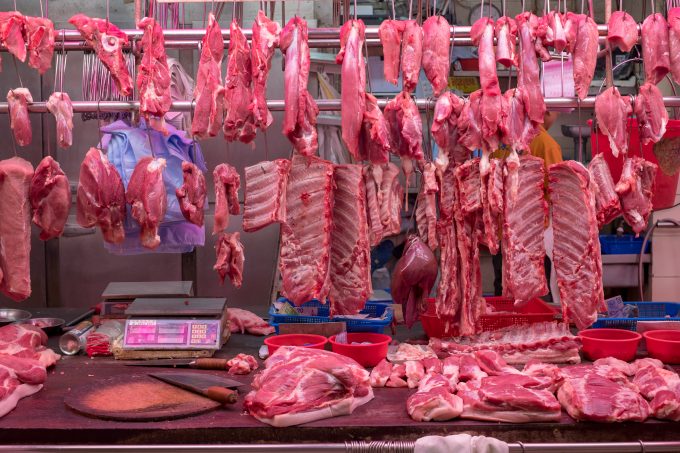 US meat producers must be licking their lips at the prospect of Chinese demand for their product going through the roof.
A planned agreement between Beijing and Washington envisages China ramping-up purchases of US agriculture exports to a level of $40-50bn in two years, according to the White House.
However, some question whether supply chains can cope with a deluge of US meat and produce.
US pork exporters appear ready to unleash a torrent of exports to China. According to the US Department of Agriculture's Cold Storage Report, stockpiles of pork are at their highest level since 1971, 34% up from last year.
The National Pork Producers Council claims American pork producers are losing $1bn a year in sales because of Washington's trade wars and is sector poised to benefit spectacularly from Beijing's readiness to buy US farm products.
Chinese pig stocks have been decimated by the African swine fever epidemic, to the extent that several cities have started to tap into strategic pork reserves, and the authorities forked out an estimated Rmb3.2bn ($452m) in subsidies to assist low-income families buy pork after prices climbed more than 50%.
Despite a 25% tariff on most US agriculture goods and additional levies on US meat products, American pork exports to China have risen in recent months. If Beijing were to drop the tariffs, or at least issue waivers, growth is expected to grow exponentially.
Domestic production cannot keep up with demand and China's overall pork imports soared 76% in August. The recent rise of US meat imports suggests that the severity of the swine fever epidemic is eroding the impact of the tariffs.
How aggressively American soybean farmers will pursue lost ground in China is less clear. For them, the trade conflict has been devastating.
Before the advent of tariffs, about 25% of the US soybean crop ended up in China, but that market fell off a cliff. Last year, China imported 14m tons from the US, a far cry from 34m tons bought two years earlier.
So US producers are approaching this market with alacrity. However, not only is the new agreement not written and signed yet, there are also doubts how much China would import.
In recent negotiations, Beijing has signalled that it would only commit to large purchases of farm commodities if these met demand. With national hog stocks down sharply, demand for soybeans is much weaker than a year ago.
Arguably, American pork exporters could also refrain from going full throttle at the Chinese market. Owing to the spread of the swine fever to other Asian countries like Korea and Vietnam, demand for imports is going up outside China. Vietnam is facing an estimated pork shortage of 500,000 tons.
The logistics pose additional questions: pundits have warned that inland transport in the US would struggle with a sharp surge in traffic, facing higher costs, delays and equipment shortages. Moreover, challenges are worsening in China. There have been reports since June that the country's cold storage infrastructure has been stretched to the limits by the sharp increase in pork imports.
And a lesser question mark hangs over the planned trade deal. According to the White House, the US and Chinese presidents were going to sign the agreement at the APRC summit in Santiago in November. However, the Chilean government announced yesterday it would not host the summit, owing to protests that have swept through Santiago.
If the two sides are ready and determined to strike an agreement, this should not be a real obstacle. The logistics of getting the produce and protein to Chinese consumers are likely going to be more challenging.