Communication is key in the logistics business and making sure you understand each other is critical to making digital supply chains visible to all stakeholders.
That simple, obvious fact has not so far been realised and as a result the United Nations' electronic trade facilitation body, CEFACT, has released a 'business requirement specification' (BRS) that provides guidance for an integrated track and trace system for multimodal transport.
It aims to shed light on supply chains that many beneficial cargo owners experience as a "black box".
The BRS document provides a standards-based approach to creating track and trace solutions for goods transported, regardless of the mode of transport used and types of goods transported. The BRS is, strictly speaking, not a standard but rather a guideline on how to apply standards, and is built on two fundamentals:
there is no need for new standards: proven global data standards can deliver seamless integrated track and trace in multimodal networks already
the proposed approach is applicable for all buyers and sellers in all sectors, trades, types of goods and modes of transport.
Where are my goods?
Shippers and consignees are raising their expectations, requiring transport providers to offer better quality, more visibility, additional services and more control over supply chains.

Critically, cargo owners need to know where their goods are. Without that knowledge, supply chain managers are effectively blind and are unable to control their supply chains.
As a result, shippers have been forced to establish buffer capacity to deliver quality services to their customers, driving higher prices. Moving toward a higher degree of transparency in the multimodal supply chain provides a better basis for decisions.
Focus on linking identifiers
Typically, the main obstacle to fulfiling end-user expectations is a disconnect between identifiers used in the trade domain by the sellers and buyers and the identifiers used by stakeholders active in the transport domain.
Generally, each party uses its own identifiers without linking those identifiers to those assigned and used in previous steps in the logistics chain.
For example, a seller identifies his shipment – which is often transported on several different transport contracts – and is frequently unconnected to the consignment identifier that each carrier uses for the transport contract.
Another example is when transport units get consolidated into larger transport units; for example, when 40 pallets are stuffed into two intermodal containers, often, the operator doing this will not record which pallets have been stuffed into which container, which is identified with a BIC code.
The result is that an event recorded for the container – or the consignment that the container is a part of – cannot be linked back to the shipment or the goods in the shipment, and nobody can answer the seller or buyer question: "Where are my goods?"
The BRS aims to provide guidance on the consistent use of relevant identifiers involved in the movement of goods to achieve seamless tracking and tracing throughout the logistics cycle.
Extensive research by UN/CEFACT experts showed that for all identifiers relevant to multimodal transport, well-established global data standard (GDS) identification schemes exist. Stakeholders may continue to use the identifiers they are familiar with as long as those identifiers are unique. The aim is to link the identifiers, not necessarily to replace identifiers.
The research also shows that proven global data standards exist for the exchange of event information among large groups of very different stakeholders that may be dispersed all over the globe. Therefore, the BRS concludes, there is no need to develop new standards to achieve seamless tracking and tracing of goods.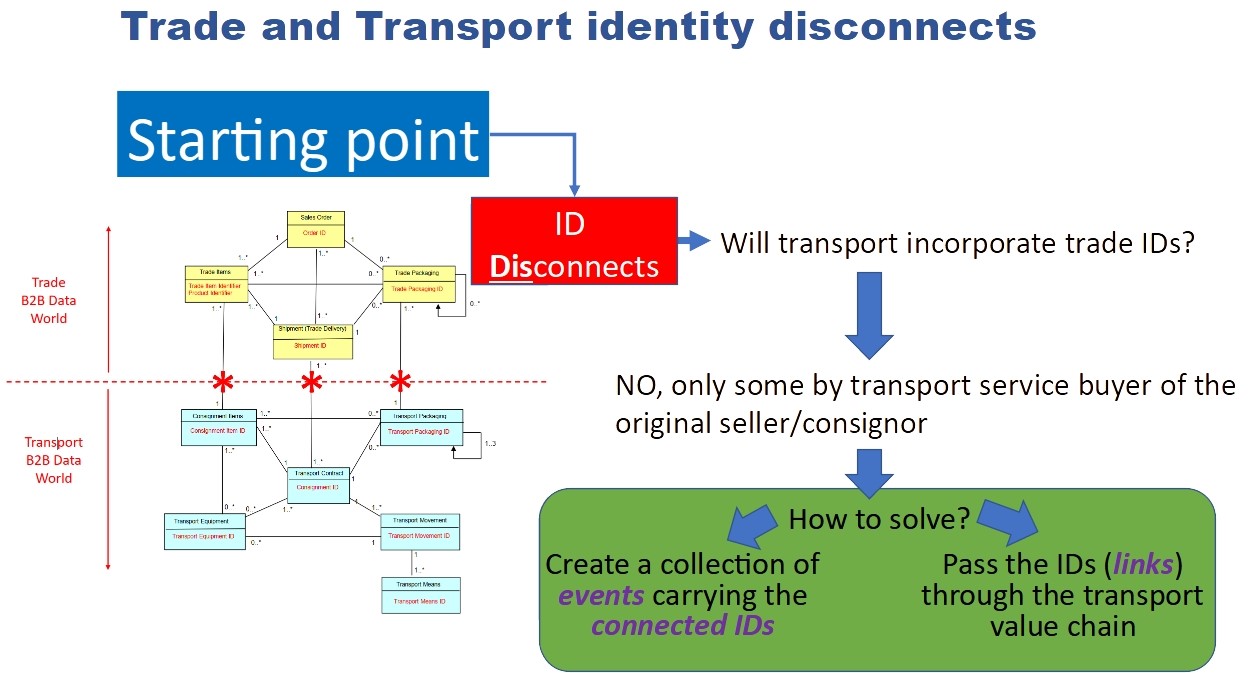 Common language needed
The BRS focuses on establishing a common language among the stakeholders to be able to discuss how to achieve effective tracking and tracing together. Stakeholders currently use many different terms for the same objects and sometimes the same term but with a different meaning. Without a common understanding about basic terms, it is next to impossible to create coherent and consistent track and trace solutions.
To be able to find all relevant events in the full history of events, they must be linked or linkable. This is achieved by ensuring that, where needed, identifiers created for the goods' journey are linked to the identifiers used in the current (or previous) step within the event posted to the full history.
Using the links in each event, you can traverse the chain of events to learn about the full history related to the object of interest. The chain of events is part of the overall shipment data pipeline related to the sales order contract between the seller and buyer.
Because the chain of events relies on each stakeholder creating a new event using global standard identifiers and linking any newly created identifiers to the ones used previously, the BRS proposes an eight-step approach.
Supply chain stakeholders can use this to jointly map out critical events and critical data-elements to be captured in an individual event:
collect visibility goals and requirements;
document business process flows;
break each process flow into series of discrete steps;
decide which business steps require visibility events;
model completion of each step as a visibility event;
decide which data to include in the visibility event;
determine vocabularies to populate each data field;
document visibility events in a visibility matrix.
The proposed approach is generic and may be used for all types of goods travelling on all modes of transport.
Recommendations
The BRS recommends the following to develop effective and efficient track and trace solutions, independent of mode of transport and individual organisations.
Use global data standard identifiers that are widely adopted by business. This will achieve the technical requirement that identifiers must be unique when used in multimodal track and trace environments.
Adopt a common language for discussing the requirements and objectives for the track and trace solutions. The BRS provides a starting point. In case further details are needed, the UN/CEFACT semantics and core components library may provide a "neutral" basis for the common language.
Use the proposed approach to "map out" the (minimum) requirements for the track and trace solution. In general, it is wise to start simply.
A standard on track and trace is crucial to achieve enhanced precision in delivery times. Knowing where the goods are, and thereby opening up the "black box" of transport. It is a necessary step towards enhanced transparency and synchronisation along multimodal supply chains.
It is important for those involved in logistics to deliver high quality services and provides mitigation for emerging bottlenecks and a foundation for predictability of transport for seamless and sustainable multimodal supply chains.
This is an excerpt from a UN/CEFACT paper, the original story can be read here.