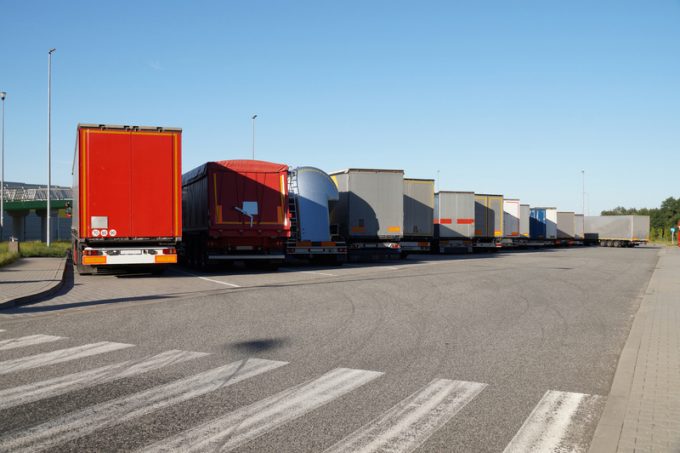 Freight and haulage representatives across Europe and the UK have renewed calls for increased financial support as governments begin to plan for life after social lockdowns.
In a joint letter to UK prime minister Boris Johnson at the end of last week, senior figures from the industry warned, with around 50% of the country's fleet currently parked up, of a widescale business collapse without further government help.
"The announcements made by government to support businesses and the economy over the last few weeks have been necessary, and indeed welcome, but are not enough," wrote the heads of the Road Haulage Association, Cold Chain Association, Chartered Institute of Logistics and Transport, Association of Pallet Networks, British Association of Removers and the Transport Association.
"Unfortunately, they provide too little comfort for SME businesses which make up 85% of our sector.
"As a result, with no further action, we fear there will be widescale business collapse, that could reduce capacity by as much as 50%."
The letter adds that, while government focus since the onset of the pandemic has largely been on critical supply chains – supplying produce to the country's food retailers and medical equipment to the NHS – there is a slew of almost unseen verticals supporting those primary supply chains which are increasingly at risk from logistics failures.
"Most operators work as part of an integrated supply chain and their activities are spread across multiple sectors. This is essential for their efficiencies and to maintain critical and very vulnerable supply chains. As an example, without packaging and waste recycling, the food supply chain cannot be maintained," they wrote.
"As well as the huge damage this [widescale business collapse] will do to the economy in terms of unemployment, the medium-term impacts on our economic recovery could be even worse. Our sector would likely find it impossible to provide enough capacity to meet demand going forward."
The writers called on the government to provide the industry with a range of tax relief measures, as well as cash injections, to help cover fleet operating costs and allow a "weekly" furlough scheme to encourage greater employment flexibility.
Meanwhile, last week saw the European Commission draw up its first road map for the EU's tentative exit from social lockdown measures.
However, after another week in which intra-European road freight continued to be beset by long queues at internal EU borders, the IRU called for member states to coordinate lockdown exit strategies and ensure green lanes are respected across the continent.
"Green lanes are still not a reality everywhere, even with trucks representing the predominant type of cross-border traffic," it said yesterday. "Long waiting hours continue to pose the biggest challenge for logistics.
"Once the de-confinement process commences, more and more traffic will overwhelm the borders. Continuity of logistics chains will therefore be seriously harmed unless green lanes for commercial vehicles become a reality and result in a policy that prevents systematic stopping of trucks at intra-EU borders.
"Some member states form convoys of trucks at borders, in order for the vehicles to cross their territory escorted by police. This is contrary to the concept of green lanes, and what's more, it is unsafe," it added.
Yesterday, Croatia and Slovenia confirmed they had abolished the convoy system for transits across their territories.