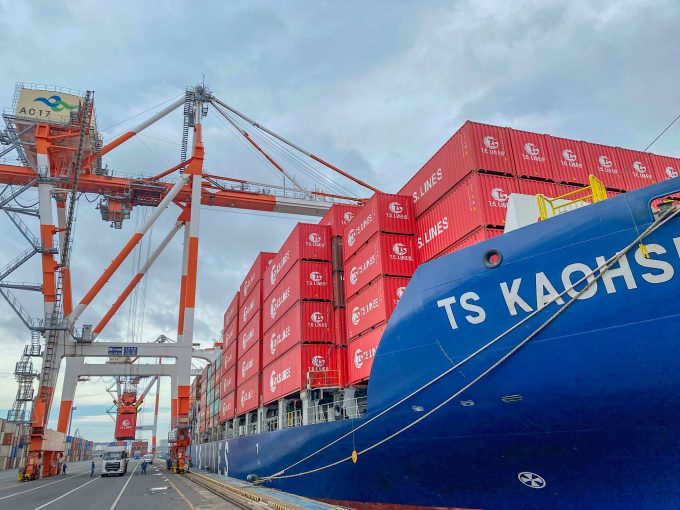 Taiwanese intra-Asia carrier TS Lines could relaunch an Asia-US service if the current massive congestion in the US West Coast is resolved.
At a press briefing days after announcing a slew of newbuilding orders, and the launch of new services to Canada and New Zealand, company general manager Tu Honglin said that TS Lines had re-entered the Transpacific lane, starting with a China-Canada service.
While freight rates on this lane are comparable to Asia-US West Coast, congestion in Canada is much milder than in the US West Coast.
As of Sunday, 71 ships were queued outside Los Angeles and Long Beach, prompting both ports to extend gate hours. Queue numbers have been reaching record levels due to surging imports and insufficient manpower and land-based logistics.
And while the number of ships at anchor can fluctuate on a daily basis, Flexport CEO Ryan Petersen claimed today that 16% of all vessels operating in the transpacific trade were currently at anchor an waiting to berth at either loading or discharge ports.
As if further evidence was needed, new data from Sea-Intelligence Consulting this week showed that the median time a box ships spent at a US port increased from 25.3 hours in the second half of 2020 to 29 hours in the first half this year – equivalent to a 20% increase in the amount of time each vessel call takes.
Mr Tu said: "We're ready to re-open the US West Coast service at any time. We're just waiting for the berthing issues to be resolved. We're starting our return to the Transpacific with the Canada service, before deciding on resuming the US West Coast service, with which we're familiar. We don't rule out starting an Asia-US East Coast service too."
In 2010, TS Lines and Chinese state-owned liner operator Hainan PO Shipping launched an Asia-US West Coast service, but overcapacity ended this service and the latter company eventually went bankrupt.
TS Lines chairman Chen Te-sheng said that recently delivered ships are being assigned to mid-haul lanes, such as Far East-South Asia and Far East-Middle East and Far East-Australasia services.
Mr Chen explained that opportunities had opened up as mainline operators have been diverting vessels from these mid-haul lanes to the more lucrative Asia-Europe and Asia-US routes.
He said: "The lack of space on these mid-haul lanes has therefore worsened and the freight rates have increased. The Canadian routes are also commanding high freight rates."
Mr Tu pointed out that it is currently the peak season for shipments to New Zealand and Australia as retailers stock up for Christmas, and the freight rate is between $8,000 and $9,000/FEU.
Alluding to TS Lines' plans to go public, Mr Chen added that an IPO is likely in July 2022 in Hong Kong, having postponed the listing due to Covid-19.
Mr Chen explained that while most of the company's operations are conducted from Taiwan, the head office is in Hong Kong.
He also cited low trading activities on the Taiwanese bourse as another factor for choosing to list TS Lines in Hong Kong.
Mr Chen said: "Hong Kong has sufficient investment funds. Investors there also have a better understanding of the long-term operation of shipping. It is therefore easier to raise funds. In addition, Hong Kong has low corporate tax and dividends."