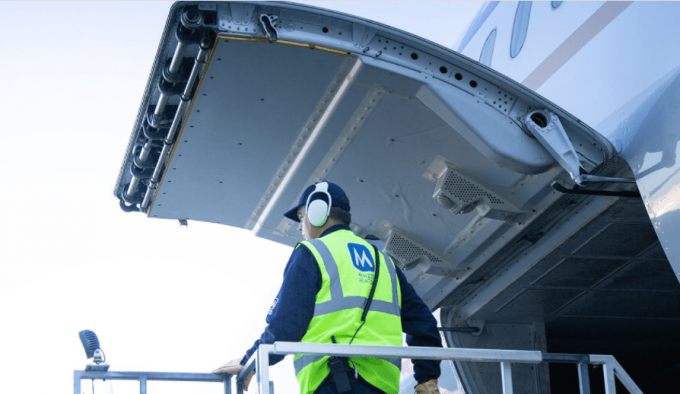 Handlers work at the coalface of air cargo, they soon notice any new trends.
So has Robert Fordree, executive VP cargo for Menzies Aviation, any visibility into the rest of the year, judging by what airlines are asking for?
"We are not seeing a pattern at the moment, and we are getting different responses from different airlines," he says.
"But I am expecting a busy summer, 2022 to be better and 2023 better still. The holy grail is airlines returning to 2019 schedules."
But surely, in cargo (where volumes are higher this year than in 2019), it's going well enough without passengers?
"What is happening right now is unsustainable," explains Mr Fordree. "Yes, we are seeing the benefit of a high cargo payload. That will reduce when passengers come back.
"Will airlines increase scheduled services for cargo? Will they take higher yielding passengers over cargo, or bring in new capacity? That's what we don't know. Is cargo a 'nice-to-have', or is it more important than that?"
That question will also be asked by airports and Mr Fordree says he is seeing increased interest from them.
"Lots of airports are looking to invest in cargo, and asking us what we need. A lot of people have woken up to cargo.
"We are now seeing support from airports – but that's not to say that all of a sudden there's loads of space available. Most gateways are hampered by a lack of facilities, and many don't have space. But there is a lot more engagement and flexibility."
There has been much talk recently of carriers returning to the major gateways as the pandemic eases off and flights return to 'normal'. Given much of Menzies' growth has taken place during the pandemic, are there concerns that the market will look different in a year's time?
"You have to take a bit of a leap of faith with airports. But one of the things you look at is longer-term arrangements and investment in the airport. Will some carriers revert to traditional gateways? Yes – but lots are already capacity-restricted."
In terms of handling different commodities, Menzies will do what it's asked by customers.
"In general, air cargo is cyclical. Sometimes there will be a huge focus one thing, and then the market changes. If you are too bespoke on your solution, there is a danger of it becoming redundant.
"If you see handling as a jigsaw, you want to look at handling different things for different airlines with different needs, and try to provide a solution that covers every eventuality."
But it is not just airlines handlers provide solutions for. Forwarders arguably have a closer relationship and, in some areas, also a contract. But Mr Fordree has no doubt who his customer really is: "It's the airlines. We couldn't secure enough revenue without airline contracts.
"But the lines are significantly blurred. The forwarders are customers of the airlines, but we also have a direct relationship. We have lots of conversations with them – but always with the blessing of the airline.
"But we are very aware that forwarders are the lifeblood of the operation, especially in the UK. So we do try to benefit them, there are lots of things we put in place for them, which they can influence heavily."
Lately, however, forwarders have been complaining bitterly about a sharp increase in handling rates and charges, and a bewildering difference in charges depending on the airport. How do handlers decide the charges?
"Rates differ from market to market; labour costs differ, lease costs differ. Then there is engagement with Customs and dwell times. All those things dictate the cost structure. And then there are the traditions of that market. In the UK, the terminal handling charge structure is very different from Amsterdam, which is much lower. Sometimes it's historical."
There is no denying it has been an odd past year and Mr Fordree admits Menzies has had to make "difficult decisions with the labour force" – resulting in a smaller organisation.
"But we've been focusing on cargo and growth markets, so we are in a positive position. We expect to end the year in a good place."