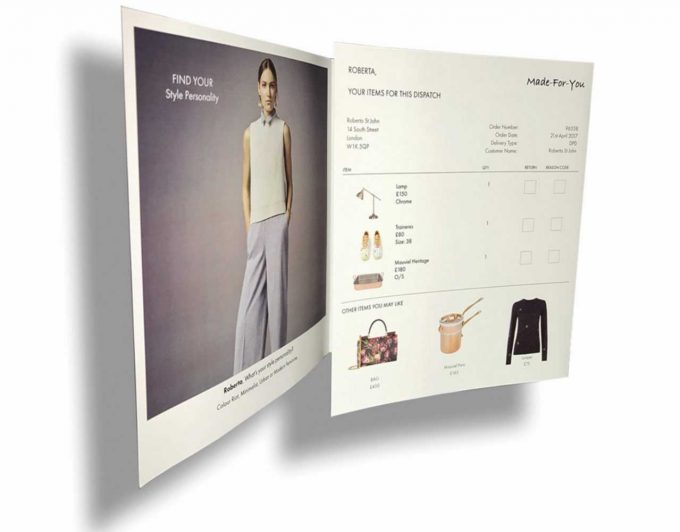 Forwarders can help retailers keep customers and improve loyalty by offering new channels of communication and subscription delivery models.
Repeat customers make a 23% contribution to overheads, while new customers account for just 3.5%, Andrew Curran, CEO of customer loyalty specialist Retain.me, told The Delivery Conference last week.
"You need to get more value from customers. You may get happy customers – but that is not loyalty. You must deliver the minimum expectation – the right product at the right time – but that doesn't deliver anything different.
"The customer needs a reason to come back. The time they are most likely to re-engage is seven to 10 days after a purchase."
Retail.me designed a 'SmartSlip' – a transactional document with receipt and returns information, which is GDPR complaint – but is also personalised with product and category recommendations, loyalty schemes and offers.
It is printed at distribution centres by the forwarder and delivered with the goods.  It increases sales from existing customers by 10-23%. And according to retailer Amara, it outperforms email marketing by 170%.
Each slip (pictured) is bespoke, can be in any language. They are batch-produced dynamically, in line with the pick and pack and dispatch processes. They are then scanned and sent out with all customer online orders.
Retain.me partners with Seko Logistics, which fulfils SmartSlips.
"We see SmartSlips as an effective way to help our e-commerce customers generate more sales," said David Emerson, group sales & marketing director at Seko.
"We take care of it at the distribution centre. We're looking forward to working with Retain.me to roll out SmartSlips to all customers we believe can benefit from this great new technology."
Retain.me acknowledges that there is, of course, a cost to the slips. But, added Mr Curran, "you are also maximising the opportunity to speak to customers when they are most engaged".
Customer retention can also be improved by subscription delivery models.
"You can keep a customer for a year because they paid $30 in subscriptions," said Justin Irvine, commercial director for OmniChannel at Seko. He said a subscription model, such as Amazon Prime's, worked well.
"We are working with customers to bundle up a subscription product. There are models in place from carriers, but retailers need a strategy."
But retailers speaking at the conference expressed some scepticism. Quinten Francken-Bosman, group shipping and procurement director for Photobox, said that although the company was considering it, "there are quite a few hurdles – and delivery brings in quite a big revenue for us".
Subscription also required scale, said Thibaud Lebuyer, COO of Latin American e-commerce platform Dafiti Group.
"We did VIP free shipping, but it was a limited focus on one segment. To work, it needs to be across multiple deliveries."
Mr Curran concluded with a quote from US poet and civil rights activist Maya Angelou, which he said encapsulated the way to retain customers: "I've learned that people will forget what you said, people will forget what you did, but people will never forget how you made them feel."