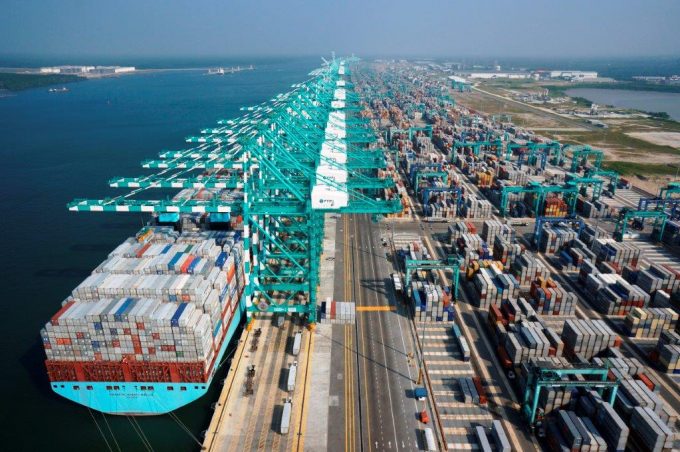 Malaysia's port of Tanjung Pelepas (PTP) saw 8% growth in 2020, to a record-breaking 9.8m teu, making it an outlier among South-east Asia's competing transhipment hubs.
The growth the port, which is operated by Maersk subsidiary APM Terminals as the carrier's key transhipment hub in the region, came despite global economic uncertainties and the Covid-crisis .
PTP CEO Marco Neelsen explained the reasons: "A surge in extra transhipment volumes, due to the increased demand in Asia and Europe, and requests from customers to increase their throughput at PTP."
He said the second-half of the year had seen the opening of more borders and the revival of the global trade economy for the China, transpacific and Europe regions.
Khalib Mohamad Noh, PTP chairman, added that the port had strengthened its position due to its investments in new equipment and efforts to improve container handling capacity.
PTP purchased eight super post-panamax quay cranes, 10 electrified rubber-tyred gantries and dredged the navigation channel to "ensure the new generation of ultra-large container vessels can safely navigate to our port".
Indeed, HJ Tan, an independent container shipping consultant, told The Loadstar: "PTP was less affected by the blanked sailings during the the first-half, with carriers dropping fewer South-east Asia calls yjam to North Asia, and also benefited from the rebound in the second-half, with more relay and empty repositioning requirements."
The region's competing hubs didn't fare as well, however. In Singapore, PSA volumes saw a 0.9% drop. but there was some good news in September, though, with THE Alliance member HMM committing to a joint-venture terminal.
Mr Tan said at the time it was natural for HMM to hub at Singapore, since most of  the alliance's transhipment volumes were handled by PSA. But. he added: "The bigger battle will be for Evergreen, whose current arrangement at PTP will be expiring."
At Malaysia's Port Klang, PTP's national rival for South-east Asia's famously "footloose" transhipment cargo, terminal operator Westports is also expected to report a reduction in volumes, once its final figures are tallied.
Affin Hwang Capital said, in a research note: "We forecast Westports' 2020 container throughput at 10.5m teu, a 3% decline due to lower transhipment volumes, partly cushioned by higher gateway throughput. Furthermore, we expect its Q4 20 container throughput to decline by 6%, quarter on quarter, due to lower transhipment of empty container boxes and lower operating efficiencies in December as a result of port congestion."