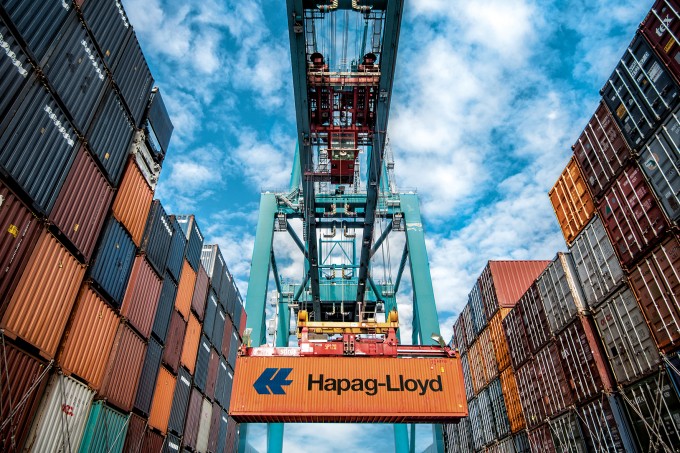 Capacity constraints caused by congestion and disruption to global supply chains saw the stiffening of ocean freight rates, boosting carrier returns in the face of softening demand, during the first nine months of the year.
The effect on container shipping has been to raise average rates per teu, maintaining revenues at high levels even as demand waned.
Both European carrier Hapag-Lloyd and Taiwanese operator Yang Ming have benefited from the disruptions to supply chains and showed elevated revenues. In Yang Ming's case, the first nine months brought in $10.79bn, against $7.25bn in the same period last year.
Hapag-Lloyd reported revenue of $28.44bn, against $17.94bn in 2021, on volumes that were very similar – 7.99m teu this year and 7.98m in 2021.
In its earnings report, Hapag said average freight rates made the difference, increasing to $2,938/teu, from $1,818 last year, and rates were also bolstered by a stronger US dollar.
And average rates holding up over the first nine months of the year allowed Yang Ming to record a 50.95% increase in its profits after tax, which reached $5.66bn. Hapag-Lloyd reported group profits of $14.7bn.
Hapag-Lloyd CEO Rolf Habben Jansen reported in the company statement that the strong performance was due to the elevated rates.
"However, we are also seeing that the market environment has deteriorated further in the third quarter. This is evident, for example, in falling spot rates and rising inflation-related unit costs," he said.
Yang Ming said: "The Russia-Ukraine war and global inflation surge had an impact on the container shipping industry. The unresolved port congestion and stalled US west coast contract negotiations added uncertainty in the supply chain." s
While Yang Ming gave no hint as to any change in strategy, Hapag-Lloyd, in contrast is more optimistic. According to Mr Habben Jansen, supply chains should continue to "normalise" over the coming few months, though he does note that "Russia's war of aggression" in Ukraine does raise uncertainties around supply chains".
Hapag-Lloyd has hinted that it will continue with terminal expansion, pointing to its recently acquired stakes in Chile's SM SAAM and Italy's Spinelli Group, as well as the group's shares in JadeWeserPort in Wilhelmshaven, Container Terminal Altenwerder in Hamburg, Terminal TC3 in Tangier and the under-construction Terminal 2 in Damietta.