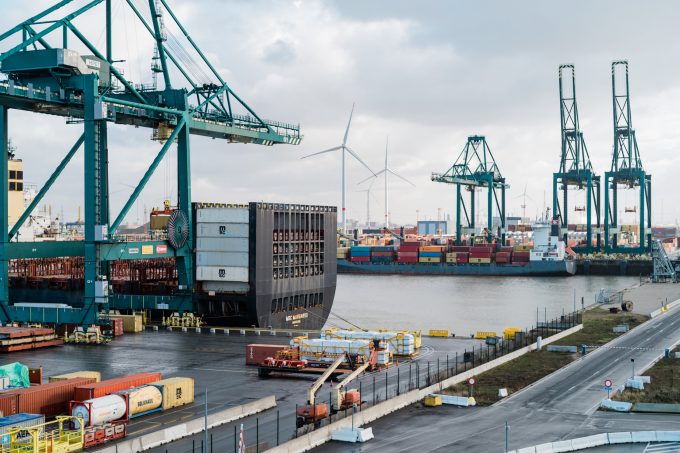 Antwerp is positioning itself to be the UK's gateway to Europe.
Unaccompanied container volumes have increased considerably over the past year, despite markets being depressed, and the expectation is that this trend will continue next year, Port of Antwerp international development manager Wim Dillen told The Loadstar in an interview.
With the recent news that ferries are increasing their accompanied capacity with additional sailings and chartered-in vessels, container traffic has increased, and Dillen believes this is a shift between the two modes, rather than a general increase in cargo flows.
The push has been informed by the pending merger of the ports of Antwerp and Zeebrugge, announced in February, into the Port of Antwerp-Bruges, which Mr Dillen said would be a natural advantage when serving the UK.
This new 'super-port' would eclipse even Europe's largest, Rotterdam, in volumes, he said.
"We say that we are 'officially engaged, soon to be married'," he said. "We still need approval from the competition authority… we expect it to be complete by January, and then as soon as March we will be one port with two locations."
He described Zeebrugge as a "specialist" for unaccompanied ferry cargo, and a sensible alternative for accompanied cargo transport between the UK and Europe.
"It has obviously been very effective to have ferries or use Eurotunnel, but in fact this causes a bottleneck," Mr Dillen said. "Some of the major shippers have re-engineered their supply chains for containerised cargo."
Despite a generally depressed market "due to Brexit," a comparison of the first nine months of 2021 with 2020 shows a 7% increase in UK volumes, which Antwerp is treating as indicative of modal shift.
"[Box cargo] is simpler because you avoid a lot of administrative burden at the border and, for British trade to the European Union, the customs process starts six hours before the container arrives at the port," Mr Dillen said. "So, by the time the ship moors at the port, most of the administration is a done deal. In that sense, it's an ideal solution."
Mr Dillen added that a move away from the Channel Tunnel and the "short strait" was changing the dynamic, in terms of the willingness of carriers to call closer to the end destination for their cargo. In future, vessels would make use of various ports throughout the UK, particularly in the north. These ports, he said, "are very close to the manufacturing centres of Great Britain," highlighting that "the midlands is the most industrious zone of all".
Indeed, ferry traffic direct between Europe and Ireland is increasing, and ferry operators DFDS and CldN this week announced new services between terminals in Rotterdam and the UK's Humber ports of Immingham and Killingholme.
"This is the reason why we were in Hull and Liverpool yesterday – if we see an increase in container cargo, it's with the ports there," explained Mr Dillen. "The Humber region has grown substantially; this will continue in the coming years."
He said Antwerp-Bruges would have unique advantages as a 'gateway to Europe' for the same reason.
"Due to the fact we are 90km inland, we are able to reach the market far faster," he said. "For trades to Asia, Rotterdam is certainly the leader… however… we are stronger in all other tradelanes. If we combine both ports we have sailings for 1,400 ports all over the world."
On a separate tack, Antwerp is also looking to position itself as a hub for the hydrogen economy, Mr Dillen said, with a great deal of gas import infrastructure already set up in Zeebrugge, requiring adjustment and retrofit rather than new construction. This would be extremely advantageous for importing hydrogen to Europe, he explained, and he hopes that new economies will arise from generating hydrogen using renewable energy. This is particularly relevant in the context of Chile, which has an enormous wealth of untapped wind energy resource.
Mr. Dillen said that hydrogen – or shipping of hydrogen in the more energy-dense media of ammonia, methanol – would be an effective method of bringing energy from remote locations to where it is best used to offset carbon emissions.
"Some areas where solar and wind energy cannot be sufficiently available — the most consuming part of Europe, West Germany, North France, the Netherlands – these are the industrial hotspots, where there are many people," he explained.
"You could build hundreds of thousands of wind turbines and have solar on every roof, but it would still not be enough. So, the port of Antwerp believes very strongly in the hydrogen economy. Our aim is that, by 2030, we will import 100TW of energy, and by 2050, we will import 700TW."
That imported energy, while powering regional industry could also be used as clean energy for inland shipping and trucking.
Earlier this year, Dutch shipyard Concordia Damen signed a contract with barge operator Lenten Scheepvaart for the construction of the first inland waterway vessel to run on hydrogen.