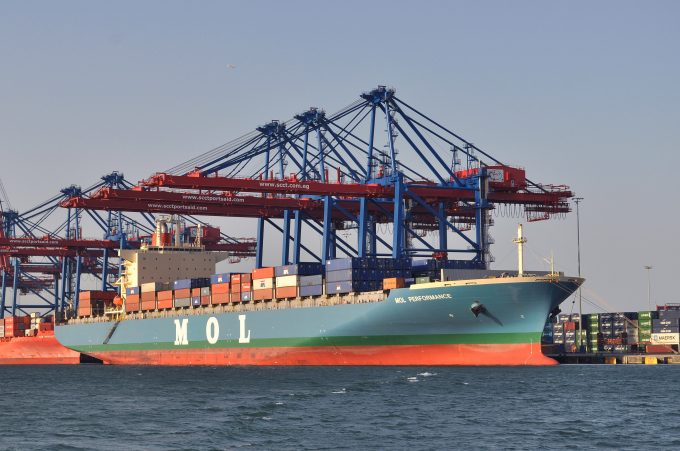 First-quarter results from Japanese carriers K Line, MOL and NYK were dragged down by a weak container market, their box businesses dragging down more profitable operations.
K Line lost ¥26.8bn ($260m) in the three months to June 30, compared with an ¥10.2bn profit in the same period of 2015.
But while its bulk division performed badly, losing ¥7.3bn, the biggest loss came from container business – ¥12.3bn – a 16.5% reversal on the previous year.
"The average freight rate of the group fell below previous year levels across all routes as a result of a deteriorating supply-demand balance globally," said K Line.
It added that the group had taken steps to mitigate the sickly market, which included, "enhancing its competitive strengths by launching large-sized vessels and forming alliances, withdrawing from unprofitable routes, and engaging in ongoing initiatives to cut various costs".
Nonetheless, K Line said that, "despite these effort, the containership business recorded a loss, with lower revenues year-on-year".
It remained optimistic of a freight rate recovery on key routes in the coming quarters, but may be running out of other solutions to get its container sector back on a profitable track.
Compatriot MOL saw its container business ¥11.6bn loss drive the shipping group down to a modest ¥1.4bn profit in its first quarter.
"The market continued to be difficult, overall," said MOL, "due to significant falls in the one-year contract rates, notably on the Asia-North America routes, due to the impact of last year's weak market conditions."
In contrast, NYK lost money in every business sector, apart from logistics, during the three months, plunging it to a loss of ¥12.8bn, which compared with a ¥43bn profit the previous year.
By far its biggest loss was in its liner division, a ¥8.8bn loss, compared with a ¥3.9bn profit in Q1 15.
NYK pointed the blame at supply-demand imbalances on global trades, causing spot rates to plunge, dragging down contract rates.
Referring to the transpacific tradelane, it said: "Negotiations for the renewal of annual contracts in May ended with poor conditions, negatively affecting profitability."
NYK said it had "worked to improve its ability to deal with sluggish market conditions", by a series of efficiency measures, which included the introduction of new 14,000 teu ships on the Asia-North Europe tradelane, but that, "regrettably", had not offset the poor market conditions.
The Japanese carriers are by no means alone in suffering from deteriorating trading conditions between April and June; many of their peers will be reporting equally poor, or even worse, results in the coming weeks.
Nevertheless, from next April, Japan's three carriers will belong to the same vessel-sharing agreement, which will undoubtedly give rise to calls for rationalisation of their container sectors.
The Loadstar understands that the idea of merging their box shipping arms has been discussed in the past, and revisiting those talks is likely to prove tempting given the current conditions.