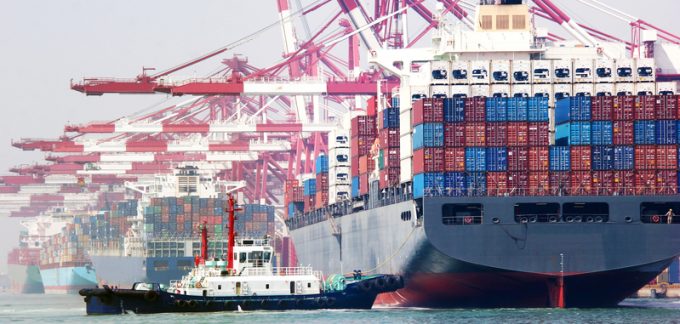 Spot container freight rates on the main east-west deepsea headhaul trades continued to edge downwards this week, amid a softening of demand as western consumers grapple with the rising cost of living crisis.
A survey of SME shippers by Freightos shows that more than half the respondents have placed peak season orders early in the hope of building inventory, while two-thirds said they were already experiencing a decrease in demand, which most of them attributed to inflation.
This early booking seems to have an extraordinary effect: long-term contract rates on the transpacific eastbound leg now being higher than spot rates, according to data from Xeneta.
Today's reading of Xeneta's XSI spot index shows a spot rate of $7,695 per feu, a week-on-week decline of 2.8%, alongside a long-term contract rate of $7,981 per feu.
And this is beginning to have an effect on shipper behaviour, according to one forwarding source involved in the trade.
He said: "What is interesting is that, previously it was the BCO looking for space, now we are getting BCO requests for spot quotes, as it looks like the long-term contract rates are higher, depending on the size of the BCO.
"To me, this is problematic for the carriers, as they lost a degree of credibility with the way they handled the contracts last year, saying the market would be strong for the BCO for all of 2022 and into 2023. Now, they are faced with falling rates and open space," he added.
The erosion of elevated spot rates also continued on the Asia-US east coast trade this week – Drewry's World Container Index (WCI) showed a 3% decline week on week, to finish at $10,403 per feu, while Freightos FBX posted a 1% decline, to $11,784 per feu.
Very similar rate declines were seen on the Asia-North Europe trade. The WCI recorded a 2% decline, to $9,598, the FMX was down 1%, to $10,643, while the XSI showed a slight 0.8% gain, to $10,353. And the week was summed up simply by the Ningbo Containerised Freight Index: "The loading rate of the Europe route was not good, and the market freight rate continued to show a downward trend."
And it is increasingly odds-on that this pessimistic market outlook is likely to persist, according to the monthly market monitor from MSI, published yesterday. It says: "The outlook for H2 22 will be challenged by a weakening demand-side environment, as inflationary pressure forces consumers to cut back on discretionary spending.
"China's road out of Covid-19 will likely be an uneven one, and its position as the world's factory means key importing regions can expect further disruptions to cargo supplies.
"We expect mounting port congestion levels, landside delays and empty-container shortages to converge, and market balances to be healthy by historical standards, but H2 22 will see a material softening of freight and time-charter markets," it explained.
To hear more about volume forecasts, listen to Peter Sand interviewed on the Loadstar Podcast.