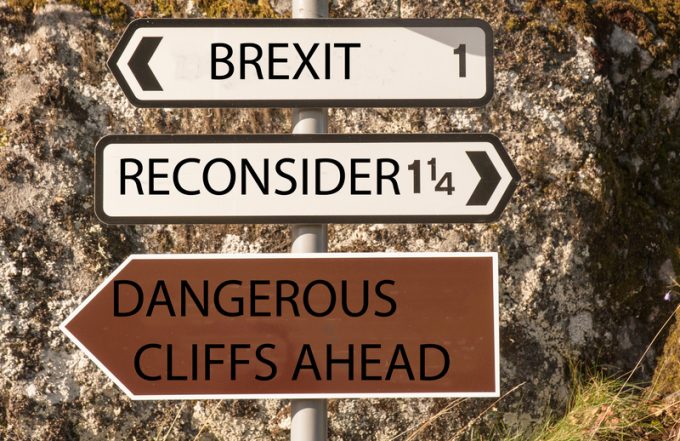 Shippers are pushing forwarders for more certainty on post-Brexit customs – some now actively working with a presumption of a hard Brexit.
The UK Road Haulage Association (RHA) has slammed MPs claiming "no deal is better than a bad deal", suggesting some foods we take for granted could become  "luxuries".
Meanwhile, BIFA director general Robert Keen told The Loadstar he was aware of at least one major shipper pushing its forwarder on what its post-Brexit landscape would look like.
"The forwarder is giving the shipper as much information as possible, but is really stuck between a rock and a hard place," said Mr Keen.
With so much uncertainty, one source told The Loadstar the situation had reached a point where Airbus was now actively working on the presumption of a hard Brexit. Davies Turner and SEKO Logistics have reported similar activity by customers both in the UK and abroad.
Head of European network at Davies Turner Danny Southby said the "intensity" of this planning had also increased.
"Our European partners are looking to us to take the lead in advising them of preparations they should make, based on a number of Brexit outcomes," said Mr Southby.
"More than 140,000 UK business only trade with EU countries and our message to them is it is important to 'know your data', and to establish commodity codes for your products.
"All UK exporters should apply for Economic Operator Registration Identification now to avoid delays later on, while AEO membership is also an important consideration."
Vice president of sales for EMEA David Emerson said SEKO's Brexit team had been working on all possible scenarios and, "with this month's publication of 'the future relationship between the UK and EU' policy paper, our focus is to engage closely with our customers," he added.
"We'll begin sharing thoughts and recommendations to make them aware of solutions and contingencies we'll offer to keep supply chains moving as seamlessly as possible."
One issue that continues to appear unresolvable is that of the Irish border, with freight interests decrying the stance of hard Brexiteers such as MP Jacob Rees-Mogg, who claimed there wold be no need for a hard border to be created, even in the event of a no-deal exit.
"It's alright for Mr Rees-Mogg to say 'we won't build a border so why should Europe?'. As part of being in the EU you must conform to common standards," explained Mr Keen.
"This is one of the nubs of the anti-EU people – that we can't import something from the US if it doesn't conform to these EU standards. This desire to reduce standards so we can improve trade with other countries will mean the EU requires a hard border to make sure its standards aren't being affected."
A spokesperson for Xpediator told The Loadstar the company had formed an Brexit committee to formulate plans for a "no deal" scenario.
"Xpediator will be prepared for all eventualities, including a hard Brexit, and will push for further clarity from customs and the government" added the spokesperson.
"I suppose the big problem is that it appears the politicians themselves cannot agree, so the best option is to plan for a painful exit."
Last week MPs repeatedly jeered that "no deal is better than a bad deal", an attitude slammed by RHA CEO Richard Burnett, who said the processing times for trucks crossing the Channel could increase.
He said: "The stark reality is that if customs controls are put in place, it will take an average of about 45 minutes to process one truck on each side of the Channel. If that happens then the queues of HGVs in Kent will make the jams seen in summer 2015 appear as little more than waiting for traffic lights to change.
"[Furthermore,] the foods we take for granted, oranges from Spain for example, will become an expensive luxury. Supply and demand for basic food could even mean the introduction of rationing.
"Is this scaremongering? No. Could it be the death knell for thousands of hauliers? Quite possibly," he added.