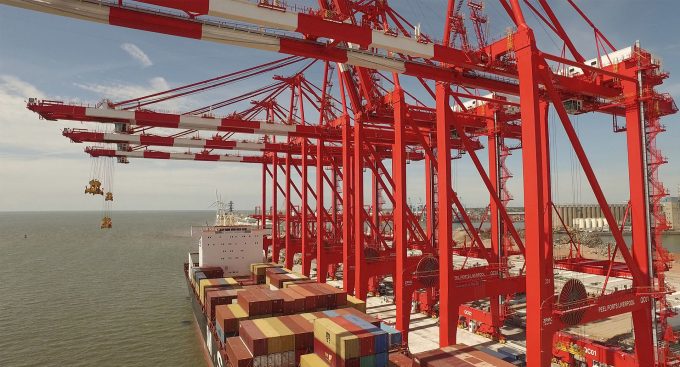 While the biggest shippers of ocean container freight have limited say on where their carriers call, some industry executives used last week's TOC Europe Container Supply Chain event in Amsterdam as a platform to call for greater choice.
Lars Jensen, partner and chief executive at SeaIntelligence Consulting, explained that due to the hugely diversified customer base using a single box ship, few customers had been able to influence carrier service strings.
"Historically, shippers haven't played that great a role and, to be honest, I don't see how they can, because the reality is that liner shipping is fundamentally different to the tanker or dry bulk business.
"At the end of the day, if it's a big ship, carriers will have 2,000 customers on board; if it's a small ship it might be 30 to 40. This simply leads you down an economic rationale where even the largest shippers in the world do not have enough volume to dictate a specific route.
"It is in the nature of liner shipping itself – it's equivalent to a bus service, where the bus company cannot tailor that service to every passenger. That doesn't mean that shippers should be completely ignored, which unfortunately seems to be the case."
Peter de Langen, principal consultant of the ports and logistics advisory at Copenhagen Business School, argued that shippers had far more power when they focused their efforts on hinterland transport.
"Shippers have had most effect on the inland leg of a container journey – whenever there has been a substantial shift of cargo from, say, road to barge, that has been driven by a major shipper. Where they haven't been active, these projects such as modal shift haven't met with any success.
"Wherever shippers become active they help transition the industry. From a service provider point of view, the best gift you can get is input from your customers, and that is important in inland transport, which often accounts for as much as 90% of the end-to-end transport cost."
However, in some cases, ports are working to bring shippers together in an effort that resemble online crowd-sourcing to increase shipper power.
Port of Liverpool owner Peel Ports is predicating much of its ongoing development in the UK on dealing directly with shippers. Deputy chief operating officer David Huck explained that bringing shippers together could force lines to rethink their networks.
"I'd like to challenge the idea that the lines are now the kingmaker in terms of the port industry. What are the drivers for shipping lines? The shortest sea route, every time. Let's be honest, the carriers have had a rough few years and getting profitability back is paramount for them.
"But what about the cargo owner, who is actually paying the bill? They are predominantly interested in the shortest inland leg, and what do I say to my customer who has 22,000 teu and is located nine miles from Liverpool's port, but who sees all of his cargo come in through the UK's southern ports? He tells me that he hasn't enough influence with the carriers to get a service to Liverpool.
"The UK's largest scrap exporter is also located near Liverpool and has 28,000 teu a year, but says the same.
"But if I put those two together, suddenly I do have shipping lines interested. This has driven the investments at Liverpool and we are starting to change some of the dynamics of the marketplace.
"We have identified over 200 importers and exporters in our natural hinterland and brought them together, because they are saying they want other choices – 90% of containers coming into the UK come in through southern ports, but 60% of their contents are consumed in the north of the country.
"We have looked at it from cost, carbon and congestion perspectives, and how to redesign UK supply chains, and today we believe we have the tool kit to do that through a new deepwater terminal.
"Our 200 or so shipper partners cumulatively control 200,000 teu, and that must be the sort of volume that can change carrier behaviour," he said.
However, Mr Jensen also claimed that in the wake of the formation of the three main deepsea vessel alliances, shippers were actually being offered a greater array of port choices.
"What we are seeing right now, partly as a consequence of the new alliances, is greater choice for shippers, although clearly if you are consolidating carries and there are fewer physical carriers, there are fewer companies to choose from.
"But is that really what you are buying as a shipper? Or are you buying the ability to move cargo from port A to port B – or even better, inland point A to inland point B? What we are seeing is a drive to scale of not just ships, but networks.
"The creation of networks of scale is driving the industry to a point where we are seeing more port-pair combinations. From the perspective of how many port-to-port products, especially direct ones, that shippers have to choose from, the wave of consolidation is actually beginning to drive the industry where there are more combinations, despite there being fewer carriers.
"And with these come with better transit times. Simply, there is, de facto, more product choice," he said.