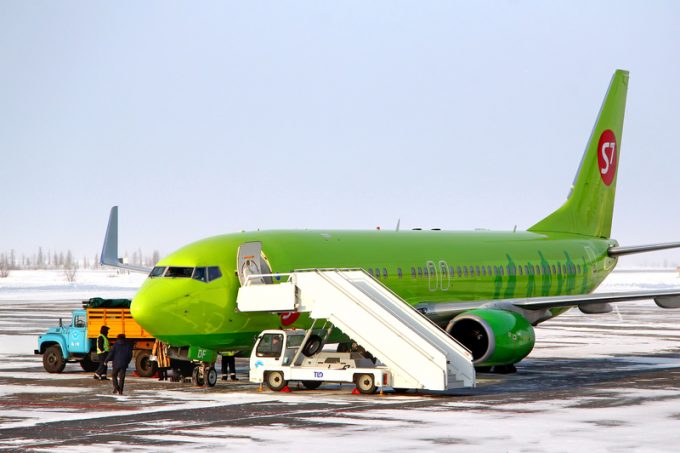 The global pandemic-triggered crisis has urged traditional, and even rather successful, air operators to seek new market niches while developing the most promising of already discovered segments.
On 3 June, S7 Technics, part of Russia's largest privately owned air group, S7, signed a co-operation agreement with the St Petersburg city administration and the local Open Skies airport of Pulkovo for the construction of a new aircraft technical maintenance centre.
It will perform a wide range of services, from periodic maintenance to structural repair, engineering and modifications, according to EASA Part21J to Interior refurbishments under EASA Part-21G.
"We are planning to do from 35 to 40 С- and D-checks and around 200 A-checks a year", said S7 Technics director general Vladimir Perekrestov.
Planned to occupy about 12,000 sq metres, the new facility will, be instrumental in the infrastructure development of the Pulkovo airport in particular, and the Russian air sector in general, he says.
His company is ready to invest around $40m in a project, which, he believes, will be of keen interest to both domestic and foreign air carriers.
"Russia lacks aircraft service centres, with periodic maintenance being in high demand among domestic airlines even during the pandemic period," said Mr Perekrestov. "Furthermore, we see sustainable growth of service orders from both Russian and overseas customers following the full-scale air traffic recovery."
Two-phase production is planned for completion in 2023 and 2025, respectively.
The St Petersburg-based centre will be the fourth of its kind for S7 Technics, after those in Moscow, Siberia and the North Caucasus, along with two more line maintenance stations in the Russian Far East.
The new facility will be able to maintain and repair the broadest array of airplanes, he said, from the Russian-made Sukhoi Superjet 100 and МS-21 to Airbus А320s and В737s, including all available models and variants.
S7 has also started building its own cargo fleet, under the S7 Cargo brand, and has already received the first of the twoB737-800BCF converted freighters ordered last year under a leasing agreement with US-registered GE Capital Aviation Services (GECAS).
S7 Cargo is, according to director general Ilya Yaroslavtsev, expecting the two planes, capable of flying up to 3,750 km, will help it increase the volume of shipped cargo by 30%.
Last month, S7 announced the launch of S7 Logistics, a new business service for the door-to-door delivery of 30-500 kg cargo all over Russia within 24 and 48 hours on direct and transit flights respectively. With its extensive domestic destination network, S7 Cargo is prepared to offer the new service through more than 60 of its own and partners' routes.
Russian experts have praised the move, but, Rustam Yuldashev, founder and development director of Moscow-based logistics operator Nawinia, said: "The launch of the new service must have resulted from S7's attempt to generate extra income through a new, growing segment, such as e-commerce."
He added that the air company could face operational problems in the course of its "worthwhile experiment".