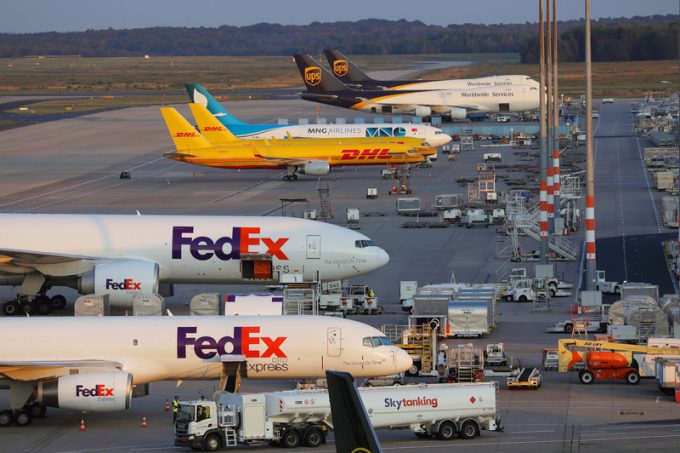 Shippers are feeling increasingly squeezed after the integrators drove up charges for their international traffic, citing exceptional circumstances associated with operating in the Covid-19 pandemic.
Last out of the gates was UPS, which implemented peak surcharges in a two-step move: on 5 April surcharges hit shipments out of China and Hong Kong to the US, ranging from $0.29 per pound for expedited shipments, to $1.13 per pound for its express freight offerings.
Seven days later the integrator introduced surcharges for international shipments from all other origins, ranging from $0.11 per pound to $0.34 for its express freight services. On the same day surcharges on shipments from Hong Kong and Chinese points to all destinations (including US points) came into effect, ranging from $0.41 per pound to $1.25.
UPS matched the surcharges implemented by FedEx, noted Chase Flashman, co-founder and CEO of ShipSights, which provides shippers assistance to reduce their transport spend.
FedEx announced on 1 April that surcharges on all international parcel and freight shipments would come into effect five days later.
On shipments out of China to all countries FedEx now levies a surcharge of $0.45 per pound, same as for shipments originating in the rest of the Asia-Pacific region going to any APAC destination. On all other international shipments the surcharge is $0.10.
DHL had been the first integrator to move, introducing an "emergency situation surcharge" for all international shipments over 2.5 kg for 1 April. It charges flat fees of €2.50 ($2.73) for shipments between 2.51 and 30 kg, €15 for shipments from 30.1 to 70 kg and €50 for shipments in the 70.1-300 kg bracket. On shipments in excess of 300 kg, the surcharge is an eye-watering €200.
Mr Flashman noted that the integrators were facing some constraints as well as higher costs under the current circumstances, such as elevated labour costs.
"I'm sure there's extra margin for them," he added, noting that international airfreight capacity was down 35% due to the implosion of passenger flight schedules.
Moreover, some of the integrators' costs are down, as they have suspended their service guarantees. According to Mr Flashman, customers can recover 3-4% in service guarantees. He added that an estimated $3.5bn went unclaimed last year.
Still, the parcel firms are feeling the impact from the pandemic, judging from FedEx's 8-k filing of 3 April, in which it stated that economic conditions were having a negative impact. While ground package business has risen thanks to a surge in e-commerce, the B2B business has been weak, which is pushing down margins, the company reported.
In the filing, FedEx announced that it would draw down its $1.5bn credit facility and may turn to government programmes. Since 1 April, chairman and CEO Fred Smith's base pay has been reduced by 91% over a six-month period to $10,728.
There are no exemptions for emergency medical shipments from the surcharges, nor has any of the integrators indicated any exemptions for financially strapped clients.
"UPS and FedEx should be commended for stepping up to transport goods in a quick and reliable manner during this pandemic. However, as more businesses struggle, increasing shipping costs may force some businesses to make difficult decisions," said Mr Flashman.
One of ShipSights' customers ships fitness equipment, including dumbbells, and noted: "With the DHL surcharge, that's not a profitable product any more."
In some cases, shippers shift to a slower transport mode, although this has repercussions on service levels. Others have hunkered down to weather the storm, waiting for costs to come down again, he added.
In the near future Mr Flashman expects to see cost increase further, though. Fuel surcharges are heading up again, he said. And he expects additional surcharges on the ground.
In this situation, reducing cost is more important than ever. On average, ShipSights achieves cost reduction of 21.3% when customers go for a new contract with a transport provider, Mr Flashman claimed. His company, which launched in 2017, is made up largely of former UPS and FedEx employees who are intimately familiar with their charge structures.
The starting point usually is an audit of invoices. This is done primarily through audit software that is programmed to look for the known cost elements, such as late deliveries or incorrect surcharges. Some clients are happy simply to use ShipSights' audit and reporting platform, which is available as a stand-alone service. Hooking up can be done in five minutes, according to Mr Flashman.
Scrutiny of rate and service agreements usually yields a number of levers to bring down charges, for example by negotiating changes in dimensional weight divisors, minimum charges or surcharges.
While bringing down surcharges and other transport costs offers some relief to shippers, the situation is precarious for many. A lasting spell of capacity bottlenecks and high costs would be a real threat for many.
"A lot of customers tell us this has to clear up by mid- or end of May. It can't go into June," Mr Flashman said.