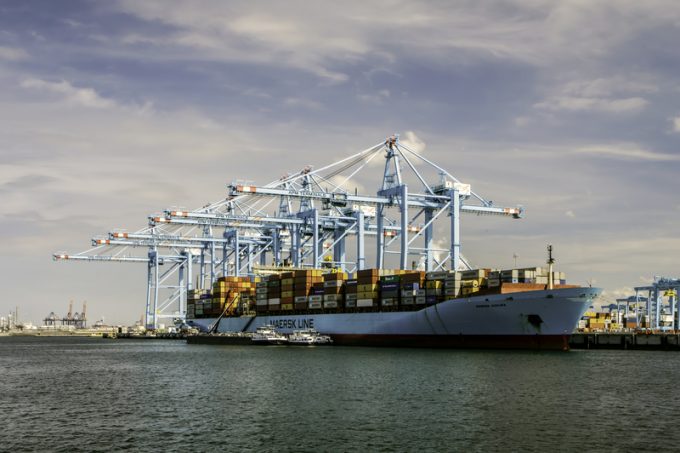 Maersk has reported a net profit of $947m for the third quarter, compared with $520m a year earlier, and said it expected an even stronger result in Q4.
Despite a 1.4% year-on-year decrease in group revenue, to $9.92bn, ebitda surged 39% to $2.3bn, driven by lower fuel costs and higher freight rates from its container liner business.
Maersk's ocean sector contributed an ebitda of $1.8bn, up by $511m on the same period of 2019. Terminals & towage improved slightly, at $328m, compared with $315m, and its logistics and services unit weighed in with an ebitda of $131m, versus $91m.
Carryings on Maersk's containerships in the quarter fell by a below-industry par 4.1%, to 3.3m teu, dragged down by a 10% decline on its north-south trades.
Revenue was down 3.6% to $7.12bn, while its average freight rate edged up 4.4% to $955 per teu, which, combined with a 29% decrease in bunker prices to $290 per ton, produced a very impressive operating margin of 25.4%.
SeaIntelligence's Lars Jensen said Maersk's below-par volume decline suggested it had lost market share and "appears to have focused on profitability and filling the vessels".
Chief executive Soren Skou said he was proud that against the background of the pandemic, Maersk had delivered better results "even when volumes are down".
He added: "A stronger-than-expected recovery in demand, following the slowdown of Q2 led to the reactivation of all available tonnage as well as significantly higher prices in the short-term market. This, combined with our continued profitability focus, helped us deliver a very strong quarter in Ocean."
He said the improving performance was "accelerating into Q4" and that the final quarter, normally a slack season for carriers, was, "unusually", expected to be better than Q3.
He also explained that the full benefit of skyrocketing short-term freight rates seen on many tradelanes since September would be seen in Q4, thereby prompting Maersk to further upgrade its full-year earnings guidance by $500m to $8bn-$8.5bn.
Maersk's result was achieved, said the company, despite taking a restructuring charge of $105m in the quarter, which included "the impact from redundancies of approximately 2,000 colleagues".
Mr Skou said Maersk had "no plans" for further liner acquisitions and, moreover, was happy with "below-market organic growth" and to operate with a fleet capacity of around 4m teu, despite 2M partner MSC's aggressive growth policy which could see it overtake the Danish line within  two years at the top of the liner rankings.
"We are not planning to order any new ships anytime soon," said Mr Skou, "we have all the Triple-E ships we need and any new orders will be for replacement tonnage in the 10,000-15,000 teu sizes.
"We are also very much aware of the technology risks involved in ordering new ships, relating to future fuels, and we don't believe LNG will play a big role for us." he added.
Mr Skou noted that the Maersk SPOT digital product now accounted for over half of its short-term business, compared with around a quarter at the turn of the year, with 80% of its business coming from freight forwarders.
He refused to be drawn specifically on the subject of Maersk's dispute with DB Schenker over the alleged tapping of Damco clients by the forwarder.
"As in any other business, you win a customer every now and again and you lose a customer every now and again," he said.
And neither was there much comfort for Maersk's long-term contract customers.
"We do indeed expect contract rates to go up… contract rates are always impacted by the spot market," said Mr Skou.