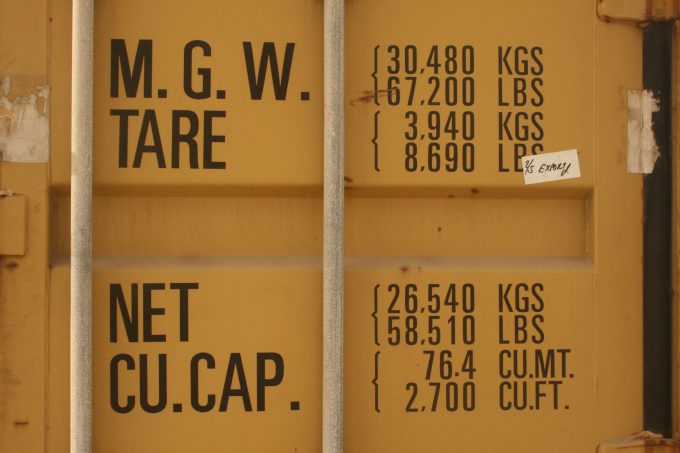 There are just over 100 days before the IMO's SOLAS amendment requiring that the verified gross mass (VGM) of a container must be signed-off before it is loaded on board a vessel, but applications by UK companies to become accredited "weighers" are apparently not being acknowledged.
Robert Keen, director general of the British International Freight Association (BIFA), has written to the chief executive of the Maritime and Coastguard Agency (MCA), Sir Alan Massey, expressing the trade association's concern.
Under the SOLAS Chapter V1 regulations two methods of determining the VGM are allowed: method 1, weigh the loaded container; or method 2, weigh the cargo and other contents and add the tare weight of the container
However, the regulations stipulate that for the latter method, approval must be gained from the relevant national or other competent authority in the country where the container is packed.
The letter said that a number of BIFA members have reported that applications made before the end of last year to become an approved method 2 weigher have not even been acknowledged by the MCA.
"And despite several telephone calls, MCA staff are not able to indicate when approval will be granted, or if the MCA has the capability of physically processing the applications," Mr Keen wrote.
According to the letter, the MCA had, on several occasions, advised that updated guidance and information would be issued shortly, including an announcement in the press, but "to date this guidance has not materialised".
Mr Keen added: "Our members are becoming increasingly concerned at both the lack of information and progress in processing their applications."
He wrote that BIFA had also been contacted by the Freight Transport Association (FTA) which shares these concerns.
"The lack of any announcements is of particular concern so close to the 1 July deadline for implementing this regulation," Mr Keen continued.
"BIFA members look to the regulator to provide clear guidance on this matter and a certainty that they will be able to apply and be approved under method 2."
The letter complained that another significant problem was that the lack of clarity "fuels the rumour mill that the UK will not implement the IMO regulation".
"It is essential that the MCA starts processing applications to become an 'approved weigher' as soon as possible to provide the confidence that industry needs," Mr Keen said.
The confusion would appear to be further compounded by the uncertainty surrounding Keith Bradley, the MCA's hazardous cargo advisor, who has been in charge of the project for the MCA and is rumoured to be departing the organisation at the end of April.
"This impacts on both the specific issue relating to container weight verification and the wider subject of dangerous goods. Any information regarding Keith's replacement would be much appreciated," Mr Keen wrote,