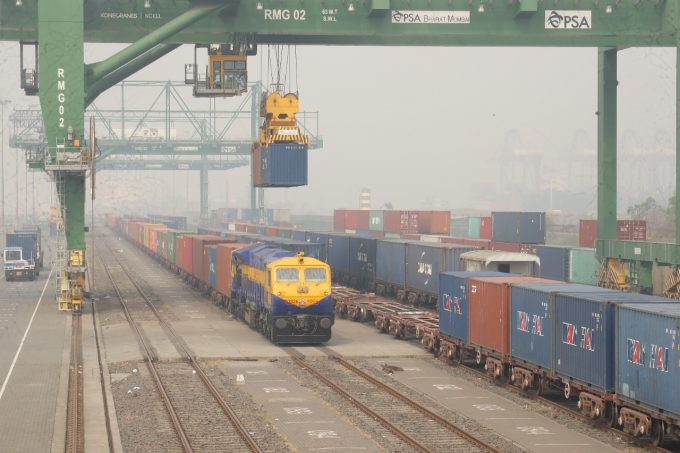 Southern India shippers are increasingly turning to direct mainline options via Nhava Sheva/Jawaharlal Nehru Port Trust (JNPT) – a focal point of the Indian west coast container trade – as transhipment connections at Colombo Port in Sri Lanka see more disruptions because of truck capacity shortages.
French carrier CMA CGM has begun a block train service from New Mangalore Port (NMPT) to Nhava Sheva with the Container Corporation of India (Concor). The 90 teu, full capacity train is said to be the first carrier-led rail move on the route.
NMPT, one of India's 12 major government port entities, primarily handles feeder calls, mainly connecting with Colombo. But even that short-haul flow has been under heavy strain of late.
According to industry sources, export cargo from Mangalore has been pre-booked for loading onto the EPIC3, a joint weekly ocean service between CMA CGM and Cosco on the India-Europe tradelane that calls at PSA Mumbai (BMCT) in JNPT.
"The train service provides greater flexibility, reliability and eco-friendly options for regional shippers," said PSA Mumbai, where sources said trains from Mangalore would initially operate on a 15-day frequency model.
"We are expecting similar block train exports from Mangalore for the US market, which could also be transhipped from here through another intermediate port," a terminal official told The Loadstar, adding that stakeholders could consider increasing the train frequency depending on headhaul-backhaul volume levels.
The current shipment from Mangalore includes coffee, cashew kernels, machinery and garments, according to PSA sources.
Concor had previously highlighted that rail could present an opportunity for cargo owners and carriers to save on inland costs, as rail freight waivers were already in place for the repositioning of empty containers from port locations for stuffing and reusing for exports.
The rail incentives – part of government and industry efforts to mitigate equipment shortages – were recently extended for a further year, until the end of March 2023.
"The shipping lines are constantly exploring options to assist [India's] export-import community as they navigate supply chain challenges," a local liner official told The Loadstar.
For JNPT, the east coast diversions bring extra volumes as the port faces growing competition from Adani Group-managed cargo terminals at Mundra and Hazira.