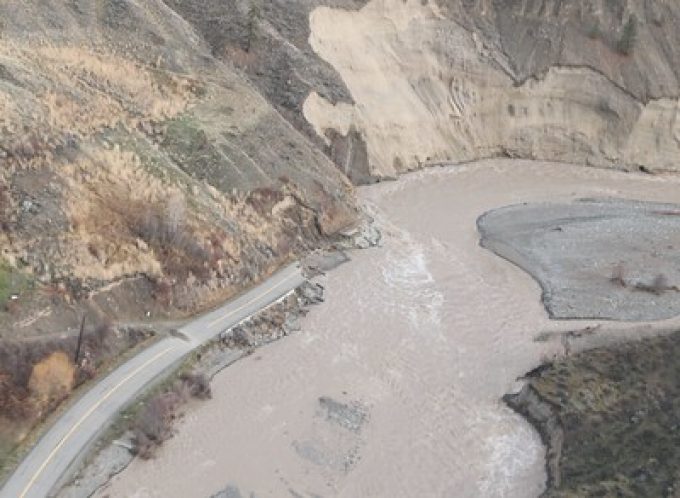 Waterborne Canadian imports from Asia remain under pressure. Traffic links between the port of Vancouver and the Canadian interior are gradually being restored after they were severed by severe flooding, but the situation remains tenuous and a full recovery of cargo flows is still a long way off.
It could get even worse if container truckers serving the port were to move ahead with a threat of industrial action.
Work is progressing on the restoration of rail and road connections in British Columbia. A severe rainstorm that dumped 300 millimeters of precipitation on parts of the province last week had washed out roads and triggered landslides, severing the tracks of both Canadian National (CN) and CP Rail in multiple locations as well as the major highway arteries, practically cutting off the lower mainland from the rest of Canada.
CP restarted train services to Vancouver on Tuesday, having cleared and repaired its damaged line in the Fraser Valley, a mountainous and heavily wooded area that suffered the brunt of the disruption. Its first train rolled into Vancouver carrying grain and fuel.
CN followed the next day with the resumption of operations on its line connecting Vancouver with Prince George, the largest city in northern British Columbia. Its line between Kamloops and Vancouver through the Fraser Valley is still closed, though.
Progress has also been made on the roads. Highway 1, a major trunk route through the Fraser Valley, was set to reopen on Thursday.
However, there is much apprehension over potential further disruption from weather. A heavy rainfall warning was called on Thursday for the Vancouver area and much of the interior. This was expected to bring about 50 millimetres of rain to the southern section of the province while the mountainous regions could see up to 80 millimetres.
Provincial Public Safety Minister Mike Farnworth warned that even routine rainfall might cause already swollen rivers to rise to dangerous heights and advised residents to prepare for evacuations.
The uncertain weather situation has caused CN to take its time on the restoring of operations through the Fraser Valley.
"Due to new weather-related issues, the Kamloops-Vancouver corridor will remain closed until all work is completed," a spokesman for the railway remarked.
"CN's link to the Port of Prince Rupert as well as the adjacent facilities remain fully operational and is not experiencing any impact to port or rail operations related to the extreme weather events," he added.
Doug Mills, senior account representative at the Vancouver Fraser Port Authority, noted that the re-opening of rail links does not constitute the resumption of normal activity at this point, as the severe weather has seriously affected the stricken area well beyond the rail tracks, so a lot more work is required to allow fully fledged operations again. This will take considerable time yet, he reckons.
As vessels keep calling at the port, cargo is piling up in Vancouver, unable to head into the interior, while export cargo is unable to get to the port.
Yesterday (25 November) container dwell times at three of Vancouver's four container terminals were in excess of seven days and 5-7 days at the fourth facility.
"It's going to take a co-operative effort to recoup capacity as early as possible," Mr Mills said.
Compounding the sense of apprehension over the fluidity of cargo flows, truck drivers at two container carriers that serve the port have voted in favour of industrial action. Drivers of Aheer Transportation and Prudential Transportation have voted in favour of a strike "if necessary" to secure a new labour agreement with their employers, their union declared in a statement.
The drivers are asking for higher pay to compensate for waiting times as well as for health and dental benefits.
Between them the two carriers employ some 200 drivers. According to one report, there are altogether about 1,700 truck drivers that serve the port of Vancouver.
In 2014 a two-week strike by about 400 truckers reduced container operations at the port to a trickle, halting about 90% of container movements on trucks.
A disruptive clash is the last thing that the port and all stakeholders in cargo flows through its facilities need at this moment.