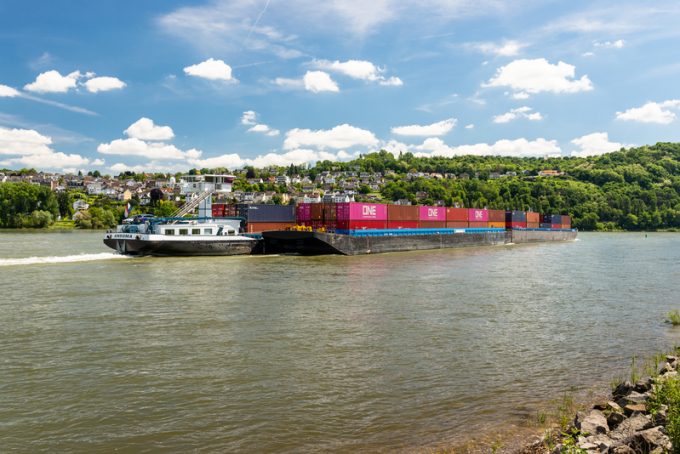 European port operators have claimed there is an "urgent" need to expand the role of the River Rhine as a freight transport corridor, despite capacity issues caused by low water levels.  
German transport minister Volker Wissing said the need to boost capacity along the German river had been made more paramount following developments at the port of Rotterdam.    
"With the expansion of Europe's largest seaport and the doubling of container throughput, the capacity of hinterland transport must also be increased," he said.  
"To ensure supply for the population and companies along the Rhine, we need an efficient waterway and greater speed in carrying out transport projects along the Rhine corridor."   
Last August, shippers were hit with surcharges and delays across Europe's inland waterways, following declining water levels along the Rhine caused by soaring temperatures.   
In November, levels hit their lowest in a century after prolonged drought, and one source told The Loadstar the river was so low "one could cross by foot, something never seen before".  
Mr Wissing said this had exemplified the need to increase the Rhine's role as a freight corridor.   
"The low water levels revealed the urgent need to expand the role of the Rhine as the central European transport and logistics axis," he said. "It is therefore important that the German government quickly implements the project to optimise unloading along the Middle Rhine."   
Fellow German transport minister Andreas Scheuer announced in May that an unloading optimisation project would be included in the master plan for inland navigation, also announcing the hiring of new personnel for expansion and planning.   
"It is a first step in the right direction," said Mr Wissing, whose position was supported by the vice president of Port of Rotterdam Authority, Emile Hoogsteden.  
He added: "It is [also] equally important to upgrade rail infrastructure; this concerns the construction of an alternative route to the Middle Rhine Valley. And also extension of the Betuwe line between Oberhausen and Emmerich in North Rhine-Westphalia."   
Meanwhile, Swiss rail freight operator Schweizerzug has announced it had commenced weekly direct freight links with Rotterdam from Frenkendorf and Niederglatt.  A move hot on the heels of increased frequencies from the two Swiss terminals to Antwerp in Q1.   
Chief executive Roman Mayer said: "Both Niederglatt and Frenkendorf benefit from direct and therefore faster links to Rotterdam. We're covering Switzerland's most important economic regions – at the same price. Zurich and the east of Switzerland especially might consider this new service attractive."