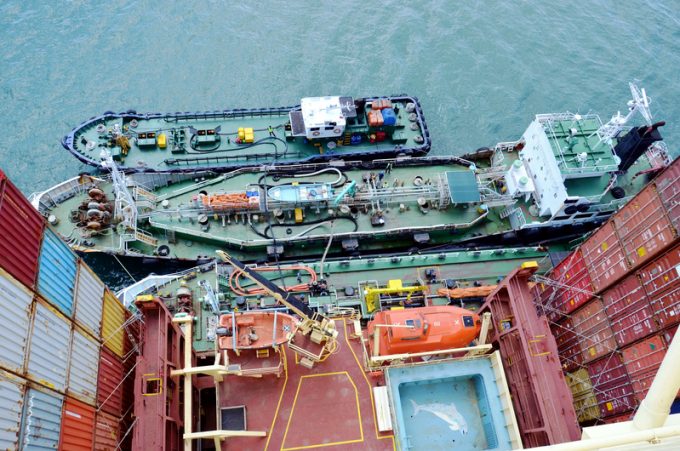 As lockdown measures ease around of the world, trading has picked up, resulting in more containers being shipped and prompting some carriers to increase rates and 'un-blank' some sailings.
These first steps towards recovery of the market, however, are tentative, with much uncertainty as to how long shops will remain open in the event of a second spike in infections and the subsequent re-imposition of restrictions.
Despite this, supply chains have been reopened and volumes are starting to increase on key head hauls.
One UK-based freight forwarder said: "The picture is slightly better, and the second half of the year is actually looking rosier for carriers, Maybe we will see a peak season surcharge after all – just a few months later than we expected."
This appears to be the case, with rates rising in line with cargo enquiries and the number of void sailings booked into July and beyond falling, compared with the global number in the second quarter.
In June, there were some very strong general rate increases on transpacific lanes, at the start of the month as well as mid-month, in response to the sudden jump in demand.
"Everyone is paying what we ask at this point," said a tradelane manager at a transpacific carrier. "This sudden demand spike has left us no choice but to put some vessels back in service and to increase carrying capacity – the big question we have is how long can we manage to ride the wave?"
The significantly higher rates are also, however, the result of carriers reducing the number of sailings, leaving some cargo being rolled. But, despite this, there are fresh expectations starting to emerge that there may be a peak summer demand season in the making – especially as retailers look to boost stocks while the situation is in the "business-as-usual" phase – in case there is a second wave of lockdown measures, a US shipper said.
North American Market Focus
There has been a recent spike in rates on transpacific tradelanes due to the recent surge in demand and void sailings, which has largely stuck for longer than many in the market anticipated.
Platts North Asia to west coast North America container rate rose $950 from a month earlier to $2,625per feu on 25 June, reflecting an increase of over 128% on the year. This also came as cargo has been consolidated into a shorter timeframe since restrictions began easing, rather than the general amount of cargo that would usually be expected.
The increase in cargo volumes however has been seen clearly in the latest data from the ports of Los Angeles and Long Beach in California, which, combined, saw 618,913 teu imported in May, up 36.1% on the March low of 454,825 teu, hinting at some form of recovery, although these levels were down 13.8% year on year.
North American Platts Bunker Charge
Platts bunker charges continued their rise in June and, with the contango still present in the oil markets, appear set for much of the same in July. This rise in recent oil prices comes hot on the heels of oversupply issues in the bunkers market, with global oil usage still languishing well below pre-coronavirus levels.
Platts North Asia to east coast North America bunker charge rose from $324.63 per feu on 26 May, to $365.37 per feu on 25 June.
Platts North Asia to west coast North America bunker charge also rose over the same period, by 13.3% on the month, to $218.16 per feu on 25 June.
UK and North Continent Market Focus
A slightly more bearish outlook settled over the North Asia to North Europe carriers over the course of June, watching as transpacific rates soared, while from Asia, those to Europe barely moved from where they were at the end of May.
Despite this, some bullishness has come in the form of unity once more between liners. At the end of last month, a freight forwarder source said there was a "two-tier market starting to emerge" between carriers, with some charging almost $300 per feu more than their competitors. The fear that discipline would be lost along these routes appears to have subsided somewhat, with the start of June GRIs largely bringing all the carriers back into line.
"The lower-priced carriers have come up to meet the higher, and the highers have dropped to take share from the lower – there is balance in the force once again," a European-based freight forwarder said.
Despite the slightly lower cargo volumes and freight rates, there are still expectations on the carrier side that there will be a surge in pricing.
"Things aren't great to Europe, but they aren't getting worse – we aren't seeing the transpacific gains at the moment, but that doesn't mean we are performing worse, just that they are performing better. Industry is reopening, shops are reopening – our time will come," a source said mid-month, and with strong GRIs due to come into force from July 1, it appears that the time might be coming sooner than some expected.
Platt's North Asia to North Europe container rate rose $25 over the course of the month, to $1,325 per feu on 25 June, and Platt's North Asia to UK container rate rose to $1,350 per feu from $1,325 per feu on 26 May.
Platt's North Asia to Mediterranean container rate saw stronger rises, however, to $1,400 per feu from $1,300 per feu.
North Continent Platts Bunker Charge
Like the transpacific tradelanes, Platts bunker charge rates on head-haul routes from North Asia to Europe rebounded in June in line with higher bunker fuel prices at key ports around the world.
Platts North Asia-north continent bunker charge rose 10.1%, to $192.24 per feu, between 26 May and 25 June. The back-haul route bunker charge also rose over the same period ,by 10.1%, to $103.51 per feu.
This post is a monthly guest contribution by George Griffiths, editor, global container freight market, at S&P Platts