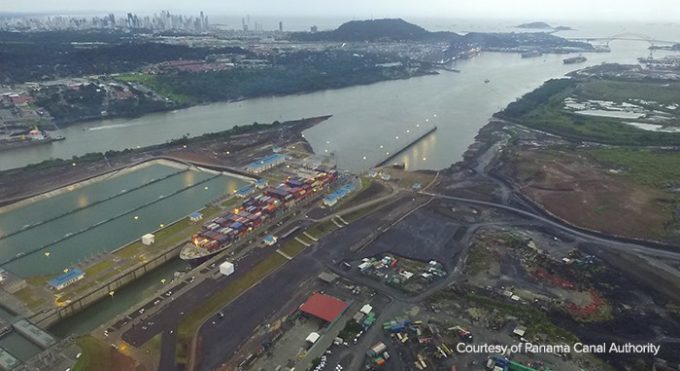 Following the inauguration of the Panama Canal's new lock system at the end of last month, the waterway is already winning back market share from Suez in the fight to attract container cargo moving from Asia to the US east coast, according to Alphaliner.
The liner shipping analyst said Panama had regained the majority of teu slots serving the Asia-USEC trade, as carriers deploy larger vessels through the new locks.
Nearly 60% of all capacity on the trade now flows through the all-water route via Panama, compared with around 40% at the beginning of the year, rolling back the growth of Suez Canal traffic, which had held the majority share since the beginning of 2010.
Alphaliner writes today: "Despite the increased distances for some China-US east coast port pairs, the Suez route made economic sense, as the scale advantages of larger vessels often outweighed the disadvantages of the longer steaming distance.
"Now that the old Panama lock restrictions have been lifted, the canal is making a strong comeback, regaining much of the all-water market share that was lost to the Suez Canal."
It calculated that weekly capacity between Asia and the USEC stood at 145,600 teu from the beginning of this month, representing growth of 1.7% on this time last year. It added that Panama had won back market share despite a drop in the number of weekly services from 16 last year to 13 now, as average vessel size has increased from 4,600 teu to 6,400 teu, representing an growth of 40% in average vessel capacity.
In comparison, the average size of US east coast-bound vessel transiting Suez is just under 8,000 teu, and the number of weekly strings is currently eight.
However, with the much-publicised transits of 10,000 teu vessels since the expansion project was completed, Alphaliner expects larger ships to migrate to Panama while the number of strings passing through Suez to diminish.
"It is expected to increase further over the coming months, as some carriers have yet to up-size their Panama services with neo-panamax and LCS [large containership] tonnage, while also shifting some of their current trans-Suez services to Panama," it said.
A further capacity shift can be expected once the 2M partners, Maersk and MSC, reconfigure their two Suez services – TP11/America and TP12/Empire – with the Shanghai and Ningbo calls transferred to Panama services and South-east Asia calls placed into one consolidated Suez service.