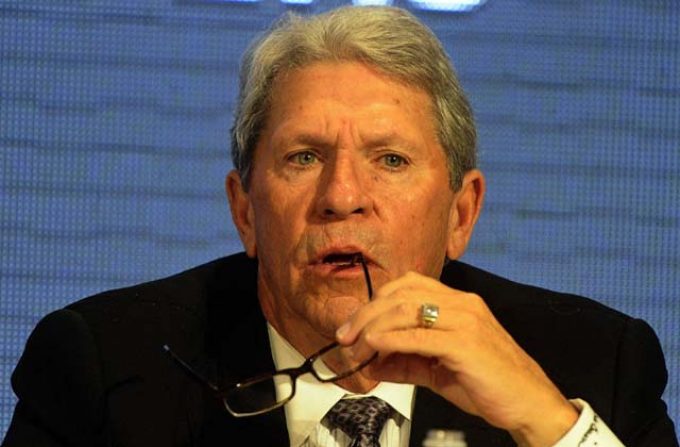 North America rail turnaround king and CSX chief executive Hunter Harrison has died, just days after being placed on medical leave.
The carrier confirmed 73-year-old Mr Harrison had died at his Florida home on Saturday. CSX chairman Edward Kelly said the operator had suffered a "major loss".
A statement from CSX said: "The entire CSX family mourns this loss, and on behalf of our board of directors, management team and employees, we extend our deepest sympathies to Hunter's family.
"He was a larger-than-life figure who brought his remarkable passion, experience and energy in railroading to CSX."
Following Thursday's announcement that Mr Harrison had been placed on medical leave, CSX's share price fell 9.6%, although it has since regained some ground.
Mr Harrison's former employer, Canadian Pacific, said it would lower its flags to half-mast across its network. CEO Keith Creel described what Mr Harrison did for CP as the "greatest corporate turnaround in history".
"I lost a friend and mentor; I spent most of the last 25 years working closely with Hunter, and he taught me how to railroad but more than that, he taught me how to be a leader," added Mr Creel.
During the first few months of Mr Harrison's tenure, CSX faced strong criticism from the Surface Transportation Board (STB) and customer complaints over a perceived decline in service.
However, in October the carrier announced strong results for the first full-quarter under his helm, and Mr Harrison pointed to this as proof that his precision railroading model was the "right call".
"The company's results for the third quarter reflect the resiliency of precision scheduled railroading, even during times of transition," he said.
"With that transition largely behind us, we are now intensely focused on driving superior service for our customers and lasting value for our shareholders."
Mr Harrison's appointment to CSX was anything but assured, and followed protracted negotiations with investment firm Mantle Ridge formed by Paul Hilal.
Mr Hilal pushed for Mr Harrison's appointment as he sought to reconstitute the CSX board, and acquire board representation for his firm.
In order to take the role, Mr Harrison had to retire from CP and hand back a $90m benefits package to free him from a non-compete clause.
Renowned as the man that turned around the post-privatisation fortunes of Canadian National, Mr Harrison joined CP in 2012 after an approach from activist investor Bill Ackman.
At the time, Mr Ackman's Pershing Square Capital had won a shareholder proxy battle and he was looking for a chief executive to address 80% operating costs, at the time the worst in North America.
Once again, Mr Harrison worked his magic and reduced costs by more than 14% through a series of measures including the removal of 450 locomotives and 10,000 railcars from the carrier's fleet.
Mr Harrison's move to CSX was not the first time he'd flirted with the US carrier, having placed an ultimately doomed bid to merge CP with CSX in 2014.
That move launched a quest to create a transcontinental carrier leading to a $28bn bid for Norfolk Southern in 2015, which, if successful, would have been one of the largest railroad mergers ever.
However, a combination of NS's dissatisfaction with the proposed offer and its insistence that the US Surface Transportation Board would never greenlight the move led to it being aborted last April.