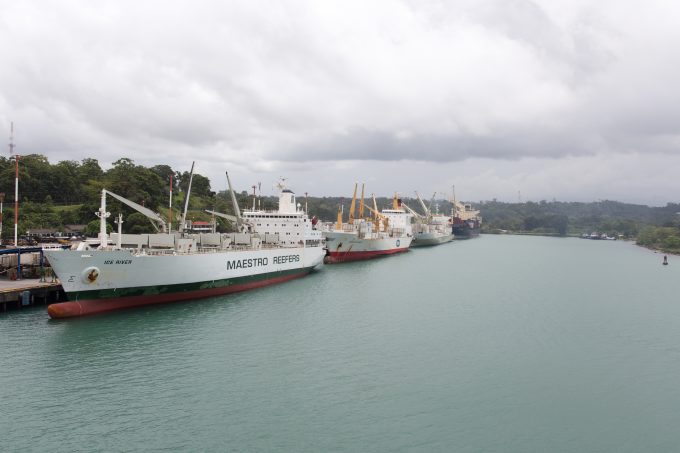 New container terminals prioritising reefer boxes, along with the expanded Panama Canal, could be a catalyst for major fruit producers to stop using conventional reefer vessels.
At last week's TOC Americas Container Supply Chain conference in Cancun, Pablo Ulloa, commercial manager of Costa Rica for APM Terminals, described how pineapple and banana supply chains would change once the container terminal the company is building on the country's Atlantic seaboard opens in 2018.
"Costa Rica is the largest pineapple producer in the world and is the world's number-three in bananas, but the infrastructure is very poor. The port of Limon can only accept geared vessels up to 2,500 teu.
"In phase one, the new port of Moin will have a berth length of 650 metres and six ship-to-shore cranes and we will be able to take gearless vessels up to 8,000 teu. This will eventually rise to 14,000 teu in later phases.
"This going to change the dynamics of shipping Costa Rica, and the region," he added.
"One of the primary objectives is to speed up the containerisation of fruit in Costa Rica – around 20-25% still arrives at the port in pallets."
However, he also argued that the impact would be wider, particularly given the vessel sizes now able to go through the Panama Canal.
"I think the future for our terminal is as a niche hub for reefer trades. The networks out of Ecuador, Colombia and Costa Rica that serve the US and Europe might be consolidated into larger services operating bigger vessels.
"At the same time, the larger vessels running between Asia and the US east coast could call at Moin on the backhaul leg to transport bananas and pineapples from Costa Rica to Asia. This wasn't really possible before due to transit times, but with the development of new reefer monitoring technology that problem can be overcome," he said.
Michael Kristiansen, a Latin America and Caribbean shipping veteran who now heads consultancy CK Americas, added that this could prompt the world's largest fruit producers, who continue to be the main customers of conventional reefer fleets, into radically reviewing their supply chains.
"The new Panama Canal means you are no longer running a conventional reefer ship that can take 300-500 reefers up against container vessels with significantly higher reefer capacity.
"Maersk has 16 8,500 teu vessels coming to the trade, with around 1,500 reefer plugs – modern ships with modern engine technology that significantly reduce bunker consumption and can go into a variety of different trades. As people gain confidence in services that are not as direct as conventional reefer vessels, you are going to see a shift," he told The Loadstar.
"With ports being modernised, old ports remain a barrier for container shipping lines. Costa Rica really needs what APM Terminal is doing at Moin, which allows container shipping alliances to provide shippers with a lot of savings," he said, arguing that this would force major growers to reconsider containerising large parts of their shipments.
"I think the fruit companies will outsource to container shipping lines. Fyffes has done it and that process is almost complete. Fyffes orginially saw themselves as a fruit sales and marketing company, a fruit grower, and a fruit transport company all in one; it was part of their identity, so that switch to containers is a big psychological shift
"After Chiquita was sold to the Brazilians, something was going to happen. Chiquita has a lot of assets that could be better utilised in the market. If everybody else is using commercial liner sailings which give you more services a week, more port pairings and lower freight costs… why are they still sitting on these assets?
"There was certainly a time when these assets brought a competitive advantage, but that can turn into a competitive disadvantage," Mr Kristiansen said.
Mr Ulloa agreed: "Some companies, such as Fyffes, have seen high savings by moving to containers and their competitors could be tempted to follow. I don't think Dole, Delmonte and Chiquita will wait until the conventional fleet needs to be scrapped before they move to containers