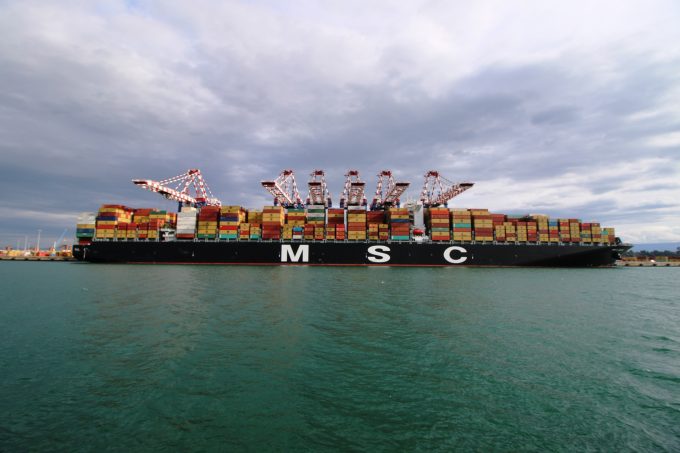 MSC has signed a new contract with Cargotec's MacGregor to upgrade the container intake on six 16,000 teu vessels to mitigate the loss of slots as a result of the installation of scrubber systems.
It follows a contract awarded at the end of 2017 to the hatch cover specialist to "optimise the carrying capabilities" of 31 14,000 teu MSC-operated ships.
The upgrades, which MacGregor claims can boost container capacity by around 15%, will take place during dry docking early next year, when, The Loadstar understands, scrubber systems are also being installed.
These exhaust gas cleaning systems, which allow vessels to continue to consume cheaper heavy fuel oil (HFO) after the IMO's 0.5% sulphur cap on bunker fuel becomes law on 1 January 2020, involves the sacrifice of a number of container slots.
"The objective was to determine the best solution for the operating profile and to deliver a modern, efficient and environmentally-friendly upgraded cargo system," said Magnus Sjoberg, senior vice president, cargo handling and ro-ro, at MacGregor.
Notwithstanding the ability to load more containers, and thus potentially earn more revenue per voyage, MSC and its peers also have an eye on the IMO's 2030 target of reducing greenhouse gas emissions from shipping by 40%.
"MacGregor's Cargo Boost is a good example of how we can drive down the energy required to transport each individual container and reduce emissions per transported teu," said MSC's head of department, newbuilding, dry dock and conversions, Giuseppe Gargiulo.
Both MSC and MacGregor declined to disclose any further details of the retrofits, but said they had worked together to develop the solution.
In contrast, MSC's 2M partner, Maersk Line, has tended to focus on other solutions to increase the container intake of its ships.
For example, in 2017 it upgraded eight of its 15,500 teu E class vessels to carry a further 1,300 teu by raising the accommodation block and wheelhouse and increasing the height of lashing bridges to take an extra tier of containers.
At the same time, the ships were fitted with bulbous bows, designed for slower service speeds, and more efficient propellers.
With IMO 2020 fast approaching, MSC is expected to have more than 200 of its 530-vessel fleet fitted with scrubber systems. These include the first of two of a series of six newbuild 23,000 teu-plus ULCVs due to be received by the carrier next month.
The first arrival, the MSC Gulson, which will feature 24 container rows across the weather deck, is scheduled for delivery in China on 8 July and will be immediately deployed into the 2M's AE10/Silk service.
As it stands, Taiwanese carrier Evergreen will have the second-largest number of ships fitted with scrubbers after a retrofit and newbuild scrubber programme for around 140 of its 200-vessel fleet.
Maersk says it intends to install scrubber systems on just 10% of its 700 vessels.