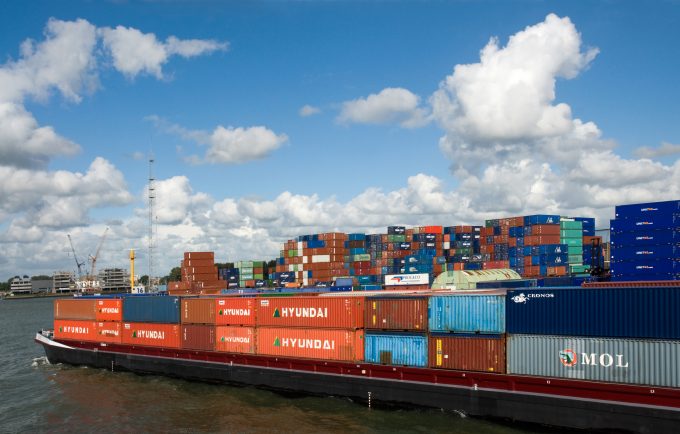 DP World's renewed focus on its inland water terminals could be key to solving the systemic barge congestion that has blighted Northern Europe for the better part of a decade.
The terminal operator has been pushing intermodal services at its ports across Europe as part of its efforts to meet sustainability goals, but sources said attention on the terminals would also "likely improve" the "appalling services" offered by barge operators.
One source told The Loadstar: "The terminals are the spider in the web that manage berth capacity and can allocate dedicated berthing windows to their own barges.
"They still have some way to go – specifically, creating more inland barge terminal capacity – and it will create some friction with barge operators when they see the terminals prioritise their own barges."
In Rotterdam, such led the Netherlands Authority for Consumers & Markets (ACM) to get a commitment with terminal operator ECT that ensures "planning criteria are objective, reasonable, non-discriminatory and transparent".
Announcing the 2018 commitment, the ACM noted: "The ACM investigation shows that ECT would sometimes not treat equal cases equally when planning the loading and unloading of inland vessels.
"In addition, it appears that it is not clear to some inland skippers what requirements they must meet in order to be given priority within ECT's planning system. ACM has not established any violations, but does see risks to competition.
"This commitment avoids these risks."
Latest numbers from Contargo put the wait to get into Rotterdam at close to three days, with the delay into Antwerp at 33 hours, with sources having repeatedly urged operators to work together and fill barges, rather than flooding terminals with "half-, even quarter-full", vessels.
Vice president of inland and logistics for Europe and Russia at DP World Rob Harrison told The Loadstar the "historic issues" across Europe's barge services were well known.
"Larger vessel prioritisation, dwell times and capacity continue to impact services – especially the individual barge services with no resilience or flexibility," said Mr Harrison. "However, we believe that means there is an opportunity to improve on these services by creating and implementing solutions to these issues, and wider multimodal solutions to offer more flexibility to overcome them.
"To further improve the reliability of our services, we launched a premium barge service between the Upper Rhine region and Rotterdam World Gateway in February."
Mr Harrison noted that the strength of this new service was that, by bundling containers in the hinterland, it becomes possible to call at only one terminal in Rotterdam in a fixed schedule. He added: "This will improve service reliability as well as reduce emissions per teu, due to the higher load factor of the barges and the reduced port stay."
At DP World in Antwerp, 35% of all cargo moved to and from the gateway goes by barge, and the terminal operator noted that, from a sustainability standpoint, these inland vessels could move a tonne of cargo 647 miles on a single gallon of fuel.
And DP World is looking to expand its inland waterway business across Europe. It noted: "Barges on the Danube can transport goods from south-west Germany, through several mainland countries, including Serbia, all the way to Constanta, where it meets the Black Sea Basin, connecting to Eastern Europe and the Middle East."
A barge owner told The Loadstar the appointment of Rob Harrison would be a positive.
"Rob knows very well how it works, who the stakeholders are and what it takes to take control over the container logistics operation from ocean ships so they can be delivered to the inland terminals. You can develop all the IT you want, but if stakeholders refuse to share basic data for proper planning it will all be a waste of money and resources, and not stimulate synchro-modality."