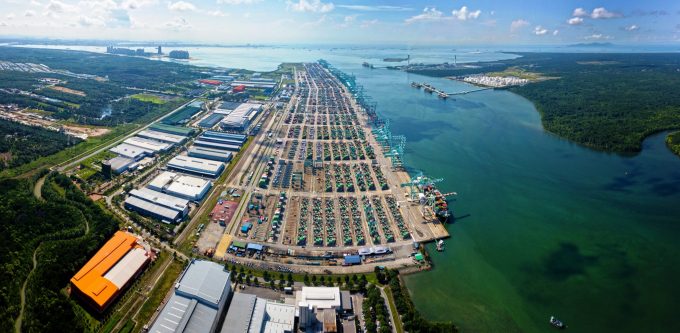 Portchain has signed up Malaysia's Port of Tanjung Pelepas (PTP) for its AI-powered berth optimisation software.
According to Thor Thorup, Portchain's chief commercial officer, the firm's Berth Optimisation Engine will enable PTP to deploy assets such as labour, cranes and berth capacity more effectively, increasing productivity and reducing costs.
"Furthermore, the application enables better collaboration between terminal departments, as well as allowing the port to operate as a 'paperless' terminal," he added, noting that this was achieved by digitising "all schedule and berthing information plans".
Joe Schofield, PTP's chief operating officer, said: "Shipping liners have recently received live access. They have been using it daily to monitor and collaborate with PTP's planning teams to optimse berthing operations.
"Getting real-time berthing information helps container carriers optimise their schedules and ensure the lowest cost of operations."
Indeed, as the container shipping industry grapples with digitalisation and improving schedule reliability for shippers, Portchain's technology appears to be gaining traction.
The Copenhagen-based start-up last October announced that Hapag-Lloyd had started using its fleet planning solution, which helps carriers by predicting issues in their schedules 14 or more days in advance of arrival.
"The carrier can then test different options to solve the issue at hand, and communicate its preferred option," Mr Thorup noted.
According to MarineTraffic, poor communication on vessel arrival time is the biggest pain point for shippers and freight forwarders, with over 22% of commercial vessels arriving at their destination a day later than planned.
Mr Thorup said Portchain's solutions could assist with the earlier notification of schedule changes.
"Carriers have live access to see their own vessels, and one of the benefits we expect to see is that they can proactively adjust schedules if needed, and hence communicate adjustments earlier to cargo owners," he explained.
Portchain's software replaces the berth and quay planning normally done manually by terminal operators such as PTP with spreadsheets, or via a terminal operating system.
Mr Thorup said that by automating berth utilisation, terminals could increase capacity by 10% or more. Additionally, he said, instead of spending an hour to make a berth plan, the algorithms could generate a plan for an entire week in seconds.
"Portchain and PTP wanted to take the efficiency gains one step further, by also digitising the customer experience. Portchain's cloud-based solution is used in 24/7 port operations, and being a SaaS [software as a service] product, updates are being deployed continuously and seamlessly without any downtime," he added.