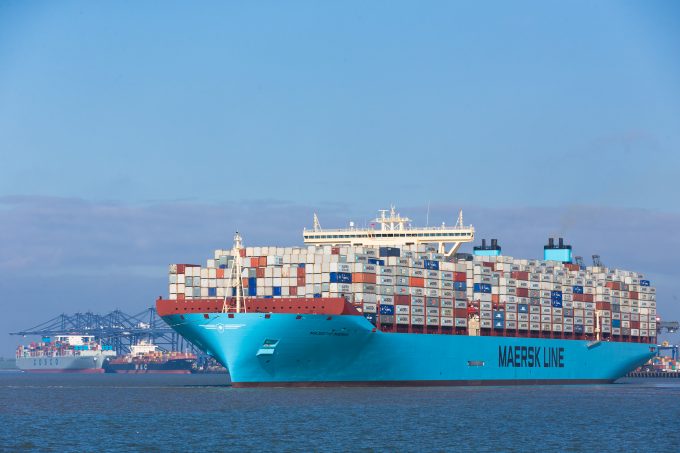 Maersk Line posted a profit of $339m in the second quarter of the year, which compares with a loss of $151m in the same period last year.
Its average freight rate per FEU in the period leapt 22% on improved market fundamentals and revenue was 21% higher at $6.1bn, earned from liftings of 5.4m teu.
This was up just 1.7% on the previous year, for an average rate per FEU of $2,086.
For east-west trades the improvement was even more impressive with the carrier's average rate soaring by 36%.
Maersk Line increased its capacity by 8.2% to 3.4m teu, which it said was justified by the slot purchase agreement with HMM and the acquisition of German carrier Hamburg Sud.
However, the take up of slots, already paid for by HMM and Hamburg Sud on a fixed price basis, may not have met budgeted figures, resulting in the lower-than-expected increase in carryings and a surprising reduction in vessel utilisation levels when it would have expected to be running virtually full.
In a webcast presentation this morning, Maersk Group CEO Soren Skou said: "What we are seeing are the strongest fundamentals for container shipping in quite a while."
The full impact of the so-called "NotPetya" cyber attack which hit Maersk companies on 27 June will be felt in the third quarter. According to Mr Skou, Maersk Line was averaging around 210,000 FEU a week at the time of the attack, but liftings were cut to approximately 160,000 and 180,000 FEU in the first two weeks of July.
Mr Skou said that within a few weeks the numbers had returned to pre-attack levels and there was no indication that customers had permanently moved to another carrier.
However, taking into account the expense of combating the virus, he said its final cost – mainly to the carrier – is estimated at $200m-$300m.
However, with the considerable improvement in market fundamentals, Maersk Line is keeping its full-year guidance unchanged, at an improvement in underlying profit of $1bn, compared with the loss of $384m in 2016.
Mr Skou said Maersk Line had "no ambition to gain a lot of market share this year" and accepted that the carrier had "used the price war to gain market share" in previous years.
On new orders, Mr Skou argued "there is no incentive to order ships from a cost perspective right now", particularly with the charter market still in the doldrums, and confirmed that Maersk Line had no interest in ordering newbuild tonnage "this year or next". He suggested that any carriers ordering new tonnage would be doing so due to an ambition to grow its market share.
Mr Skou said Maersk Line's acquisition of Hamburg Sud was "progressing as planned", having now received approval from 12 of the relevant 23 regulatory bodies.
The transaction is expected to complete in the final quarter of this year.