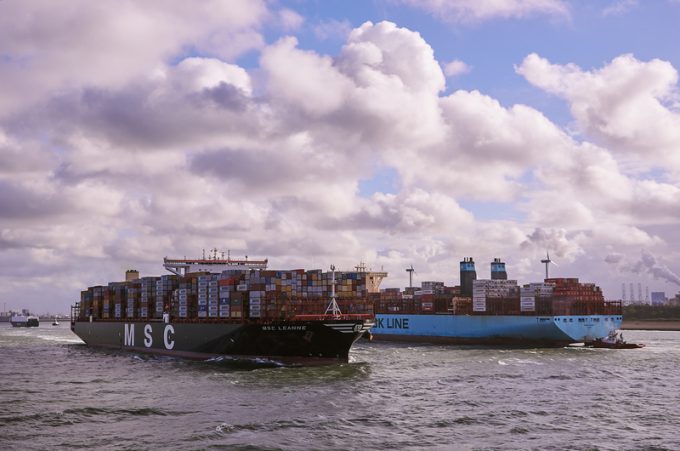 MSC is on course to overtake alliance partner Maersk as the biggest ocean carrier by capacity within the next two years.
A new order for five 23,000 teu ULCVs from the South Korean Daewoo yard will take the Geneva-based carrier's orderbook to 16 vessels, for a massive 305,352 teu, according to Alphaliner data.
A disclosure from Daewoo this week valued the order at $152m per ship, with delivery of the five by August 2021.
This will propel MSC's fleet, including current chartered tonnage, to just under 4m teu, a capacity level Maersk has said it wants to stick at.
During the second-quarter earnings call in August, Maersk chief executive Soren Skou confirmed this, adding: "We want to remain disciplined on capacity and stick to our guidance of around 4m teu of deployed capacity because it helps us drive utilisation up and unit costs down."
Currently the Danish carrier's fleet stands at some 4.2m teu, however Mr Skou attributed the above-guidance figure to be due to a number of ships dry-docking for scrubber installation, obliging a higher than normal level of chartered-in tonnage.
Unlike its 2M partner, Maersk has for some time taken a bearish view on ordering, and currently has an orderbook of just 45,000 teu. It has long since ceased to be the ocean carrier operating the biggest  box ship; MSC is the current leader with its 23,765 teu scrubber-fitted MSC Gulsun, in service between Asia and North Europe.
With MSC threatening to end its long reign as the industry's biggest carrier, Maersk's board could be put under pressure to reconsider its capacity strategy, which in turn could lead to it identifying new acquisition targets in order to support its growth.
In contrast, MSC's family-influenced strategy to only grow its liner business organically means it needs to be more aggressive in its markets to underpin the injection of additional capacity.
Teaming up with Maersk in the 2M alliance in January 2015 has seen stronger growth organically for MSC than its VSA partner has managed via acquisition, and there are some concerns emerging that it is lagging.
"Look at the scrubber situation – MSC came out at the start with Mr Aponte saying fitting scrubbers to comply with IMO 2020 was a 'no brainer', while our guys decided to go down the low-sulphur fuel route, and we have been caught out," a senior Maersk manager told The Loadstar recently.
"MSC are getting too big for their boots and we have a fight on our hands to stop them," he added