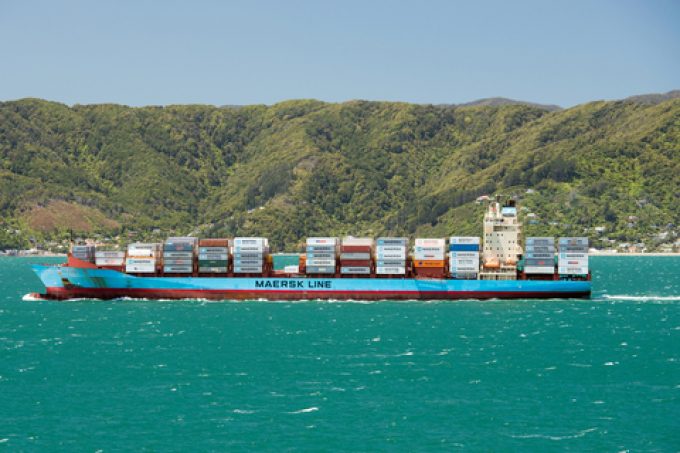 Maersk has launched a dedicated coastal shipping service in New Zealand, aiming to "restore network reliability" to the country's troubled supply chains.
Maersk Coastal Connect's two 2,500 teu ships will provide weekly port coverage of Tauranga, Timaru and Lyttelton, and fortnightly coverage of Nelson and Auckland.
Maersk said the new service would bring "much-needed schedule resilience, flexibility and superior coverage to the New Zealand supply chain."
The carrier added it would be operated on a two-loop rotation to "protect critical connections to our international services, and maintain buffer in our schedule to absorb impact from the supply chain disruption".
New Zealand shippers and forwarders have faced a raft of schedule disruption, port congestion, capacity constraints and sky-high freight rates since the Covid-crisis began.
In its latest update, freight forwarder Oceanbridge Shipping said vessel delays and schedule changes continued to be an issue for exporters, with Covid-related illness continuing to affect staffing levels at warehousing and container depots.
It added: "Import container volumes are increasing via the main ports. One of the major challenges is the lack of predictability of vessel ETAs. This is especially significant with southbound vessels to New Zealand calling at Brisbane – it has become a major pinch-point for congestion, with delays of up to a week."
New Zealand's government has already identified investment in coastal shipping as one way to ease the country's supply chain bottlenecks.
Last month, it announced NZ$30m (US$18.7m) of funding for new coastal shipping services via the National Land Transport Programme, which granted preferred supplier status to Coastal Bulk Shipping, Move International, Swire Shipping NZ and Westland Mineral Sands.
The Maritime Union of New Zealand welcomed the move as a "game-changer for New Zealand shipping and the biggest turnaround for the industry this century".
According to the New Zealand Herald, Maersk's proposal to join the programme was not selected, with the carrier reportedly saying its focus was "different from that of niche carriers which do not have the same international network connections, or investment in landside infrastructure".
"Our coastal connections have not been delivering a satisfactory result, resulting in missed connections to our mainline network and cargo delays for our customers," said Maersk.
Meanwhile, Ports of Auckland (POAL), which has been front and centre of New Zealand's shipping disruption, has decided to scrap its botched automation project, claimed by some to be the major cause of port congestion problems.
The port had been under pressure from stakeholders due to the project's delays, costs and potential safety concerns, after two straddle carriers malfunctioned and crashed.
POAL CEO Roger Gray said new infrastructure, built as part of the project, would provide extra capacity, "essential for future growth", but admitted that a NZ$65m (US$40.5m) investment in automation software and guidance systems would have to be written-off.