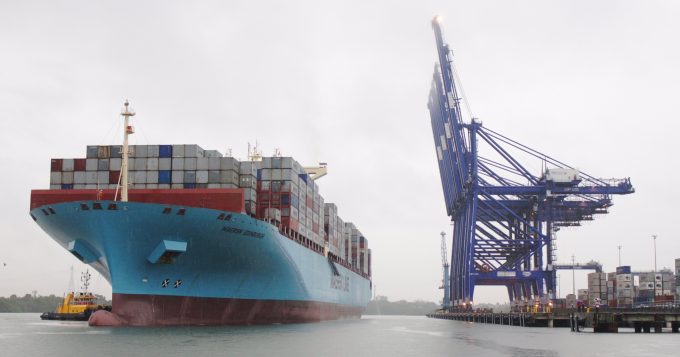 Maersk Line is considering converting some of its ships to run on LNG fuel ahead of the International Maritime Organization (IMO) 0.5% sulphur cap regulation due to come into effect in 2020.
Speaking at Maersk's Capital Markets Day in Copenhagen this week, chief operating officer Soren Toft said the new regulations would be a "game changer for the industry".
"It will add substantial cost, either in the form of fuel cost or in the form of investments needed to make technical changes to vessels, be that investment in LNG or investing in scrubbers," warned Mr Toft.
However, similar to German carrier Hapag-Lloyd, Maersk is currently not in favour of the exhaust gas cleaning scrubber systems, which cost $5m-$10m to install.
"Our view of this at least for the moment is that we don't really prefer the scrubber solution," said Mr Toft.
He said it was not only because of the capital expenditure and associated costs related to the installation of scrubbers, but that it was "not a really sensible way of doing it".
He said: "If you think about scrubbers it is really mini refineries being installed on approximately 60,000 ocean going ships."
Mr Toft confirmed that the carrier was "looking into LNG" and that decisions would need to be made "over the next few months".
"We have our preferences, but we will need to make our choices," he said.
Maersk Line currently operates a fleet of 784 ships, of which 479 are chartered-in, and Mr Toft did not say what the carrier's position would be with shipowners regarding the installation or not of scrubber systems on its leased vessels.
Currently the price of heavy fuel oil (HFO), burnt by ships outside of ECA (emission controlled area) regions, is around $350 per tonne, compared to low-sulphur fuel oil (LSFO) at approximately $560 per tonne.
And with a 20,000 teu ULCV consuming around 250 tonnes of bunkers a day while at sea the potential extra cost for container lines will be massive from January 2020.
Writing in Ship & Bunker, Dr R Vis, a director of Singapore-based fuel oil analyst Viswa Lab, said that assuming a $200 per tonne differential between HFO and LSFO the extra cost per day per 20,000 teu vessel would be some $50,000, or $15m a year based on 300 days sailing.
Thus, the investment in the installation of a scrubber system could be recovered in less than a year.
Maersk, along with other shipowners, all seem to be adopting a wait-and-see approach on scrubbers given that a recent report identified that globally only 240 ships have so far had a system installed.
Whatever solution they decide to go with, it is going to cost more to run ships from 2020 and ocean carriers will look to pass on the cost to shippers; although their track record on recovering fuel increase costs is not good.
Indeed, Maersk Line revealed that its 'success' in obtaining an average $106 per FFE rate increase last year was almost wiped out by a $93 per FFE hike in the cost of fuel during the period.
Meanwhile, LNG, which is the preferred choice of CMA CGM for its recent order of 22,000 teu mega-ships, is on offer at an equivalent cost of around $300 per tonne.
However, notwithstanding the many restrictions on LNG bunkering, containerships that are powered by the gas will sacrifice some 500 teu of freight paying cargo slots in order to house the gas tanks.