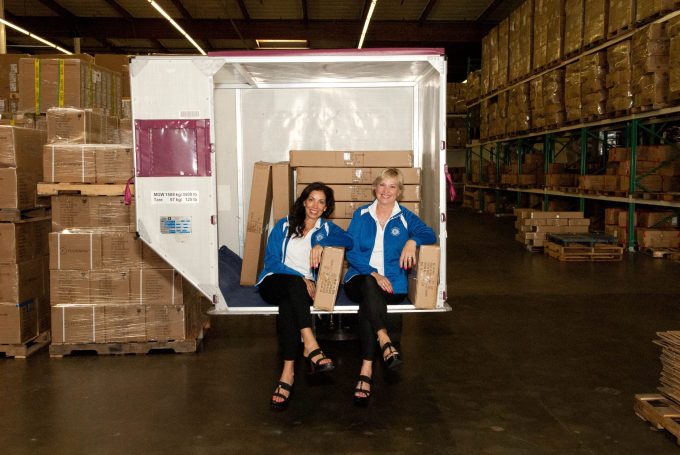 Treat others how you want to be treated – it's a simple adage that can lead to amazing results.
For its founders, CEO Monika Lutz and COO Tammy Zwicki, it's the golden rule adopted at the core of Jet Airways when its doors opened 25 years ago.
Following this simple value is why Jet has grown to become one of the largest women-owned-and-operated road feeder services in the US.
Jet moves cargo on behalf of major international airlines to all the US cities the air carriers do not service – an essential aspect of trucking and logistics and keeps the economy moving.
The company has grown steadily since its launch and now has 71 employees, working across 10 gateway cities. Driving that growth is the leadership team of the two founders. They credit their longevity to "mutual respect of their employees, vendors, and customers".
"It's like a marriage," said Ms Lutz. "It's about teamwork. Tammy loves operations and I love sales."
A partnership
Ms Lutz traces her career back to her mother, who worked for Lufthansa Cargo.
"I was flying free all my life under her benefits and wanted to continue to see the world."
And so, her journey began. After securing a job as a customer service representative with Korean Airlines, she soon moved to the sales department. After a few years and a lot of experience in a male-dominated industry, the seed of the Lutz-Zwicki partnership was planted.
In 1986, Ms Lutz hired Ms Zwicki, who was then a 24-year-old runner for a customs broker. "Monika became my mentor. She taught me how to talk, how to sell and how to conduct business as a woman," Ms Zwicki said.
After several years, the pair were hired as a management team for a leading road feeder operation, Ms Lutz to head international sales and Ms Zwicki would handle operations. They were the only female managers in the company and honed a business dynamic that flourishes to this day. As Ms Zwicki recalled: "Monika would make the sale, come back, and I'd say, 'what did you sell, and I'll make it happen'. And it would."
When the company was sold in 1997, the pair decided it was time to strike out on their own. Theys saw customer service lacking in the trucking industry and, equipped with their years of experience and customer contacts, they saw an opportunity to fill that void.
Juggling vendor agreements, sales and interline contracts, the duo grew their business slowly and steadily. They began to add employees as new markets opened in response to customer demand. Through their vendor partners, this non-asset logistics business now supplies any equipment, from a standard trailer to roller bed, step deck, flatbed, lift gate, refrigerated and more.
They originally planned to focus on the west coast market, but as international airlines opened new gateways, so did they. "Customers would insist we open in those cities," Ms Lutz explained. "And that is what we did.
"We started services from Los Angeles to Chicago and New York and grew the business from there, travelling a lot overseas to visit key customers and build one-to-one relationships. Slowly but surely, we earned their trust and our business blossomed."
Marek Kasiak, cargo director for the Americas at LOT Polish Airlines, has been shipping through Jet Airways for more than a decade. His fleet of 787 Dreamliners flies into Miami, Chicago, JFK and Newark.
"Jet Airways provides import and export service to these destinations," said Mr Kasiak "Jet Airways helps move the aeronautical electronic equipment that comprise the bulk of LOT's US cargo business. We are looking for the best, and Monika and Tammy always give excellent service. It's very cost-effective and very reliable. Synchronized tracking and tracing communications between LOT and the road feeder service is excellent."
Navigating disruption
To stay on top of changing times, Jet Airways has an in-house IT department that allows the company to maintain state-of-the-art technology. Aligning business practices with rapidly changing technology and market developments is mission critical in a logistics sector in which constant disruption has become the norm.
"Whether it's the pandemic, truck driver shortages or huge swings in capacity and cargo volumes, you have to be prepared for worst-case scenarios," said Ms Zwicki.
She recalls an incident in the early days of the pandemic, when she and an assistant had to fly to New Jersey for a week because one of the facilities that handles cargo for three Jet customers was so full, handling staff couldn't find any of the shipments. Ms Zwicki and her assistant dove in.
"We bought fluorescent paper, scaled the top of the pallets and took pictures to see if it was our freight or not," she recalled. "We tagged Jet Airways cargo with the fluorescent paper so we could find it again."
The makeshift strategy worked. Over six days they pulled 18 loads from the warehouse, ensuring their customers' cargo arrived at its rightful destination.
Two years later, the freight markets reversed course, as shippers faced excess inventory and consumer demand ebbed. The Jet Airways team went from working insane 100-hour weeks to a virtual halt by June this year2.
"It's a delicate balance, and the slightest ripple can tip the scales. But that is the nature of the business, and we do our best to be prepared," said Ms Lutz.
Family first
Throughout their careers, the women say they have battled persistent sexism in a male-dominated industry. These experiences inspired them to establish a 'family-first' culture that is at the heart of Jet Airways' success. The company allows new mothers to bring babies to work, for example, provides flexible hours for students and promotes from within.
"People feel like family here," said Ms Lutz, noting that four employees have been with Jet Airways since day one.
"To celebrate the company's 20th anniversary, Jet took longtime employees on a week-long trip to Hawaii to thank them for sticking with us through good times and bad," Ms Zwicki added.
The international family is equally important. Both women say one of the most rewarding aspects of helming Jet Airways is the cross-cultural exchange and learning that comes from working with international carriers
"What I love most are the customers," said Ms Lutz. "They are just amazing people, and we learn so much from each and every one of them."
Looking ahead, the executives say they are excited to continue delivering the same quality service that has defined their business practices for the past 25 years.
Treat others how you want to be treated. Simple enough. And with this adage permanently ingrained in the soul of the company, Ms Lutz and Ms Zwicki continue to break ground and blaze new trails as industry leaders.