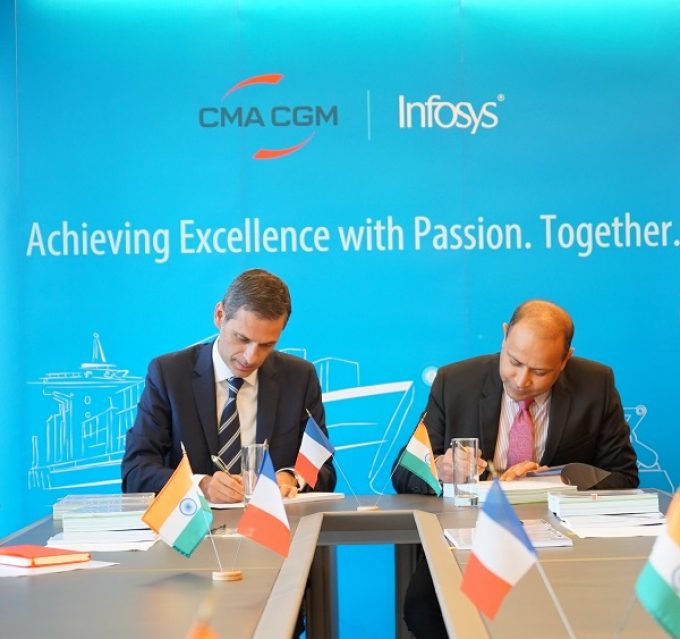 In today's irregular round-up on the start-ups and software investments taking place in the logistics industry there is a Russian blockchain developer looking to raise $38m via crowdfunding, a CMA CGM deal with Infosys to "accelerate" its IT development and a UK launch for online transport marketplace clicktrans.
Describing itself as a "blockchain-based, Uber-like platform for cargo delivery", St Petersburg-headquartered International Multi-Modal Logistics Application (IMMLA) has launched a month-long "token" crowdsale, set out as an initial coin offering (ICO) to raise $38m to build a multimodal blockchain freight forwarder.
An earlier fundraising round realised $500,000 in from seed investors.
IMMLA said: "The funds raised during the ICO will be directed towards the launch of a road and sea freight module in 2018.  There will be a phased development and introduction of new modules into the service every nine months: air and customs in 2019; forwarding and warehouse in 2020; and rail in 2021.
"Step-by-step, the IMMLA team will create a multimodal blockchain forwarder based on its proprietary Logismart solution and the Ethereum blockchain."
Meanwhile, looking to address inefficiencies in European road transport, online shipment marketplace clicktrans has extended its offering to the UK.
The site works on a Gumtree-esque model, shippers creating a listing for each consignment, with details. Transport firms then bid for the shipment in a reverse auction format.
The site claims to have 30,000 registered transport firms that have worked for 150,000 shippers across its three platforms, in Poland, Germany and Spain, with hauliers and couriers finding it helps them find backhaul loads.
Chief executive Michal Brzezinski said: "The UK is one of the leading European countries in the transport industry. Haulage in the UK accounts for almost 12% of total road freight transport in the EU.
"At the same time, freight transport is the second-largest source of CO2 emissions (after the energy industry) in the EU. These figures can be significantly reduced by the idea of transport optimisation supported and developed by clicktrans. Thanks to this concept, clicktrans has already saved 9.5 million kg of CO2 emissions."
Finally, CMA CGM has signed a seven-year "strategic partnership" with Indian technology giant Infosys to "simplify and transform" the French carrier's IT applications and "improve customer service".
Infosys will take over management of CMA CGM's IT development centre in Dubai and will create a new development and innovation centre in Marseilles. It will also help CMA CGM maintain and develop its SAP projects, as well as provide new value-added technologies.
"As part of its ongoing digital transformation, CMA CGM will use Infosys Nia's artificial intelligence platform and its scalable automation platform, AssistEdge, to modernise its customer service, improve the execution processes and improve its internal performance," the companies said in a statement.
Infosys president and head of Europe Rajesh Krishnamurthy added: "Simplifying the technology footprint and leveraging next-generation technologies is the need of the hour for the hyper-competitive shipping and logistics industry. We look forward to helping CMA CGM leapfrog to the next-generation of software led business innovation which is customer friendly, cost-effective and flexible."