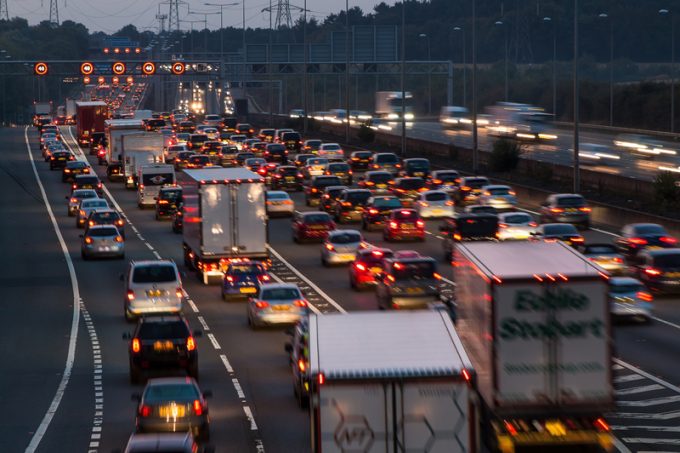 The UK's transport infrastructure is not fit for purpose, according to the logistics sector.
The industry has demanded serious investment if Britain hopes to continue trading.
Ports and roads are said to be in "dire need" of investment, while arguments continue to rage over Heathrow's new runway – although there is some optimism around Scottish rail.
Maritime UK chairman David Dingle said his organisation was pushing for "serious" investment in infrastructure, which, he added would be "an intelligent economic move and one that needs to be made to safeguard Britain's future as an outward-looking trading hub in the wake of Brexit".
He added: "By facilitating trade, we will attract inward investment at our ports and breathe new life into our deprived coastal economies. In doing this, global Britain will be a success."
A British Ports Association (BPA) report, Port Futures, claims some £1.7bn of investment by operators is in the port development pipeline, but says the government must do more.
Policy manager Mark Simmonds said he hoped the report would help the government develop an "accurate" picture of what is required from it, to make private investment a success.
"Ports are doing their bit, but we rely on government to ensure that road and rail connections from the port gate are fit for purpose," said Mr Simmonds.
"The terrestrial and marine planning and consenting process is also cumbersome and costly, and often holds back or even prevents some sustainable port development."
It is not only ports demanding action. The Road Haulage Association (RHA) claims some 20% of UK roads are just "five years away from being unusable".
Chief executive Richard Burnett said an Asphalt Industry Alliance report underlines government neglect of carriageways, which have seen "sharp increases" in pothole-related breakdowns.
"Government and local authorities can do a lot more to bring the network up to standard, so roads aren't full of cracks waiting to turn into dangerous potholes causing collisions," said Mr Burnett.
"Local roads where hauliers make their last-mile deliveries are often in a poor state and the damage they can cause to HGVs – in particular to their suspension systems – can be considerable."
On the rail side, the Freight Transport Association said a new investment strategy from Transport Scotland "should be good news for freight", but said a funding gap must be addressed.
Head of rail freight at the FTA Chris MacRae welcomed the new strategy, but said it was set against a "challenging" financial backdrop.
"With UK government funding for rail falling in real terms, it is imperative the Scottish government does not allow rail freight to become the 'poor relation' in investment terms," said Mr MacRae.
"A funding gap of £460m means improvements need to be prioritised and we are urging Transport Scotland to keep the needs of freight in mind when deciding where the money will be spent."
The new Scottish strategy views challenges facing freight as part of a wider look at the transport sector as a whole. Mr MacRae said this should enable freight to be viewed as part of the "full picture" of rail usage across Scotland, with Scottish rail freight contributing some £670m to the country's economy.
Calls for infrastructural improvements follow the first signs of progress in Brexit negotiations, with chief negotiators Michel Barnier and David Davis announcing agreement on a transition deal.
While Mr Barnier warned "nothing is agreed until everything is agreed", Mr Dingle believes there are potential upsides to the UK's departure from the EU.
"There are substantial potential benefits to leaving the EU for our ports and wider maritime sector," he said. "However, in order to realise these benefits, we first need to get a deal that prevents delays and disruption at our ports."