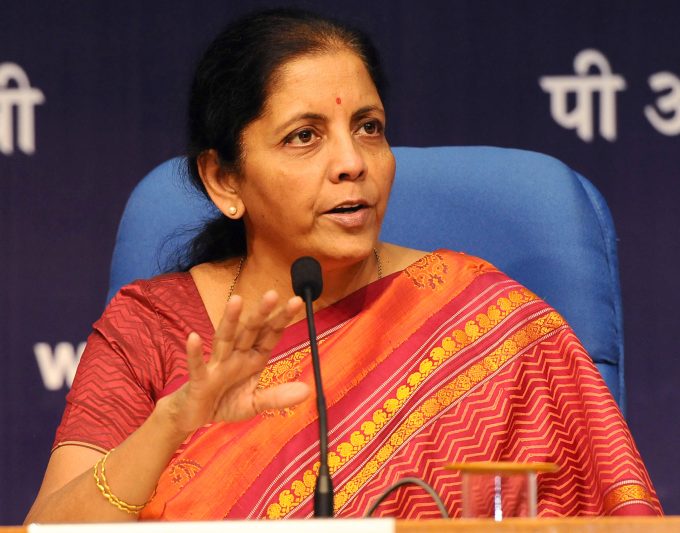 Transport and logistics companies have welcomed India's latest budget, announced on Saturday, which saw the government unveil an enormous $23bn investment in transport and logistics infrastructure.
Indian finance minister Nirmala Sitharaman (pictured above) also revealed that the country was drawing up a National Logistics Policy to facilitate international trade and drive costs for importers and exporters.
Maersk managing director for South Asia Steve Felder said: "This year's budget has come with a number of positive updates for the logistics and transport sector.
"A fund allocation of R1.7 lakh crore for transport and infrastructure, including railway enhancement and investments in warehousing and logistics, is a constructive step that will help boost growth across industry verticals like manufacturing and help improve last-mile delivery, especially in rural areas."
He also welcomed the government plans that at least one major port would be privatised, while further investments were expected in its rail freight and inland waterway sectors.
"We are hopeful that port infrastructure will also get the much-needed improvement to bring them to a level where they are competitive in the global scenario.
"The government aims to complete the National Waterway-1 this year, to effectively leverage inland waterways for freight transport, which is a welcome news for domestic hinterland trade, especially for refrigerated agro-commodities," he added.
Anshul Singhal, managing director of warehouse developer Welspun One, also welcomed the "simplified personal tax regime and effective reduction in tax rates for the sizeable middle class [that] will create a definite upswing in consumption.
"It's also heartening to see the government's continued impetus to the country's transport infrastructure with the R1.2trn proposal to enhance our trunk infrastructure. Both these will have a very positive impact on warehousing demand and supply," he added.
Mr Felder also said the simplified tax regime – at both personal and corporate levels – would be likely to help trade as it came in parallel with increased digitisation efforts.
"Digitising the export-import supply chain and providing digital refund of state and central taxes to exporters will help the country boost its global 'Ease of Doing Business' ranking.
"We are confident that the continued digitalisation efforts will serve as a lever to propel the economy forward, and they should thus be prioritised," he said.
He also further called on the government to focus on delivering its national logistics policy.
"Government's focus on facilitating public-private participation model in the Indian shipping industry, undertaking a structured approach through consultants can help ensure adequate returns to the proposed infrastructure investments.
"The 'National Infrastructure Pipeline' plan and the upcoming National Logistics Policy are expected to ease transport of goods and lower logistics costs across the country through various measures, which include a single window logistics market," he said.